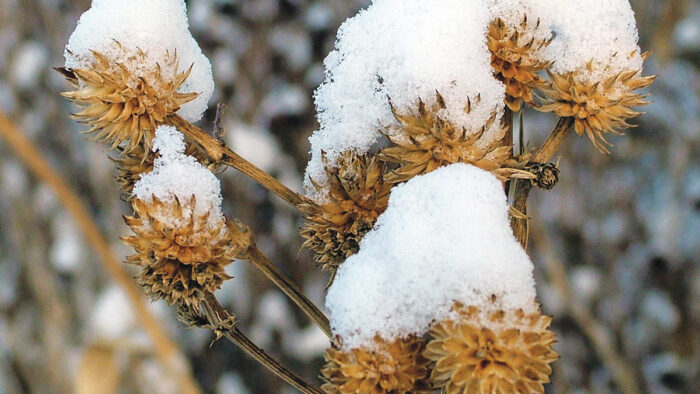 Richie Steffen, executive director of the Elisabeth C. Miller Garden in Seattle and a leading expert on plants, discusses the often-undervalued appeal of winter gardens:
"What many see as a dark and inhospitable season of dull dormancy, however, I view as a chillier continuation of my gardening season. There are many reliable plants that will tolerate, even look their best, during the frosty days of winter. While winter gardens may run short of blooms, especially in cold climates, there is a wonderful selection of evergreen foliage, interesting bark, and richly colored twigs that can make anyone's winter brighter."
To give winter even more of the love it deserves, we asked some regional experts to pick their favorite plants that peak in winter. Find fantastic plants for winter interest in the Mid-Atlantic below, and discover even more plants that peak in winter in Richie's article, Winter Interest From the Ground Up.
---
1. Blackberry lily
Name: Iris domestica
Zones: 5–10
Size: 2 to 4 feet tall and 12 to 18 inches wide
Conditions: Full sun; average, well-drained soil
Native range: Eastern Asia
Blackberry lily would earn a place in the garden for its summer show alone: branching stems that carry single orange flowers with darker orange to red spots, held over fans of swordlike, light green leaves. Each bloom lasts only one day; when it's done, it spirals closed. Below it, a puffed-up pod develops, turning from light green to light tan and eventually splitting in fall to reveal an elongated, blackberry-like cluster of shiny, black, rounded seeds. These showy seed heads dry in place and stick around into the winter—my favorite season to see them. They really stand out against a layer of snow or a light-colored wall or fence, particularly if you let them self-sow to form a good-size drift.
2. 'Dallas Blues' switchgrass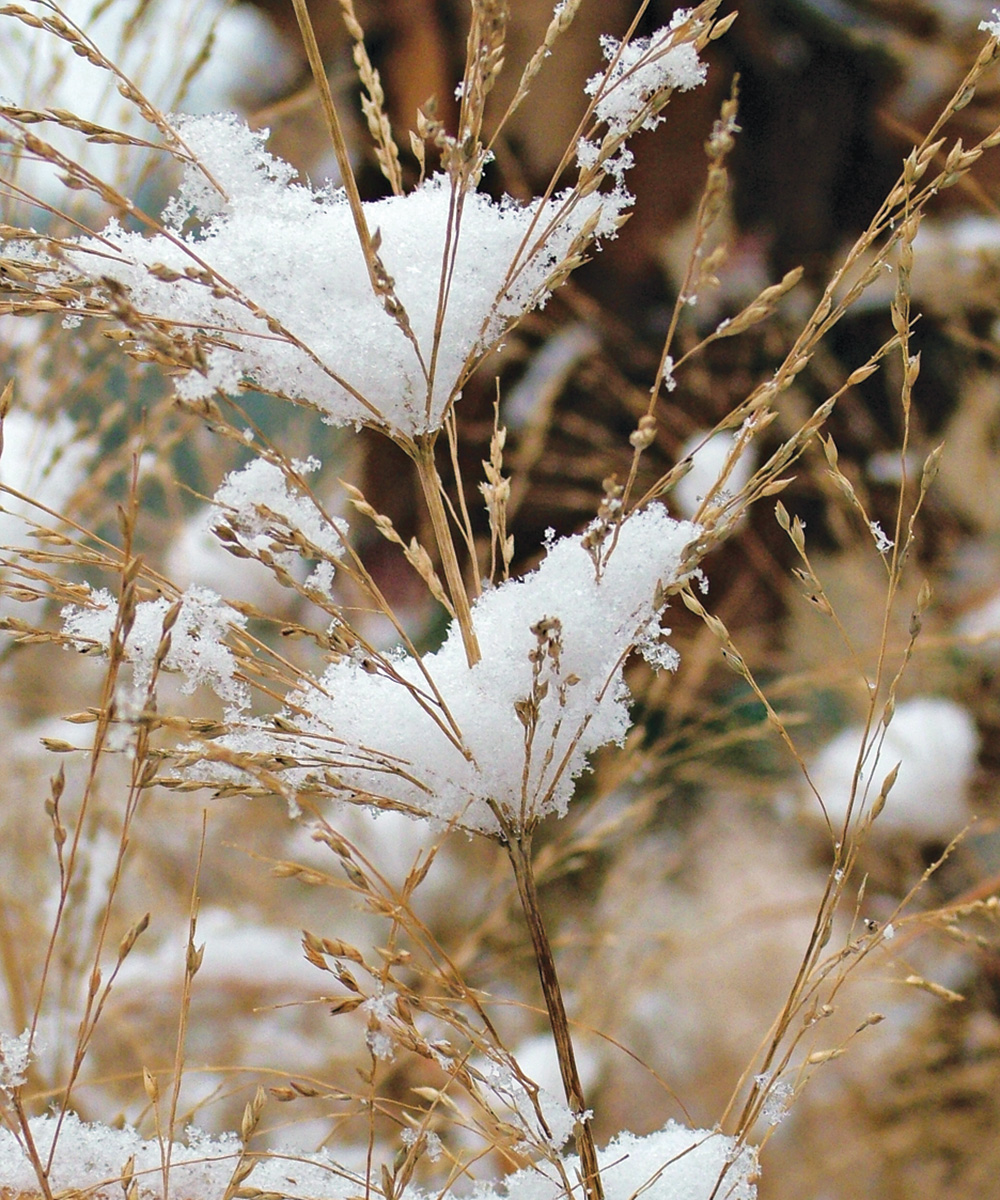 Name: Panicum virgatum 'Dallas Blues'
Zones: 4–9
Size: 4 to 6 feet tall and 2 to 3 feet wide
Conditions: Full sun; average, well-drained soil
Native range: North America
With so many warm-season grasses that look wonderful in winter, it was challenging to choose just one to spotlight, but 'Dallas Blues' switchgrass has to be my pick. I consider it the best selection so far of a beautiful species, with its handsome, somewhat vase-shaped habit; strong stems; broad, powder-blue leaf blades; and fine-textured, pink-tinged panicles starting in early fall. As winter approaches, the foliage dries to a rich orange-brown. The dried panicles remain too, forming a wispy cloud most of the time but standing out when lined with snow or ice. Best of all, though, is the element of sound 'Dallas Blues' adds to the winter garden when the dried leaf blades rustle in the wind.
3. Berry Heavy® Gold winterberry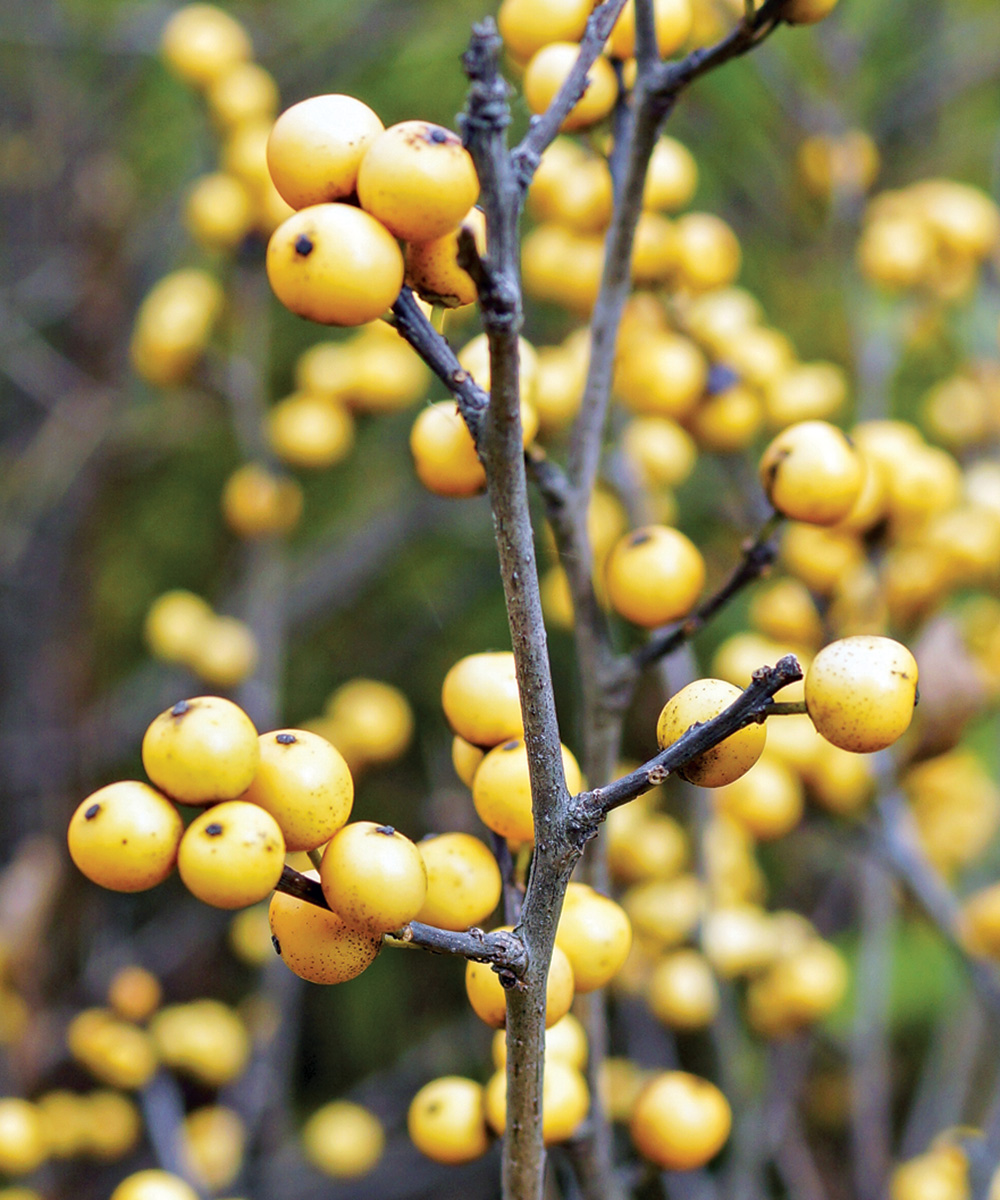 Name: Ilex verticillata 'Roberta Case'
Zones: 3–8
Size: 6 to 8 feet tall and 4 to 6 feet wide
Conditions: Full sun to partial shade; average to moist soil
Native range: Eastern North America
Winterberries aren't particularly interesting during the growing season, with their medium green leaves that hide small white blossoms. Bees have no trouble finding them, though, and carry pollen from male plants to those with female blooms, which then produce the rounded berries. Shades of red and orange are most common, and all are terrific in the landscape or cut for winter decorating. When I saw Berry Heavy® Gold, I just had to add it to my collection. Though usually described as gold, it is more of a mellow yellow to my eye—a distinctly different addition to the color palette. Plant it near 'Jim Dandy' or Mr. Poppins® ('FarrowMrP') to provide a pollen source.
4. Rattlesnake master
Name: Eryngium yuccifolium
Zones: 3–8
Size: 4 to 5 feet tall and 1 to 1½ feet wide
Conditions: Full sun to partial shade; adaptable to moist or dry soil
Native range: Eastern North America
If asked, pollinators would probably argue that rattlesnake master peaks during its summer flowering period, when its stout stalks are topped with pollen- and nectar-packed blooms. Arranged in branching clusters that look much like a grade-school solar system project, the flower heads start out white, then gradually turn deep brown as the seeds ripen through fall, then stay that way well into winter. The distinctive seed heads contrast beautifully with airy grass seed heads and are especially eye-catching when topped with tiny dollops of snow. Even after birds pick off the seeds, allowing some to drop and self-sow, the rounded center of each head lingers until spring.
---
Nancy J. Ondra is a garden writer and photographer from Bucks County, Pennsylvania. She blogs and sells seeds at Hayefield.com.
Photos: Nancy J. Ondra