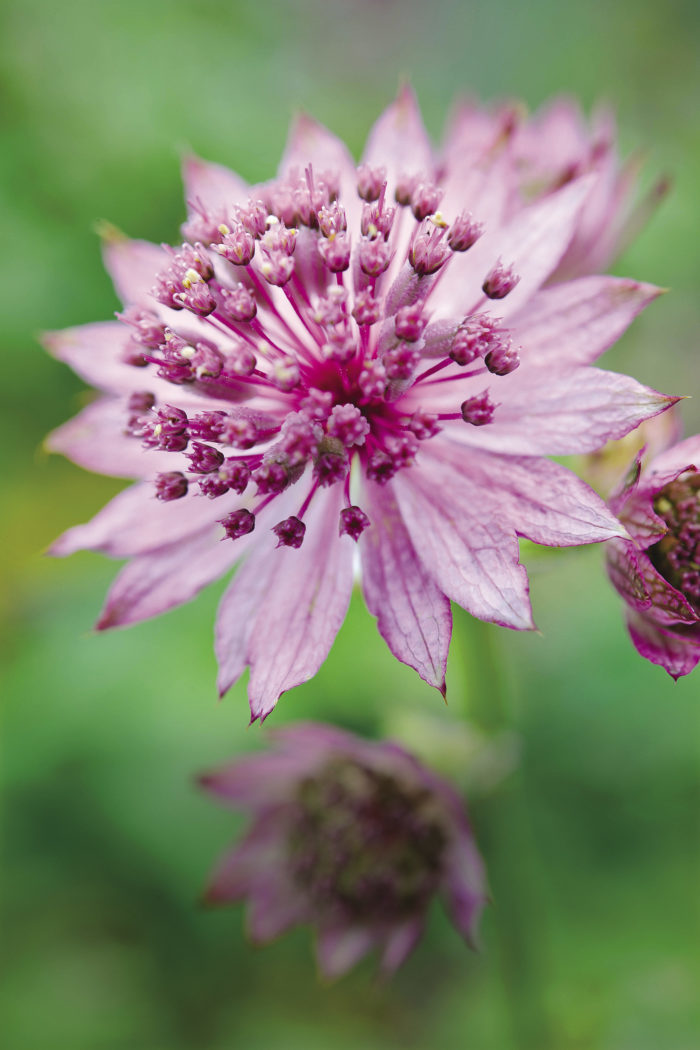 One of the first rules that novice gardeners are ordered to abide by is the necessity of using—and, hence, buying—a minimum of three of the same plant. For aesthetics' sake, we group and repeat because it tends to lead to a better-looking landscape. That principle means, however, that you're often spending all your gardening dollars on a limited number of the same plants. So what if your budget is constrained, yet you'd still like an array of different varieties? The answer is to indulge in interesting plants that swiftly propagate. There are some unique perennials and shrubs that don't mind being divided early or that multiply readily through other means. These are not aggressive, weedy options nor are they boring staples, like bee balm (Mondara spp. and cvs., USDA Hardiness Zones 4–9). I regularly look to these plants to fill my gardens because my motto is, "When less is a bore, find ways to make more.
Masterwort comes in an array of color options
Name: Astrantia major and cvs.
Masterwort will bloom abundantly and repeatedly as long as it is supplied with rich and constantly moist soil. It will also multiply readily as long as its seeds don't dry out. When it comes to propagation, I prefer to remain hands-off because healthy masterwort will, over time, seed about gently, popping up at random and rarely with excess. Luckily, its charismatic, heavily lobed, palmate foliage shows up early enough to deter fingers in a weeding frenzy. The pups can be either left in place or scooped up and moved to a more suitable location. Sprays of papery flowers in hues of white or red (pictured) float above the plants in summer, making masterwort a perfect plant to pair with other midseason stars, like lacecap hydrangeas (Hydrangea serrata cvs., Zones 6–9).
Zones: 4 to 8
Size: 1 to 3 feet tall and 2 feet wide
Conditions: Partial shade; fertile, rich, moist soil
Propagation: Self-sowing
'Profusion'

f

l

eabane is a wonderful, serendipitous daisy
Name: Erigeron karvinskianus 'Profusion'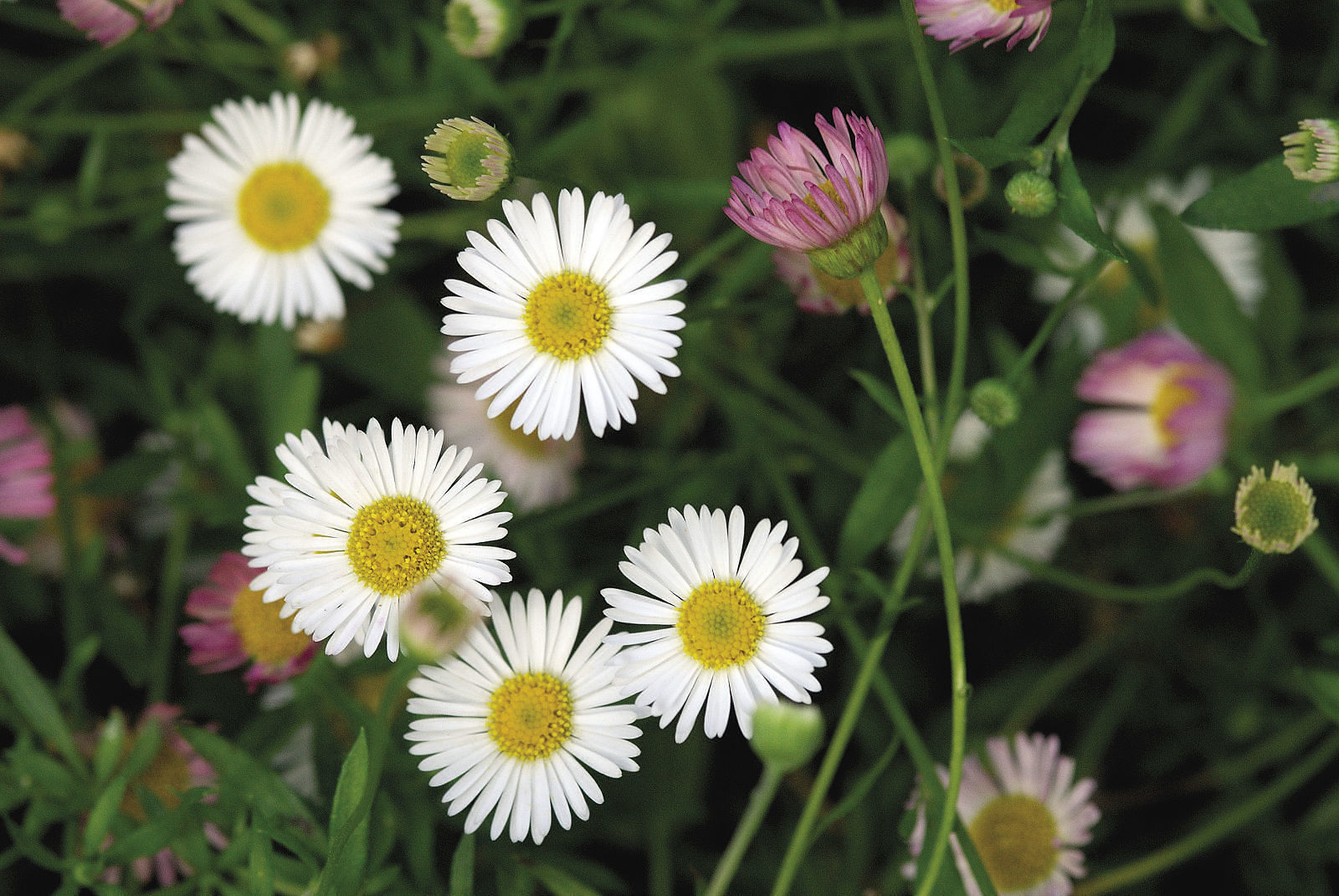 Doubtless one of the most prolific bloomers of all garden plants, 'Profusion' fleabane  produces continual clouds of tiny white to pink daisies from spring into fall. Such reckless enthusiasm explains its sometimes reduced life span and causes it to be categorized as a short-lived perennial. This shouldn't be a deal breaker, however, because a single plant will promptly establish an ever-shifting colony, with seedlings finding their way into clumps of strappy lily of the Nile (Agapanthus spp. and cvs., Zones 6–11) or appearing at the feet of bare-legged purple coneflowers (Echinacea purpurea and cvs., Zones 3–9). I've even seen 'Profusion' fleabane aimlessly invade cracks of otherwise sterile paved surfaces. Such delicate volunteer seedlings will never bother anybody but the smallest rock-garden plants and, maybe, the most controlling of gardeners. This fleabane is essential to so many of my planting schemes, enlivening bland gravel strips and adding life to the edges of patios and walkways.
Zones: 5 to 7
Size: 10 inches tall and up to 2 feet wide
Conditions: Full sun to partial shade; well-drained soil
Propagation: Self-sowing
Hardy impatiens is something exotic for the shade
Name: Impatiens omeiana and cvs.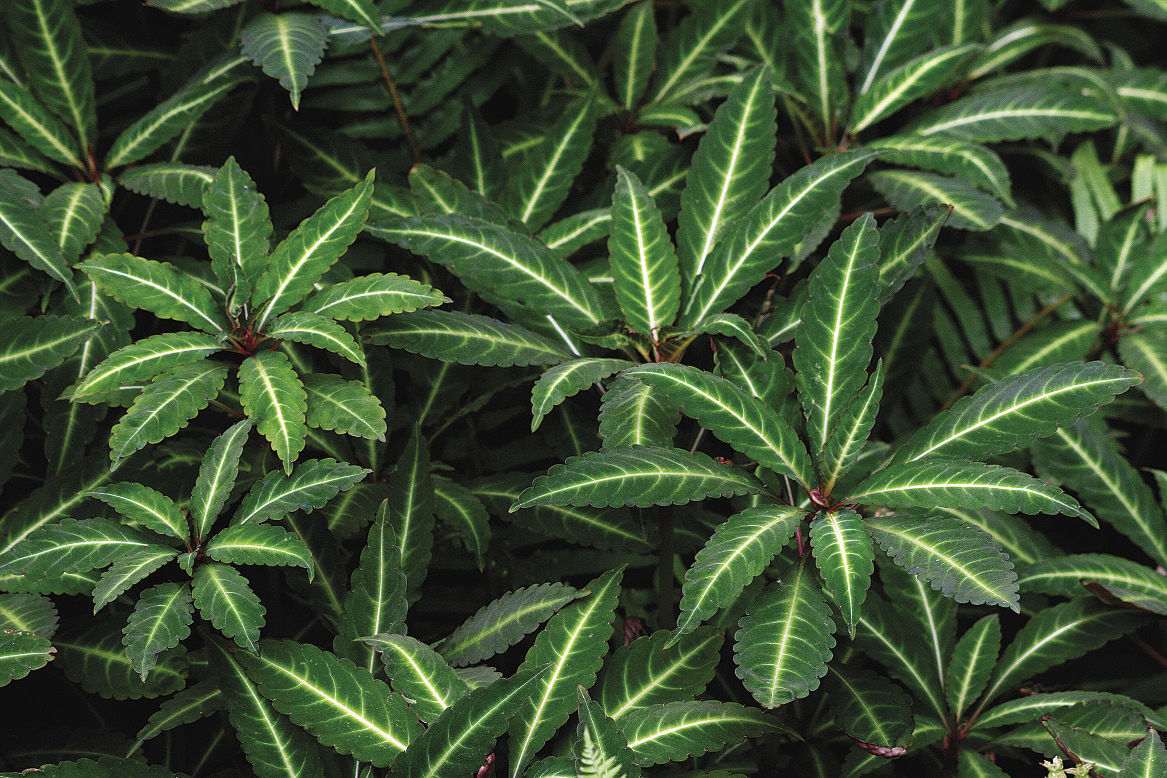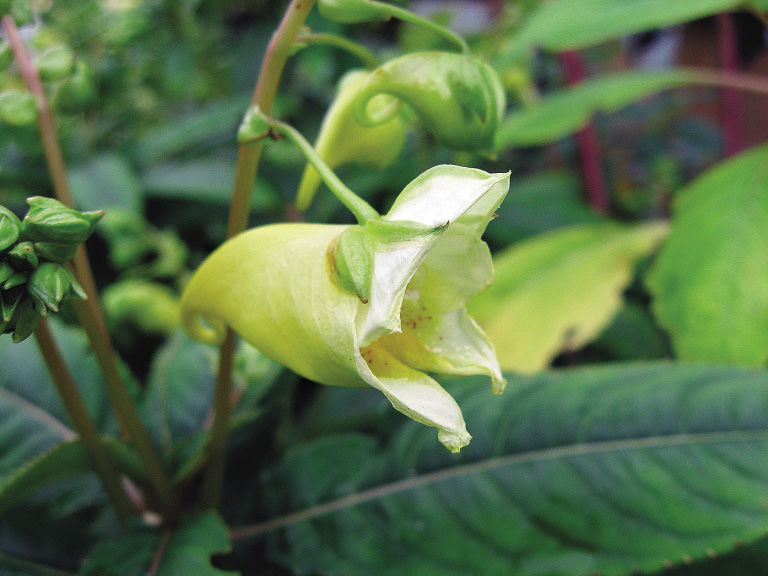 The exceptional dark green of the large elliptical leaves of hardy impatiens (above) possess a vibrant yellow midrib that gives the foliage an almost surreal look. As this foliar panache weathers, a generous display of large and charismatic yellow flowers picks up the show from late summer on. Luckily, this species is not affected by downy mildew, an airborne fungal disease as virulent as those seen in sci-fi movies. Hardy impatiens is a perennial for many areas of the country, although the cultivar 'Eco Hardy' is a safer bet in cold zones. In spring, the stems of hardy impatiens emerge purple, then, in fall, they collapse when the first frost bites; the roots, however, endure. This well-behaved, quick-growing creeper is happy in moist woodland conditions, developing into a loose ground cover that is easy to cleave into chunks in spring. You can also take cuttings in spring, which root easily in moist potting soil.
Zones: 6 to 9
Size: 15 inches tall and 2 feet wide
Conditions: Partial to full shade; moist soil
Propagation: Division or cuttings
Spanish snapdragon offers more than just some annual flair
Name: Antirrhinum hispanicum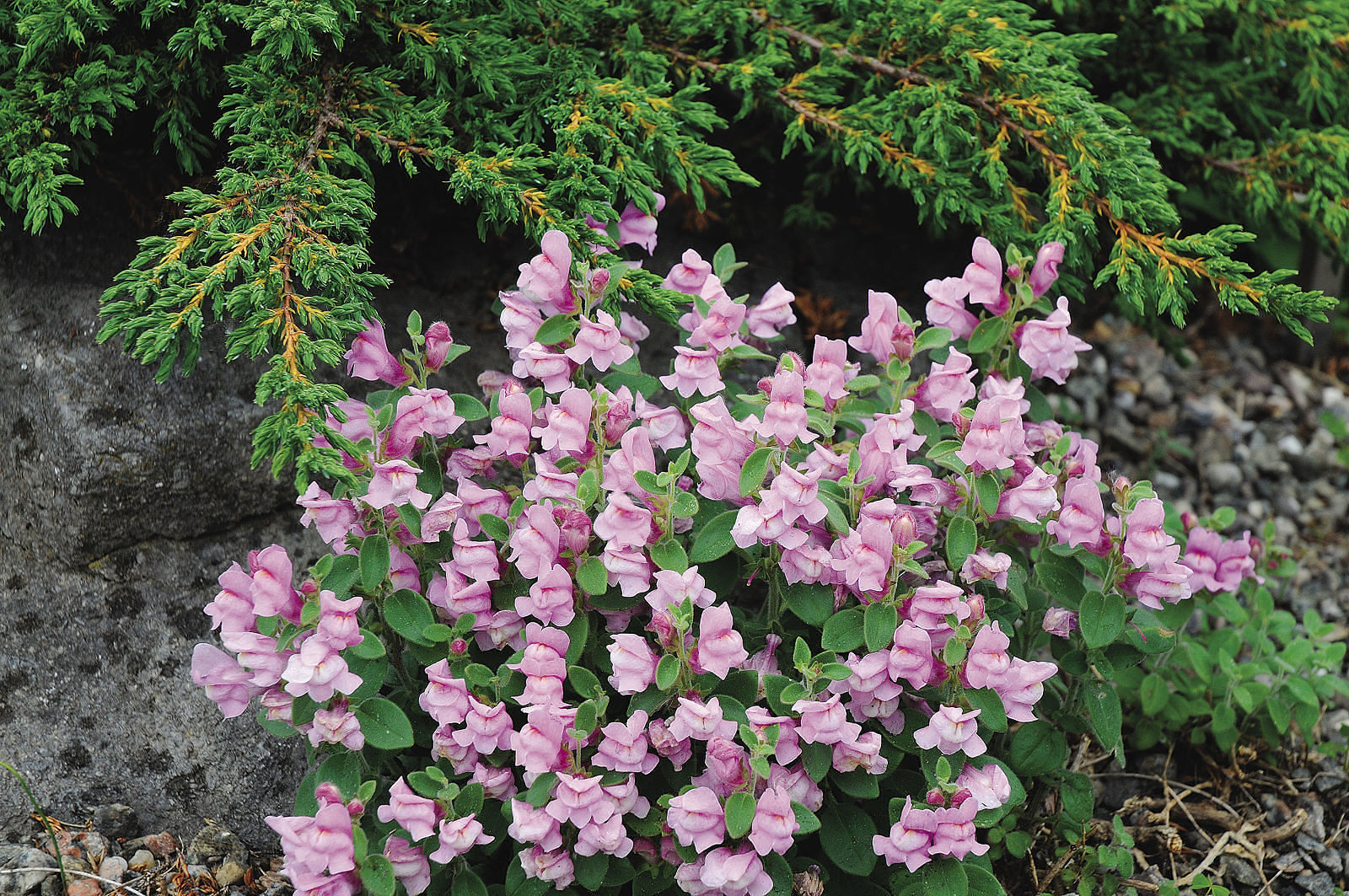 Sold as an annual, a rock-garden plant, or even a collector's rarity, Spanish snapdragon would be a stunning addition to any garden. It comes in all-purpose shades of white, pink (pictured), and yellow, and it blooms senselessly over most of the summer. Cloaked in fuzzy silver foliage, it seems improbable for this plant, a doppelgänger of annual snapdragon, to be hardy—which it is—though specific growing conditions are essential: hot, sunny, and perfectly draining soil. Spanish snapdragon occasionally grows into a vaguely prostrate shrublet. It benefits from being cut back every spring, a simple intervention that promotes fresh growth. It is precisely its loose growth habit that we should thank for a remarkable ease of propagation, through a process called "layering." In midsummer, add a handful of soil against the base of this snapdragon—enough to cover the bottom half of new growth. A few weeks later, most of the buried twigs should have rooted, signaling a readiness to be separated from the original plant.
Zones: 5 to 8
Size: 1 foot tall and 2 feet wide
Conditions: Full sun; well-drained soil
Propagation: Layering
Japanese feather reed grass can be multiplied at any time
Name: Calamagrostis hakonensis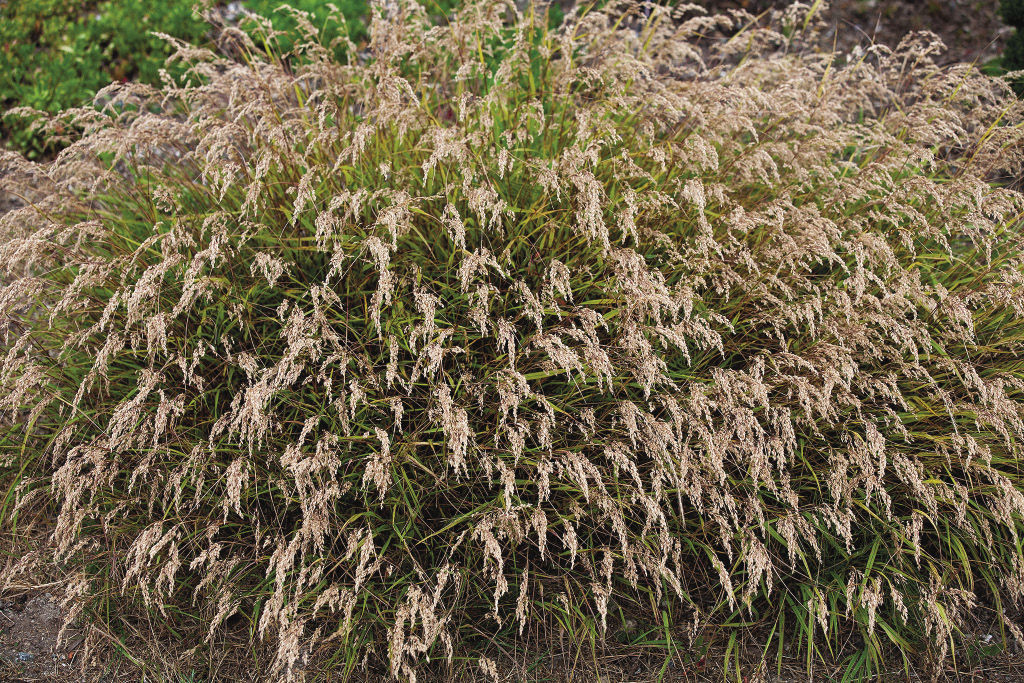 Like so many Hollywood starlets, loads of plant novelties skyrocket to fame as quickly as they fall into oblivion, failing to deliver on their bold promises and void of much real interest. Unfazed by drama and glitz, I look the other way for those plants drifting into the spotlight after trials and tribulations within connoisseur's circles; to put it bluntly, I choose New York over L.A. Such is my love for Japanese feather reed grass —little known yet a promising contender for future fame. Imagine the ubiquitous all-green Japanese forest grass (Hakonechloa macra, Zones 5–9) and its graceful fountain of blades. Japanese feather reed grass has a similar look, only it's slightly smaller in stature and coiffed with miniature blonde spikes—not unlike those of its kin, the stately 'Karl Foerster' feather reed grass (Calamagrostis × acutiflora 'Karl Foerster', Zones 5–9). Japanese feather reed grass is a loosely clumping grass that always seems ready to let my knife have a few slices, fulfilling my needs for planting projects and gifting. As with most things underground, you must remain attentive and jump at the first offering of this plant that might surface—and one small offering is all that is needed.
Zones: 6 to 8
Size: 1 foot tall and wide
Conditions: Full sun to partial shade; well-drained soil
Propagation: Division
Short-toothed mountain mint attracts pollinators aplenty
Name: Pycnanthemum muticum

Mountain mints are unrivaled when it comes to attracting just about anything seeking nectar. As powerfully vigorous as they are scented, many are better left out of your garden beds, unless bees and butterflies are your only preoccupation. There is one notable exception: short-toothed mountain mint (top left photo, p. 48), which is truly a sophisticated plant. Nowhere else is the ornamental use of this plant better championed than on New York's cele­brated High Line, where it sits with grasses and other gentrified wildlings. In midsummer, short-toothed mountain mint produces dense bunches of minute flowers surrounded by large glistening silvery bracts, for a prolonged and carefree spectacle. Although less invasive, this plant is still a mint; a clump quickly goes from baby to beefy, thickening in and sending rhizomes out for expansion. A well-sharpened spade can swiftly slice off any new plants you might wish for, and the excess is easily moved to the closest roundabout, community garden, or compost heap.
Zones: 4 to 8
Size: 1 to 3 feet tall and wide
Conditions: Full sun to partial shade; well-drained soil
Propagation: Division
Russian hollyhock resists rust and returns yearly
Name: Alcea rugosa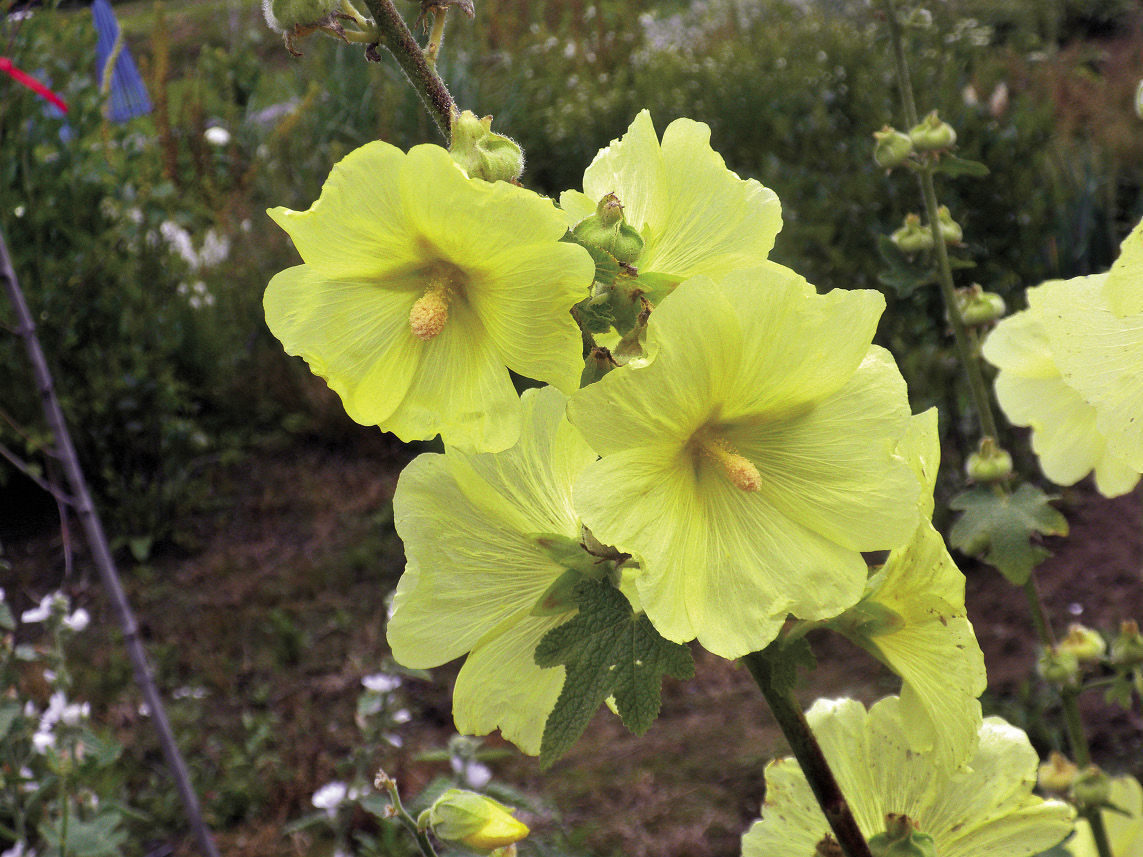 Standing among my grandma's towering hollyhocks in full bloom, with their abundance of satiny flowers in the most fascinating shades, I would have never suspected that such a charm could ever be broken. Reality hit, however, when my own seedlings were disfigured by what I now know as foliar rust. I loved my grandma, but these fleeting hollyhocks of hers were too much trouble for me. While traditional hollyhocks (Alcea rosea* cvs., Zones 3–9) are biennials, little-known Russian hollyhock has the polite habit of returning again and again, and it has a notable resistance against that maligned foliar rust. The flower color is limited to a faint yet lovely yellow. Furthermore, this Far East beauty honors the reputation of a genus known for its ease of propagation: A pinch of its large and flat seeds dropped in place will often suffice to get the spectacle growing.
Zones: 3 to 8
Size: 6 feet tall and 2 feet wide
Conditions: Full sun; well-drained soil
Propagation: Self-sowing
Ghost bramble commands attention with its spectral presence
Name: Rubus thibetanus 'Silver Fern'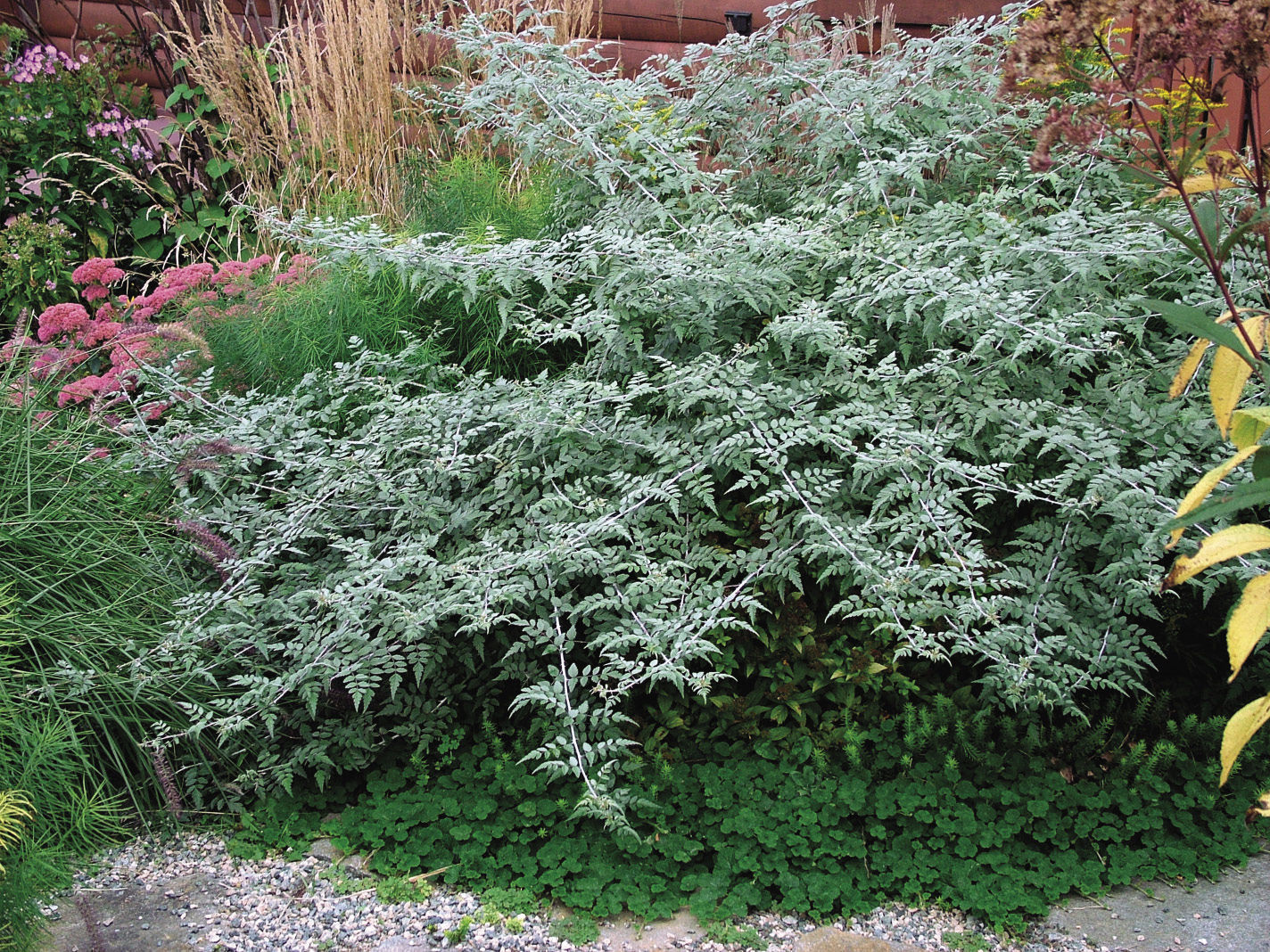 In the Pacific Northwest, abandoned gardens and derelict train tracks get voraciously swallowed up by the thorniest of all weedy nightmares: the Himalayan bramble (Rubus tricolor, Zones 7–9). It is a feat, then, to convince any gardener to con­sider any bramble as an ornamental choice, least of all giving it prime real estate. Yet there is a candidate that might give you a reason to do just that: ghost bramble. With its slender, white-as-snow canes gracefully arching out into a delicate fountain of light, ferny, and silvery foliage, this shrub pairs ample charm with tamed vigor. With such an open, fanning silhouette, it is best to keep neighbors away to avoid overcrowding. To encourage new growth, cut out the older canes every other year. The branch tips of ghost bramble root easily when they come in contact with the ground. To speed up the process, canes can be weighed down—a stone or two will do—and time will do the rest.
Zones: 6 to 9
Size: 5 to 6 feet tall and wide
Conditions: Full sun to partial shade; moist, well-drained soil
Propagation: Tip layering
---
Technique
Get to know the dos and don'ts of division
Just because a plant can be divided doesn't always mean it should be divided. There are several things to keep in mind before reaching for that spade and hacking off a chunk of a beloved plant.
Do: Ensure that plants have been well watered in the days prior to division. Making sure that the mother plant is fully hydrated and replenished is a key to success.
Do: Generously loosen up the soil in which the division is to be installed (photo, below) so that the new roots will have an easier time spreading and establishing themselves.
Do: Spread out the roots of the division instead of bunching them together, and make sure the division finds itself at the same depth as it was previously. Failure to do so will encourage root asphyxia.
Don't: Divide any weakened or diseased perennials. Who would want to go through surgery when already afflicted by the flu?
Don't: Fertilize the mother plant or the fresh divisions. The fertilizer solution will most likely increase the salinity of the soil and, hence, take a toll on your pups.
Don't: Let your new babies spend their energy blooming. If flowers form right after division, cut them off and send a clear message: Focus on your roots.
Don't: Pick the height of summer or any stretch of hot weather as a time to divide. Spring (as plants start to emerge) or fall (as plants prepare to enter dormancy) are the seasons to favor.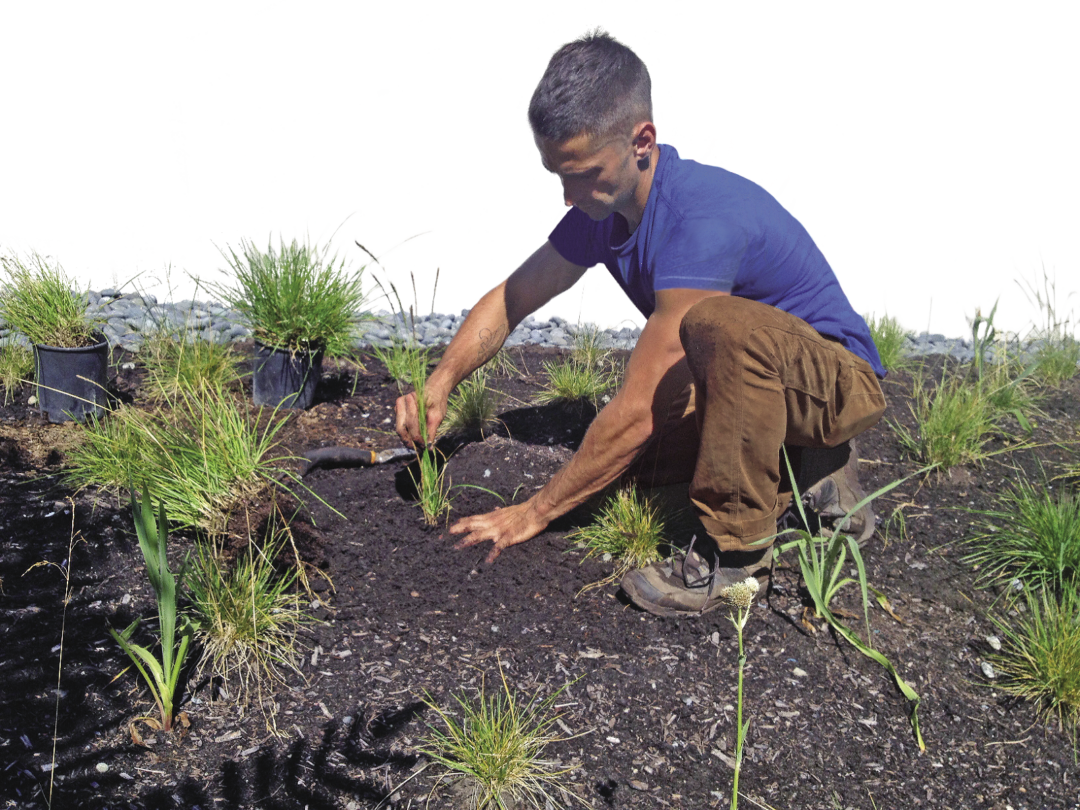 ---
SOURCES
The following mail-order plant sellers offer the widest selection of the plants featured:
Free Spirit Nursery, Langley, British Columbia; 604-533-7373; freespiritnursery.ca
Plant Delights Nursery, Raleigh, N.C.; 919-772-4794; plantdelights.com
Quackin' Grass Nursery, Brooklyn, Conn.; 860-779-1732; quackingrassnursery.com
Photos, millettephotomedia.com, Jason Ingram/gapphotos.com, Richie Steffens, courtesy of Far Reaches Farm, Daniel Mosquin; courtesy of Dave Demers;, Michelle Gervais;, Nancy J. Ondra