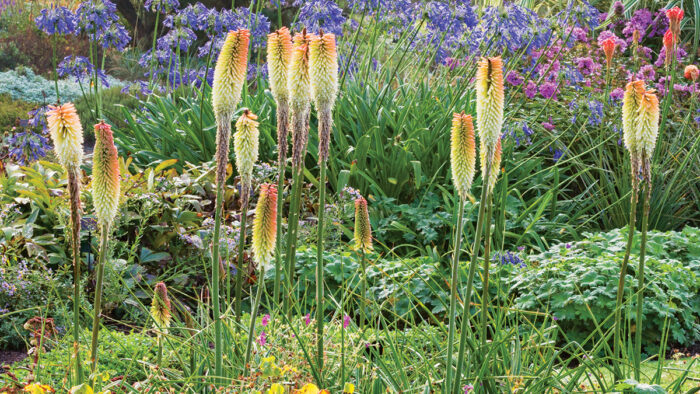 Dan Robarts says in his article on reblooming perennials, "…the criteria I generally adhere to for earning a spot in the beds at my home or botanical garden workplace center strictly around ornamental value. As we all know, there are only so many "spots" in the garden and so many minutes in the day, so plant selections that do not steal the show day in and day out are not on my agenda. Multiseason interest is the way to join the club in my beds, and for most perennials, flower power is the ticket."
A sure-fire way to ensure real flower power and an extended period of interest (without constantly switching out annuals), is by investing in perennials that are known to rebloom. Find some perennial rebloomers for the Northwest below. And discover even more plants that will dependably deliver flowers in Dan's article, Reliably Reblooming Perennial Plants.
---
1. 'Susanna Mitchell' Marguerite Daisy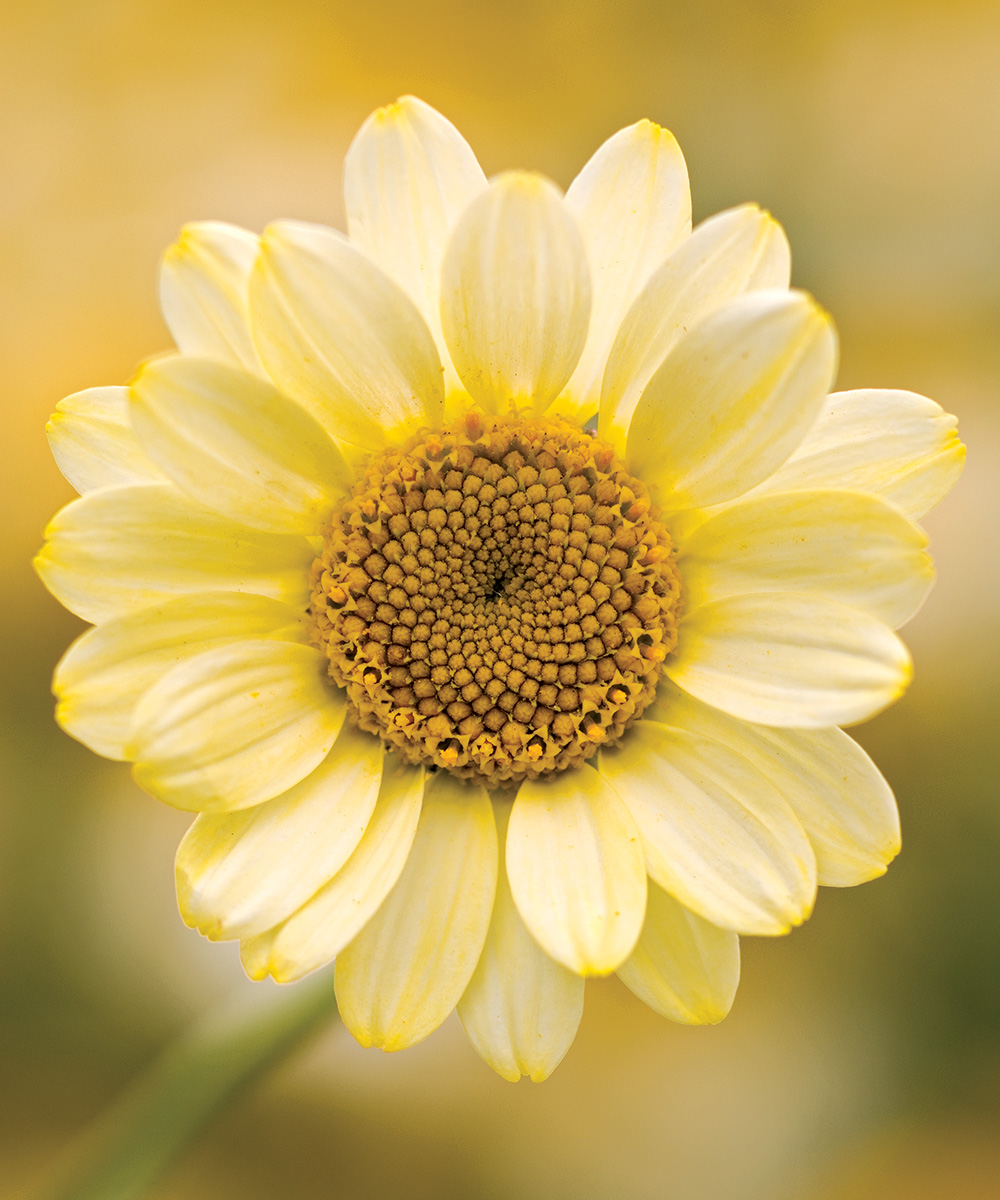 Name: Anthemis 'Susanna Mitchell'
Zones: 4–9
Size: 18 to 24 inches tall and 36 inches wide
Conditions: Full sun; dry, average to lean, well-drained soil
Native range: Garden hybrid
Beneath this daisy's understated, delicate facade is an uninhibited bloomer with a tenacious spirit. Feathery silver foliage hints at its tolerance of arid environments, while its earthy chamomile aroma repels deer and rabbits. In spring, wiry stems armored with downy fur bend every which way, supporting tight lemon yellow buds that open to reveal custardy cream petals surrounding plump golden cushions. These cheerful flowers are a feast for pollinators and are also long-lasting in a bouquet. Give this vigorous grower an annual chop to keep it tidy, and occasionally deadhead to stretch the profusion of blooms through summer.
2. 'Margarita BOP' Foothills Penstemon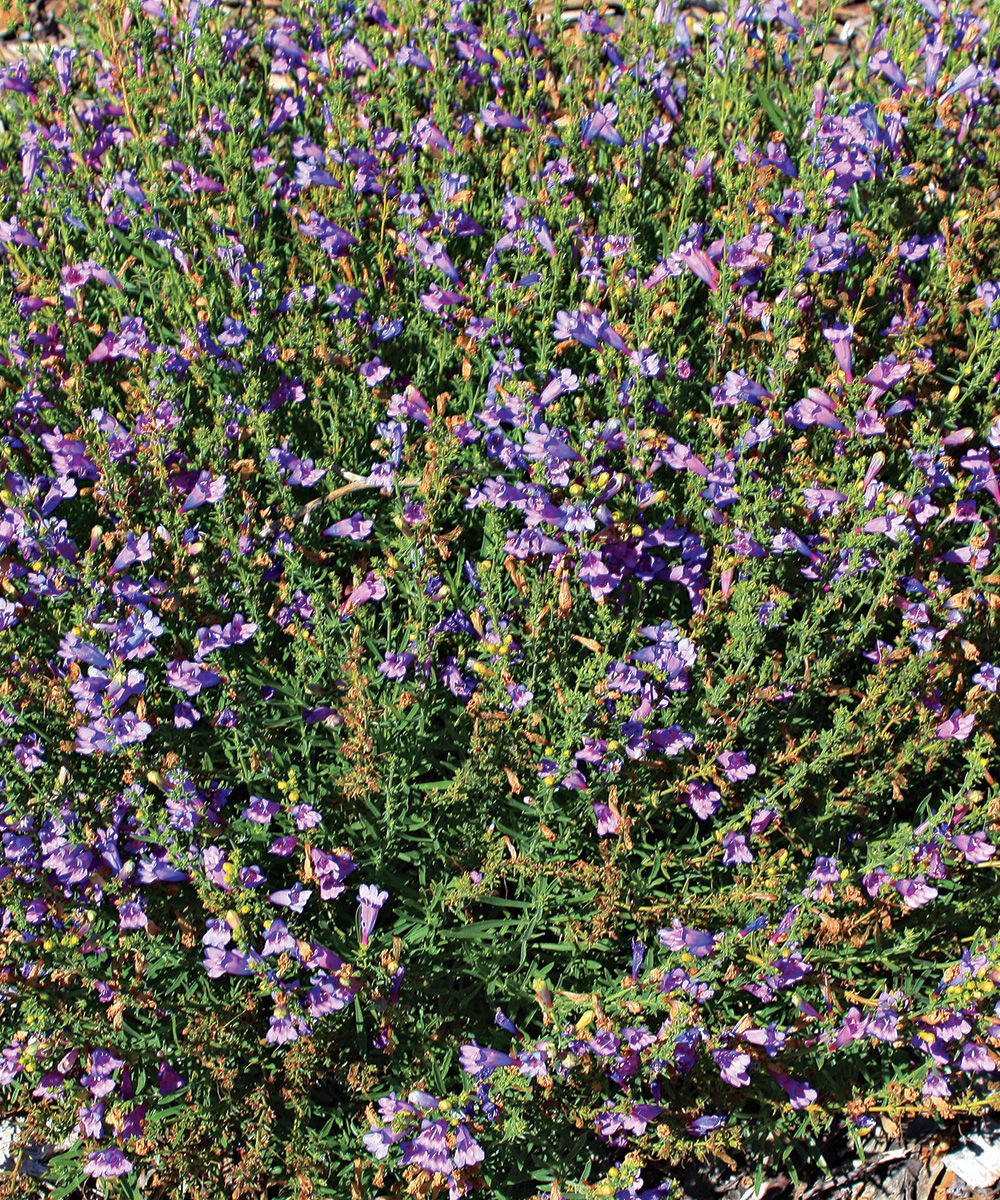 Name: Penstemon heterophyllus 'Margarita BOP'
Zones: 6–10
Size: 18 inches tall and 24 to 30 inches wide
Conditions: Full sun to partial shade; average to lean, well-drained soil
Native range: Sierra Nevada foothills and coastal mountain ranges of California
With so many fabulous penstemons available, why choose this one? Derived from a chance seedling, 'Margarita BOP' defied logic with resilience and longevity. Flourishing in hot, dry conditions, and even tolerating clay soil, this rugged survivor checks off many boxes. It boasts a useful, front-of-the-border shape and size with elongated blue-green foliage year-round. From roseblushed creamy buds emerge multitudes of iridescent violet-blue flutes along willowy stems, catering to a frenzy of pollinators throughout late spring and summer. Shear it back after the first wave to encourage rebloom, and again in late winter to prevent ranginess with age.
3. 'Totally Tangerine' Geum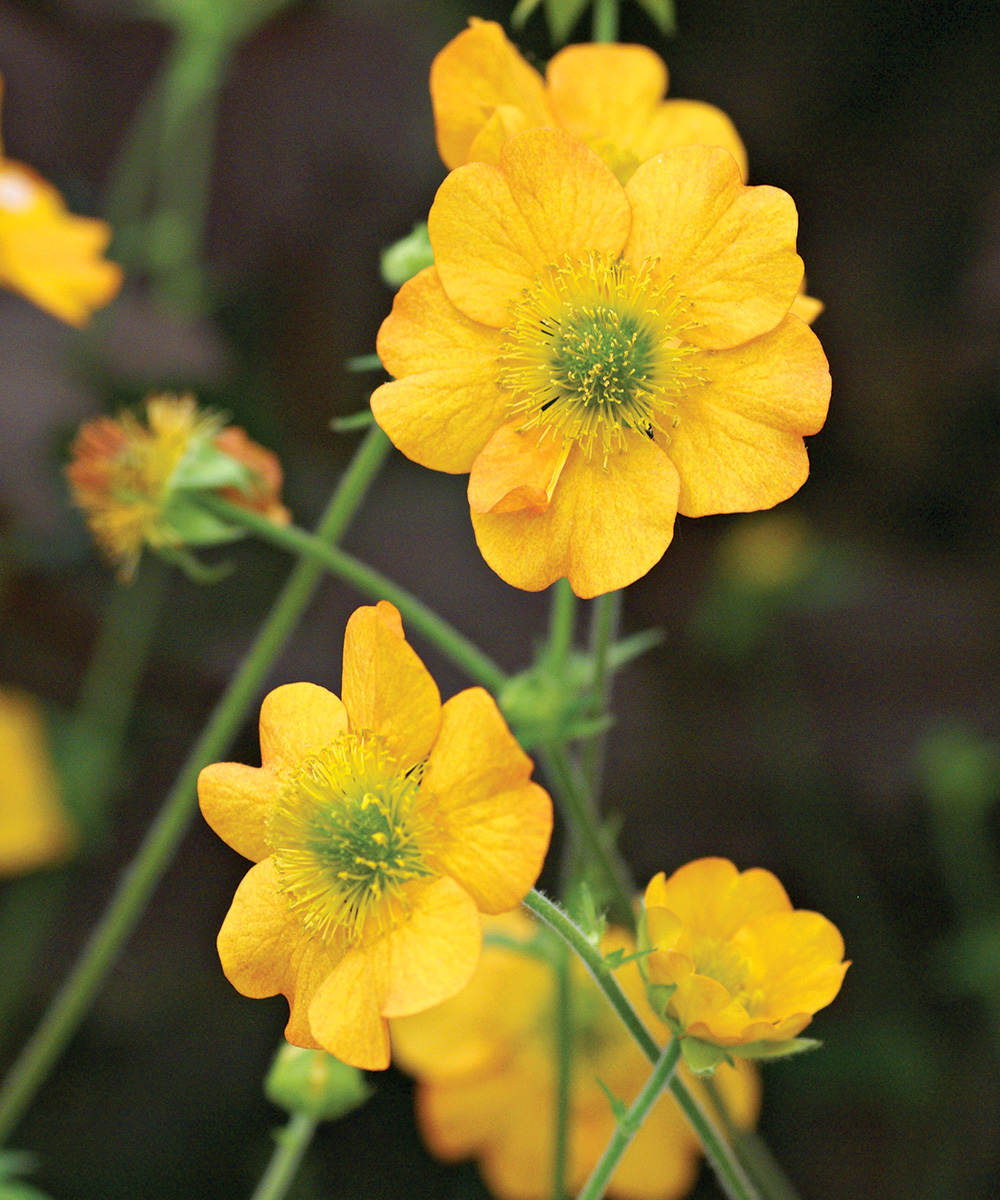 Name: Geum 'Totally Tangerine'
Zones: 5–8
Size: 24 to 30 inches tall and 18 inches wide
Conditions: Full sun to partial shade; moderately moist, average to rich soil
Native range: Hybrid
Larger and more robust than many of the geum clan, 'Totally Tangerine' fits the bill for a midborder splash of intense peachy color. Its uncommon hue pairs easily with colors across the rainbow, blending with pastels or jewel tones equally well. Butterflies and bees will appreciate the abundance of delicate blooms perched atop slim, branched stems from spring through summer. The flowers' sterility extends the impressive show. A basal clump of bristly pinnate leaves contrasts nicely with other foliar textures, remaining evergreen and kissed with burgundy in mild winters, a double-duty welcome in any vignette.
4. 'Toffee Nosed' Red Hot Poker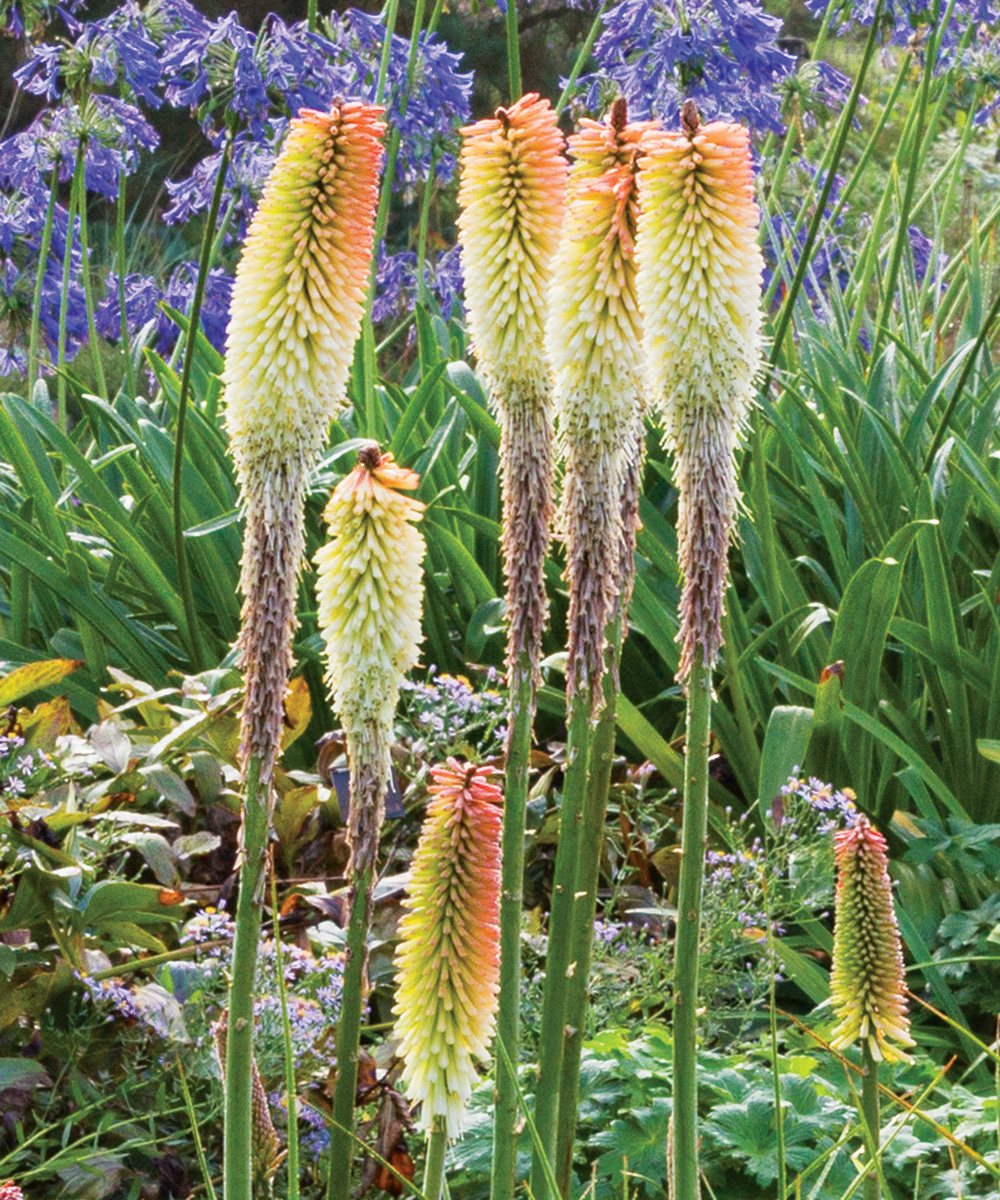 Name: Kniphofia 'Toffee Nosed'
Zones: 6–10
Size: 36 to 42 inches tall and 24 to 36 inches wide
Conditions: Full sun to partial shade; average to dry, well-drained soil
Native range: South Africa
Where old-school red hot pokers can be coarse and thuggish, 'Toffee Nosed', known for its prolonged floral display, is more elegant. It has a compact habit with more slender foliage, from which sturdy stems arch skyward, topped with blooms akin to hula girls beckoning the hummingbirds who adore them. In lieu of grass skirts, pendulous ivory tubes at the base of each torch transition to dusky apricot buds held more upright, like arms raised in fluid motion. Pair 'Toffee Nosed' with soft periwinkle blues and glaucous-leaved companions to set off the velvety tones. Given minor primping, these caramel ladies will dance their way into summer for an encore performance.
---
Bonni Criswell is a landscape designer in southern Oregon.