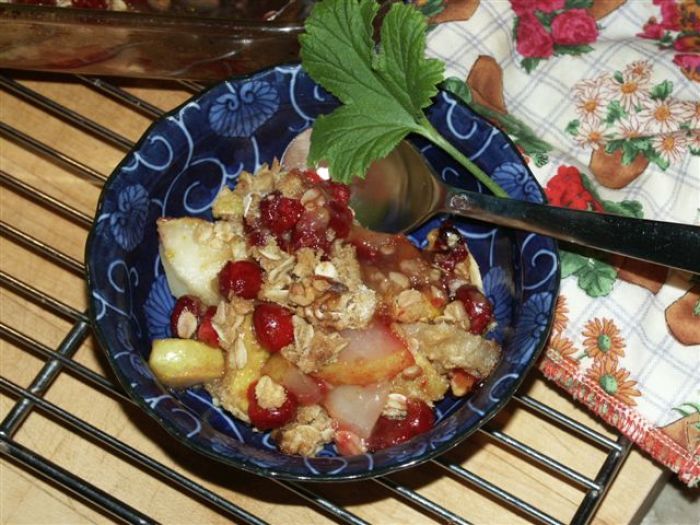 Ingredients:
Serves 8 to 10
Fruit:
4 firm, ripe pears, peeled if desired, cored, and sliced into quarters lengthwise
1/2 lemon
2 cups fresh or frozen cranberries
2/3 cup packed light brown sugar
2 tablespoons unbleached flour
Zest from 1 orange
15 to 20 orange-scented geranium leaves, optional
Freshly grated nutmeg
Crumble Topping:
1/2 cup unbleached flour
1/4 cup whole wheat flour
1/4 teaspoon salt
8 tablespoons unsalted butter, cold, cut into bits
1 cup brown sugar, not packed
1 cup rolled oats
2/3 cup coarsely chopped walnuts or pecans
Pears and cranberries are a favorite fall combination; both are delicious when complimented by the flavor of orange. I like to use my fresh herbs to add fragrance and flavor to seasonal desserts. If you don't have orange geranium leaves, orange mint would work well. Rosemary or sage leaves could also be used—I'd use about 8 to 10 sprigs of rosemary about 1-1/2 inches long and remove them before serving or about 12 to 15 whole sage leaves.
Preheat oven to 375 degrees F. Generously butter a 2-quart ovenproof dish.
Take the quartered pears and cut them crosswise into slices and put them in a bowl; squeeze the lemon over the pears, and toss them with the cranberries. Add the brown sugar, flour, zest, and whole scented geranium leaves and toss well. Transfer the fruit mixture to the prepared dish and dust the top with freshly grated nutmeg.
In a bowl, combine the flours and salt and toss to blend. Cut the butter into the flour with a pastry cutter or two knives. Add the brown sugar, oats, and walnuts and toss well. Scatter the crumble topping over the fruit in the pan. Bake in a preheated oven for 30 to 35 minutes, until the crumble is golden brown and the pears are tender when stuck with the tip of a knife. Cool on a baking rack for at least 15 minutes before serving. Serve hot, warm, or at room temperature. ou can remove the herb leaves if desired, I generally leave them in the dessert, but do not eat them; just warn your guests if you do so.