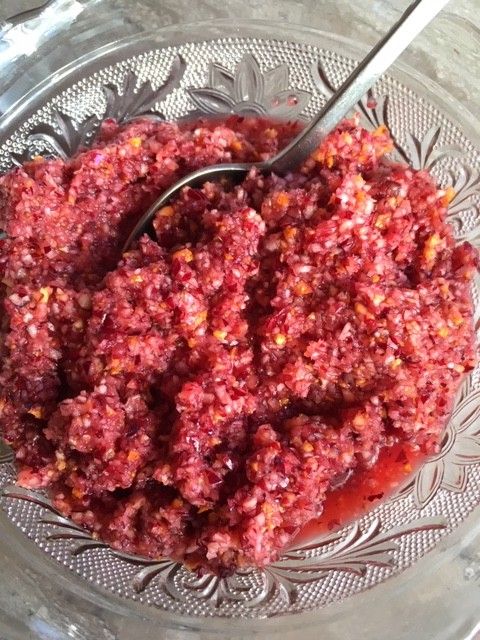 Cranberries are a staple of the Thanksgiving table. I am not one to appreciate a quivery, jelly-like mass. I go for the gusto: texture, flavor and freshness. This is the best cranberry relish that I have ever eaten–has three simple seasonal ingredients– and it takes just 5 minutes to make.
This recipe was from my mother-in-law, Marguerite Sargent. Maggie made it with sugar, however I like it much better with maple syrup.
Marguerite's Cranberry Orange Relish
For as long as I have known her, my mother-in-law, Marguerite Sargent made this relish every single Thanksgiving. It is fresh, tart and sweet-lively on the palate-a nice counterpoint to all of the other heavy foods. She used to grind it in a meat grinder way back when, but used the food processor in more recent years. Marguerite used an old recipe for this that she got out of a newspaper many years ago-since I do not have the exact recipe-this is my version of how I think she made it. I like to stir in 5 or 6 drops of my homemade orange bitters. Sometimes I add a tablespoon or two of orange liqueur like Grand Marnier, Cointreau or Gran Gala.
Makes about 4 cups
1 organic naval orange, washed and cut into eighths
1 bag fresh cranberries, preferably organic, washed and picked over
About 1/3 to 1/2 cup real maple syrup
Put the orange pieces into a food processor and pulse until it is in small pieces, but not pureed. Add the cranberries and pulse until they are in small pieces, but not pureed. The relish should have texture. Pour in the 1/3 cup maple syrup and pulse just to combine.
Transfer the relish to a bowl. Taste for sweetness-it should be tart and tangy-yet sweet enough. Add more syrup if need be (up to another 1/4 to 1/3 cup. Cover and refrigerate for a few hours; it is good to make it a day or so before. Once it has mellowed, taste it again for sweetness and adjust as necessary.