Star Roses & Plants have been trendsetters in bringing easier care, disease resistant roses to the market. You might say they started it because they are the folks who introduced The Knockout Rose. They also introduced the Drift Series of Roses which are terrific groundcover roses. We'll start with their newest addition to the Drift series.
White Drift  (Meizorland)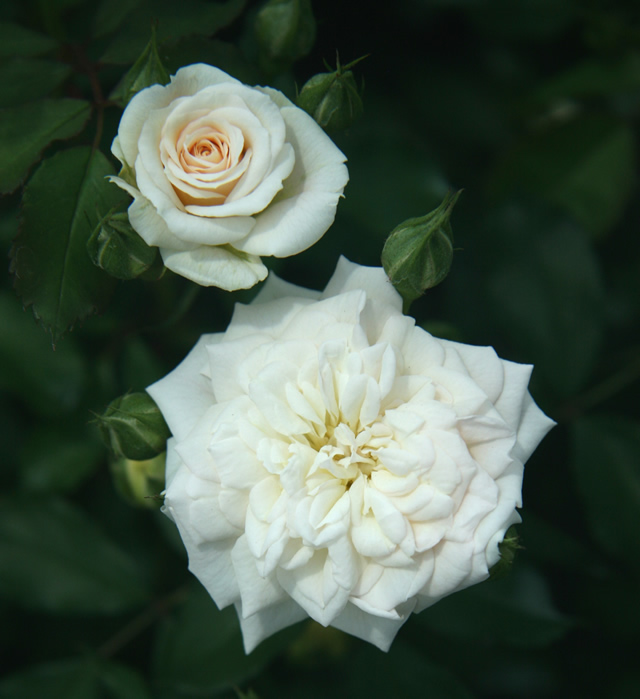 Bright white, fully double blooms are the first thing you notice about this rose. They are shaped like miniature rose blooms and appear in clusters on the stems. Some roses in the Drift series are a bit more upright in growth habit but this one is a low spreader. Mature size is about 1.5' high by 2.5' wide.  As with all the Drift roses it is very disease resistant and blooms pretty much continuously throughout the season.  It's hardy in zones 5-11.
I really like the Drift roses when they are planted in mass.  5 or more grouped together so they appear as one large rose. This is perfect for bedding, front of the border, a hill side, tumbling over rock walls; there are all kinds of uses for these roses. Care is simple. At pruning time just shear them back by about 1/2 to 2/3 and clear out any dead wood. Then just let them go.
The Honey Nectar Rose (Radnectar)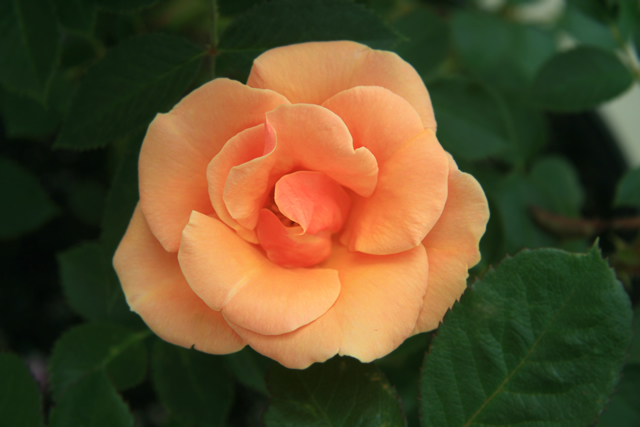 This new Grandiflora was bred by William Radler who is the creator of The Knock Out Rose. It bears orange to apricot blooms set off by it's dark green, glossy foliage. Each stem can bear from 1-5 blooms continually during the season.  It's hard in zones 5-9. Disease resistance is very good.
Grandifloras grow upright in tidy fashion. The Honey Nectar Rose will grow to around 5' high, which is actually on the shorter side for a Grandiflora. This makes it perfect for the middle to back of mixed borders. I can also see it making a nice hedge or even a mass planting when paired with the Apricot Drift Rose at it's feet.  The two would make a striking combination.
Candy Cane Cocktail (Meiransois)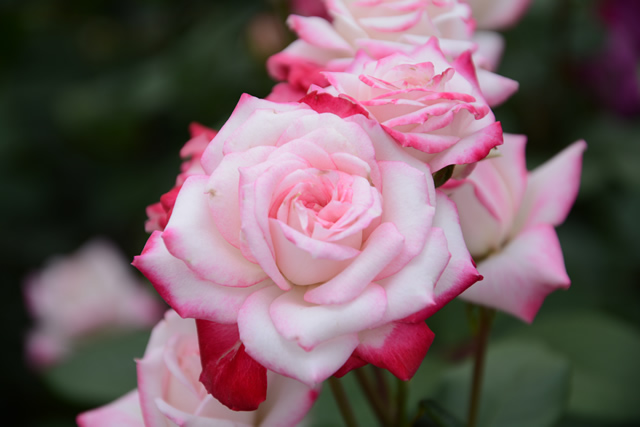 This Floribunda rose bears bi-colored booms of white suffered with deep pink to red edges. Figure the color will be darker in cooler times and lighter in warm times of the year. Growth habit is upright, bushy eventually reaching 3.5' – 4' high. The dark green, semi-glossy foliage has good disease resistance.  It's hardy in zones 6-9.
Floribundas make great shrub type plants. They tend to be shorter and bushier with multi branching. Blooms are borne in clusters and most all of them are terrific re-bloomers. Candy Cane Cocktail is no exception and blooms pretty much continuously all season long.
They are great in mixed borders, mass planting, hedging and even in large containers. I've seen them planted nicely in groups of three in half whisky barrels.  In containers underplant them with tumbling perennials and herbs that can spill over the sides.
All of these and many other roses from Star Roses & Plants are widely available in Independent Garden Centers this spring.
Happy Roseing