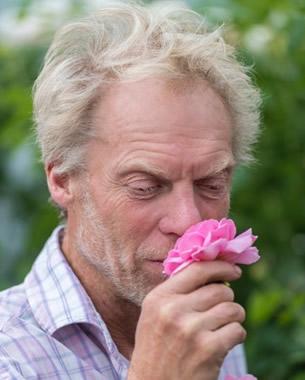 David Austin Roses has a long history of releasing beautiful, fragrant roses ideal for incorporating into a general garden planting. While the colors are varied, none are so garish as to not blend well with perennials, annuals and other shrubs.
In fact Michael Marriott, technical director and senior rosarian of David Austin Roses, encourages gardeners to use their roses in borders and to plant them in multiple groups for the best effect.
At minimum three of each variety and plant the close enough to each other so they appear to be one large bush instead of three individual ones.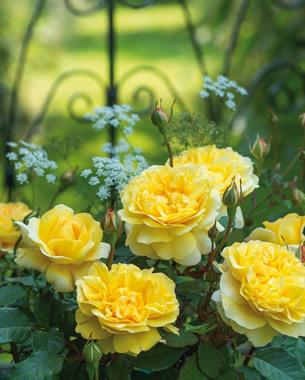 The Poet's Wife
This year for the first time since 2003 they are releasing a new yellow rose called "The Poet's Wife" (Asuwhirl). Bearing a strong fruity fragrance this rose is also very disease resistant.
The blooms are around 4.5 inches in diameter and are born on a rounded bush with shiny, dark green foliage.
It will grow to around 4' tall and 3.5' wide and is hardy in USDA zones 5-10. Keep in mind it may grow slightly taller in warmer climates. It is a reliable repeat bloomer
The Lady of The Lake
"The Lady of The Lake" (Ausherbert) is the next variety in a series of shorter ramblers that repeat flower. I'm very excited about this series and in fact one of them, "Malvern Hills", is one of my favorite climbing roses. For those who are new to these kinds of roses, rambling roses have canes that are more supple. This makes it much easier to train them them many of the more traditional climbing roses that have stiffer canes. Also, because their canes are supple they grow in a more relaxed informal habit. This makes them ideal for more of a cottage garden type look.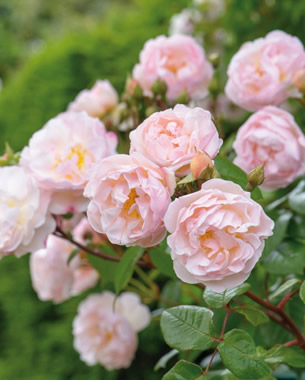 The downside almost all of them are spring flowering only and they grow to huge size – often to 25' or more. These ramblers from David Austin stay in the 10' – 15' range making them much easier to work with.
"The Lady of the Lake" bears fragrant, delicate blush pink blooms all season long. They are around 2" across (typical for most ramblers).
It bears a nice citrus fragrance. Hardy in USDA zones 7-10.
Olivia Rose Austin
Lastly they have released what they consider to be the best rose they have ever bred. Considering how many great roses they have bred that is saying something!
"Olivia Rose Austin" (Ausmixture) is a very healthy, disease free and fragrant rose that blooms abundantly. The blooms start earlier than most other English Roses and the flushes follow each other in quick succession as opposed to a cycle of bloom, reset new buds, bloom and so on. The blooms are 4 inches across and very fully petalled. Growing to around 3.5' x 3' this makes it a great choice for borders, low hedge, mass planting and even containers. Hardy in USDA zones 5-10.
To wrap up this post a quick word about English Roses and disease resistance. I get asked a lot about this, generally from a gardener who grew English Roses twenty years ago or have heard they are not disease resistant. Some of the older ones from 20-30 years ago were not as disease resistant as most modern roses are now. But then again very few roses were disease resistant back then because no one cared. It's only been the last 15 years or so (since The Knockout Rose) was released that disease resistance became a desired trait.
David Austin in his breeding program has focused on health and their newer roses are in line with other modern roses (some older ones are also healthy by the way). They have consistently entered roses in the Biltmore International Rose Trials that I am the coordinator of and they score well on health. So despite what you've heard, or experienced a long time ago, be confident that if they now say a rose is healthy it is.
Happy Roseing,
Paul