Weeks Roses has been in business since 1938. Yet, many consumers may not recognize the "brand name". Perhaps that's because Weeks does not sell directly to the public. Instead, they are a wholesale company that not only breeds roses, but also grows and then sells them to retail stores.
While the name may not be on the tip of your tongue it's likely some of their roses. Over the years Weeks Roses has brought us classics like Living Easy, Scentimental, Fourth of July, Hot Cocoa, Julia Child, Home Run and many more. Their breeding program was under the direction of Tom Carruth from 1988-2012 and is now in the capable hands of Christian Bedard.
You can find their roses in most garden centers and box stores. Their logo is always on the picture tag so they are easy to spot. I've grown many Weeks Roses' over the years and find most of them do very well in my sustainable garden – particularly those bred over the last several years.
Here are they new roses for 2015.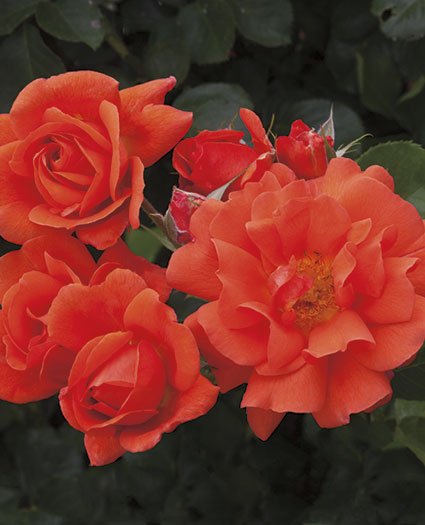 'Above All' (CHEwesic)
Climbing Rose
While Weeks normally only introduces roses from their own breeding lines, every now and then they include one from another breeder. This rose is bred by Chris Warner who resides in the UK. I've grown many of Chris' roses over the years and have always been a fan. The fact that one of the "parents" of this rose is 'Westerland' is also exciting. Westerland is a class rose noted for vigor and disease resistance.
Above All is a climbing rose that will grow to around 10′-14′. Your size will vary by climate zone with the greater heights achieved by the warmer you are. The salmon orange flowers are old fashioned in appearance with a moderate, fruity fragrance. It has good winter hardiness so figure easily to zone 5 and possible even parts of zone 4. Westerland is known for being hardy and it appears this rose inherited that trait.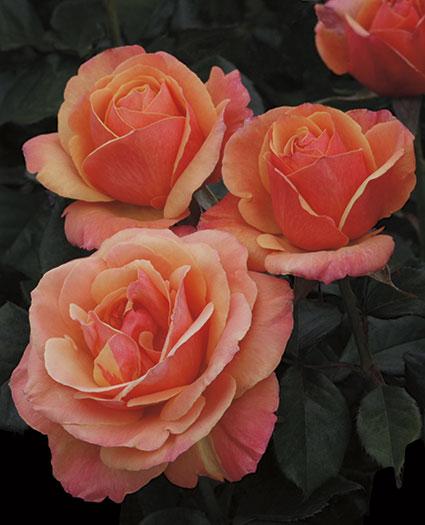 Anna's Promise (WEKdoofat)
Grandiflora Rose
For fans of the TV show Downton Abbey here is a golden tan & pink blush with apricot reverse grandiflora rose. A grandiflora is essentially a tall growing hybrid tea rose – Queen Elizabeth being the classic example. This means Anna will likely grow to 5′-6′ tall. There is a moderate fruity, fruit fragrance with slight spices. The roses cut well for the house. The height makes it a perfect rose for the back of the border or even a hedge.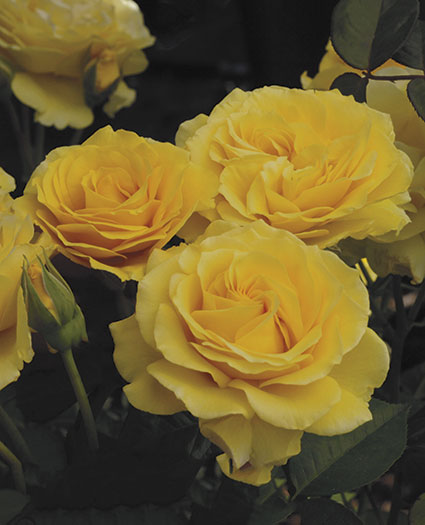 Doris Day (WEKmajuchi)
Floribunda Rose
Floribundas are a particularly useful class of garden roses. They have a medium sized growth habit, tend to well foliated, and bloom their heads off all season long. This makes them perfect for borders, low hedges, mass planting and even in large pots. Doris Day bears golden yellow blooms in clusters. There is a strong, fruity fragrance with notes of sweet spice.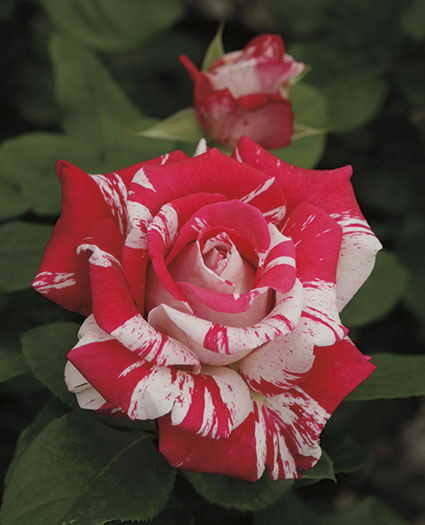 Neil Diamond (WEKdereroro)
Hybrid Tea
For fans of striped roses (and I'm one of them) comes a new hybrid tea named after an iconic singer. For fans of fragrant rose here is a striped rose bearing a strong, classic rose smell. Being a hybrid tea means it will cut well for vase display.
A tall, upright growth habit (figure 5' high or so) gives you options as to it's use. In a border hybrid teas are best planted in tight groups of three or more to give a mass effect. Hybrid teas also display well in a classic rose garden setting. I've seen some growth in pots although the tall habit of this one means I probably would not choose to grow it that way.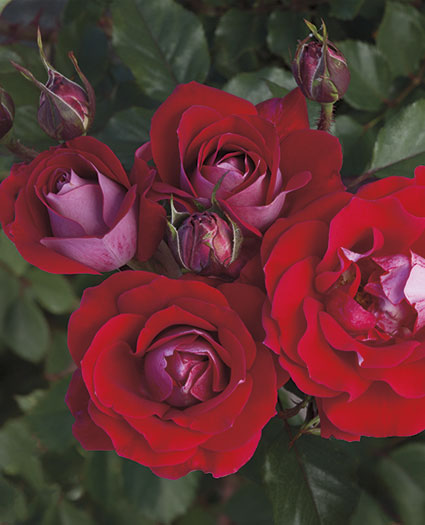 Take It Easy (WEKyoopedko)
Shrub
Bred from Double Knockout this disease resistant shrub bears dark red blooms with a lighter pink reverse. It has an upright, bushy growth habit and that means a tidy grower in your garden. Borders, hedges, mass planting – this roses has many uses in any garden setting. Their is a slight tea fragrance. The classic tea fragrance is one I find some can smell and some can't, so your olfactory impressions may vary!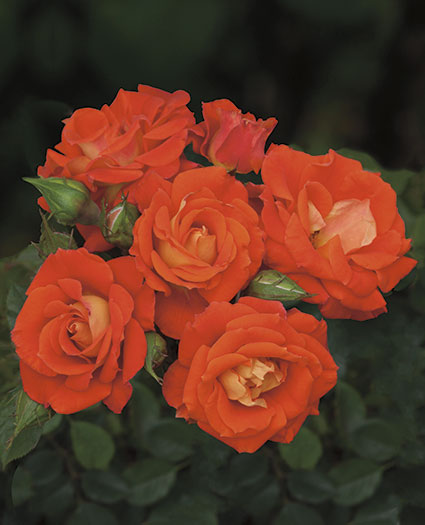 Top Of The World (WEKwoagorol)
Miniature Climber
Let me be clear on what a miniature climber is. The name does not refer to the plant height, but instead refers to the bloom size. Miniature roses bear smaller blooms but generally in clusters that cover the plant. The plant height can vary so always be sure to double check size before you buy a "miniature" rose.
Top Of The World grows to around 10; high. In my book that's a moderate climber and a very, very useful size in a general garden. 4' fences, pillars, trellis; are all candidates for this rose. Based on color I can even see it on arbor along with Above All. I'd train Above all straight up the sides and then along the top of the arbor so it can bear it's blooms along the top. Then train Top Of The World in a criss cross pattern along the sides to cover that part of the arbor.
The blooms are dark orange with a creamy reverse and bear a moderate tea fragrance. Like most "miniature" roses this rose will bloom continuously throughout the season. I love climbing roses but with today's smaller garden spaces it's getting harder to find room for the bigger ones. It's nice to see one coming on the market that isn't so rampant.
Happy Roseing

Paul