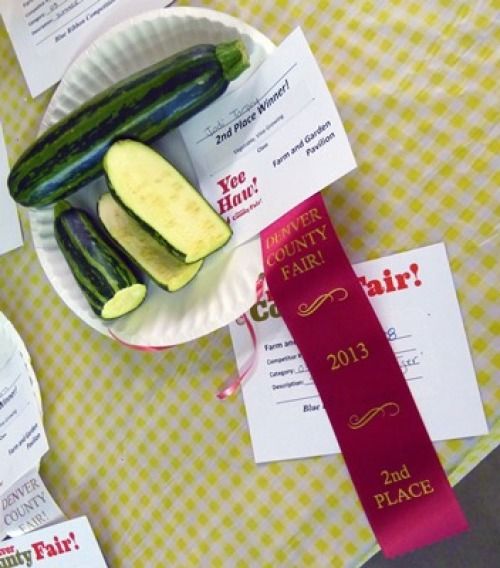 Harris Seeds just announced some of the company's new vegetable offerings for 2014. Garden writers tested these varieties in their own gardens over the summer and submitted comments about taste, performance, produce quality and rated them overall. Based on the feedback, Harris Seeds is adding these new vegetables to its catalog next year:
'Mascotte' Bean-I planted a crop of these extra-fine filet beans in mid-summer in a large Smart Pot and I was harvesting beans at the end of August. I was pleased with the quality of the beans because they were slim, stringless and tender with a good culinary appeal. I was impressed because the beans kept producing until the weather made them stop. I'd recommend these beans, especially for gardeners with small-space gardens, because the plants don't take up much rooom and they provide a good crop of beans.
'Green Tiger' squash-This striped zucchini was a real winner for me. I entered them in the Denver County Fair and won a second-place ribbon in the vine category. Apparently I wasn't the only gardener who liked this variety; it gained unanimous approval in the trials. I liked that it was such a beautiful alternative to typical green zucchini, had a lightly sweet flavor and pleasing texture. As with all summer squash, the secret is picking them while they're small-although I did allow a few to get larger so I could stuff and grill them. They kept their stripes, too. I thought 'Green Tiger' was easy to grow in the garden and on the patio. 
Grafted Heirloom Tomato Sampler-Harris Seeds is adding a grafted tomato sampler to the catalog, featuring 6 plants. There will be two each of 'Brandywine Red', 'Cherokee Purple' and 'San Marzano'. I reported on the mixed results of my side-by-side tomato trial with 'Brandywine Pink' and 'San Marzano'. The 'San Marzano' grafted grew a larger amount of tomatoes than the ungrafted plant. The 'Brandywine' tomatoes were all big, beautiful and delicious tomatoes, with a bigger yield from the ungrafted plant. Still, this was the most successful 'Brandywine' crop I've ever grown.
'Primo' Red tomato-This tomato was part of the 2012 Home Garden Trials. While 'Primo' had a tough time in my garden, other testers reported the tomato had "excellent plant vigor and a strong, early yield of big, smooth bright red fruit." The compact size makes it a good choice for smaller vegetable gardens.
Are there any vegetable varieties you grew last year you'd recommend for next season? Please add your suggestions here.