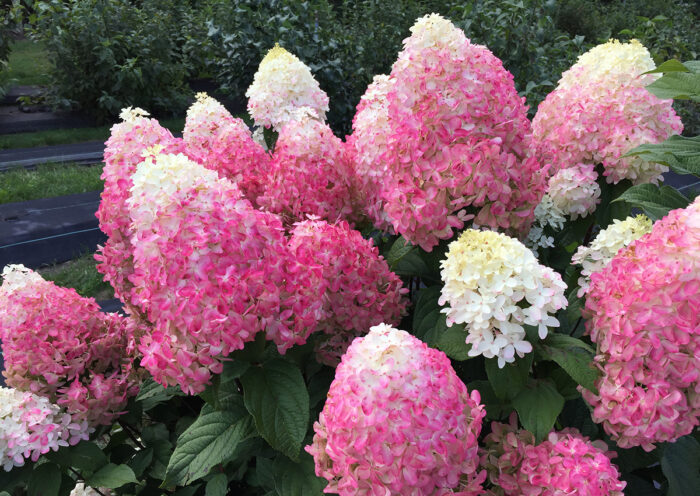 Hydrangeas (Hydrangea spp. and cvs., Zones 3–9) have become one of my favorite shrubs when designing gardens for my clients. They come in many sizes and shapes and have various flower forms and colors. Their large, voluptuous blooms are hard to beat, and they seldom suffer from the troubles that plague my past favorite shrub, roses. Even though there are many great varieties on the market, here are five of my favorite improved cultivars for the Northern Plains.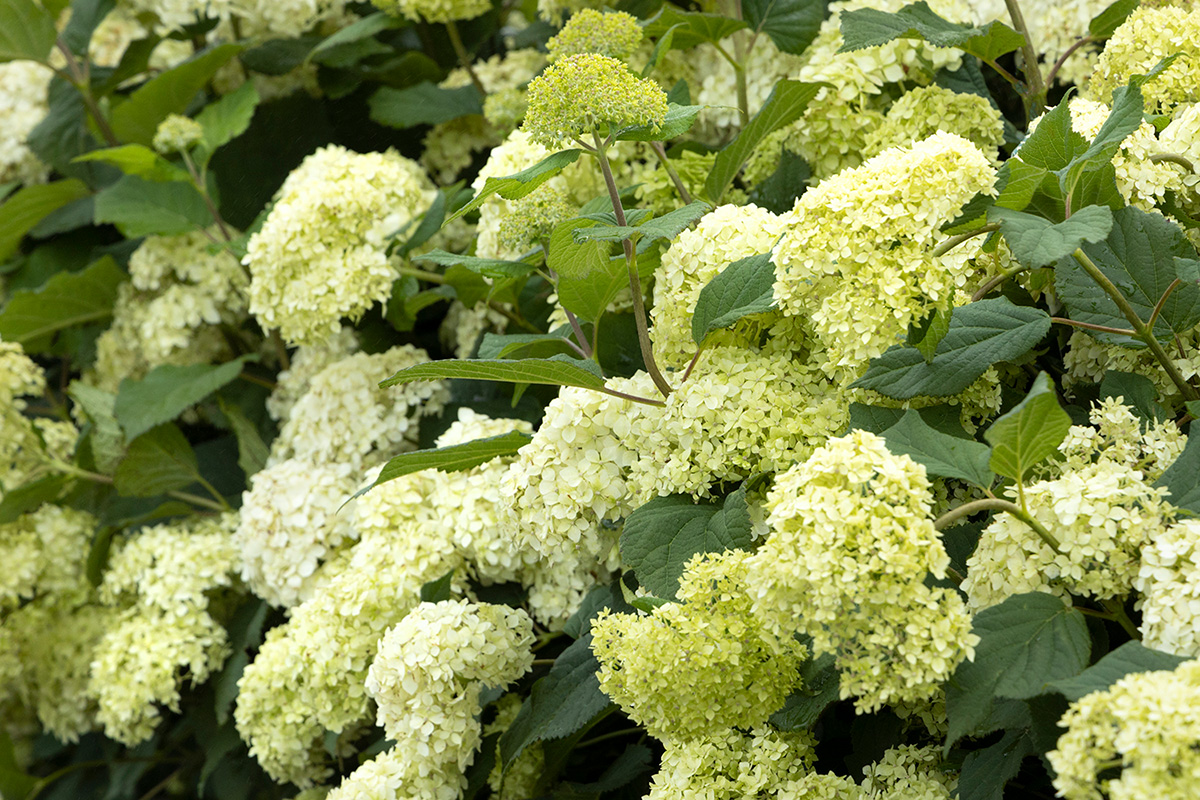 Seaside Serenade® Bar Harbor smooth hydrangea
H. arborescens 'SMHAMWM', Zones 3–8
This hydrangea is an offspring of the beloved 'Annabelle' hydrangea (H. arborescens 'Annabelle', Zones 4–9). Blooming with large and dependable sterile florets, 'Annabelle' reaches 5 feet tall and 6 feet wide. Seaside Serenade® Bar Harbor will only reach 4 feet tall and wide and is well suited for properties with less room to garden. A fast-growing selection of a native shrub, it will grace you with large balls of creamy white blossoms on sturdy, upright stems in summer. They will hold their own through our heavy Northern Plains rains and wind. Seaside Serenade® Bar Harbor takes full sun to partial shade and is extremely winter hardy. It blooms profusely on new wood; prune it back before new growth appears in the spring.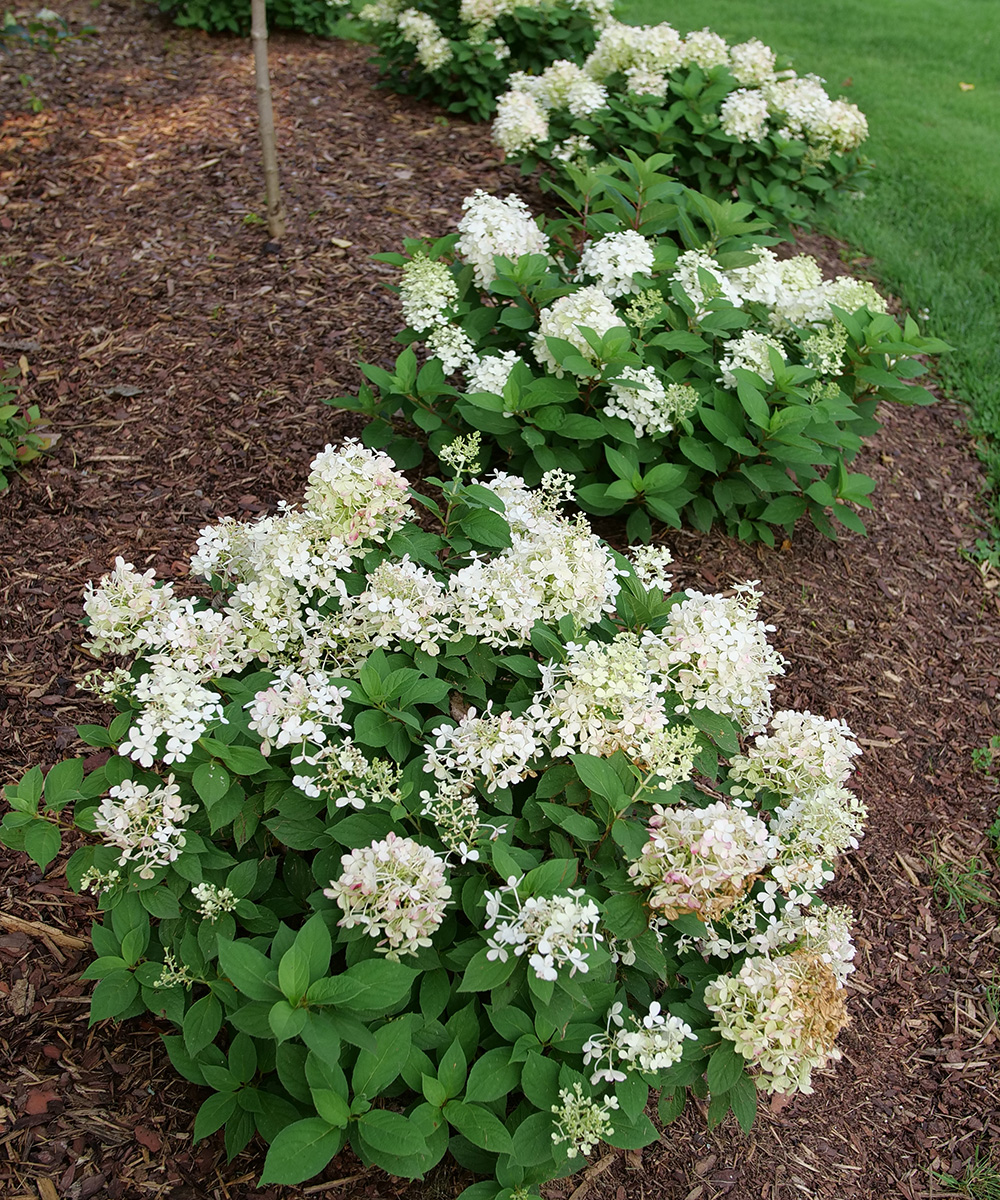 Fire Light Tidbit® panicle hydrangea
H. paniculata 'SMNHPK', Zones 3–8
In smaller gardens, it can be a challenge to find hydrangeas the right size to soften the edges of a design without taking over the space. Fire Light Tidbit® panicle hydrangea may be the smallest panicle hydrangea to become available to the public. Only reaching a size of 2 to 3 feet tall and wide, it can be used in a small hedge, in front of a foundation planting, or within a perennial border. It looks great planted in front of 'Green Mountain' boxwood (Buxus 'Green Mountain' Zones 4–9), creating a winning combination for a busy gardener desiring seasonal color and easy care. Fire Light Tidbit® takes full sun to partial shade and has large white mophead flowers that emerge in early summer. They turn a bright shade of pink as they age, and when fall arrives their red color will rival the turning leaves.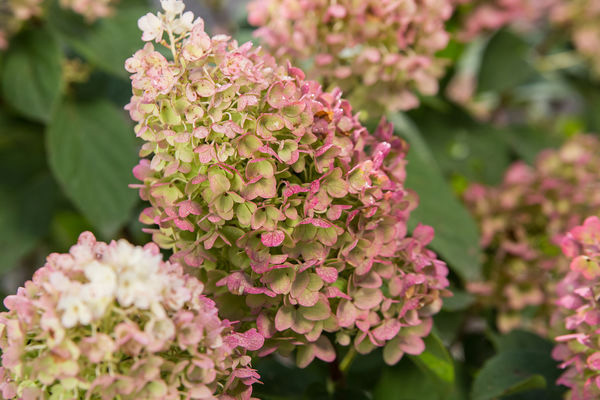 Little Hottie® panicle hydrangea
H. paniculata 'Bailpanone', Zones 3–8
Little Hottie® is the result of genetic breeding and years of trials to produce a plant that endures not only cold winters but also summer heat. It grows 3 to 5 feet tall and wide with a rounded form. Large, impressive blooms flower on hefty stems, producing a bold display even in the middle of summer. Rich green foliage is the perfect foil for the light green florets. They turn a crisp white, fading to pink in the fall. Preferring partial shade, Little Hottie® is utterly happy in well-drained soil either as an accent or in a mass planting.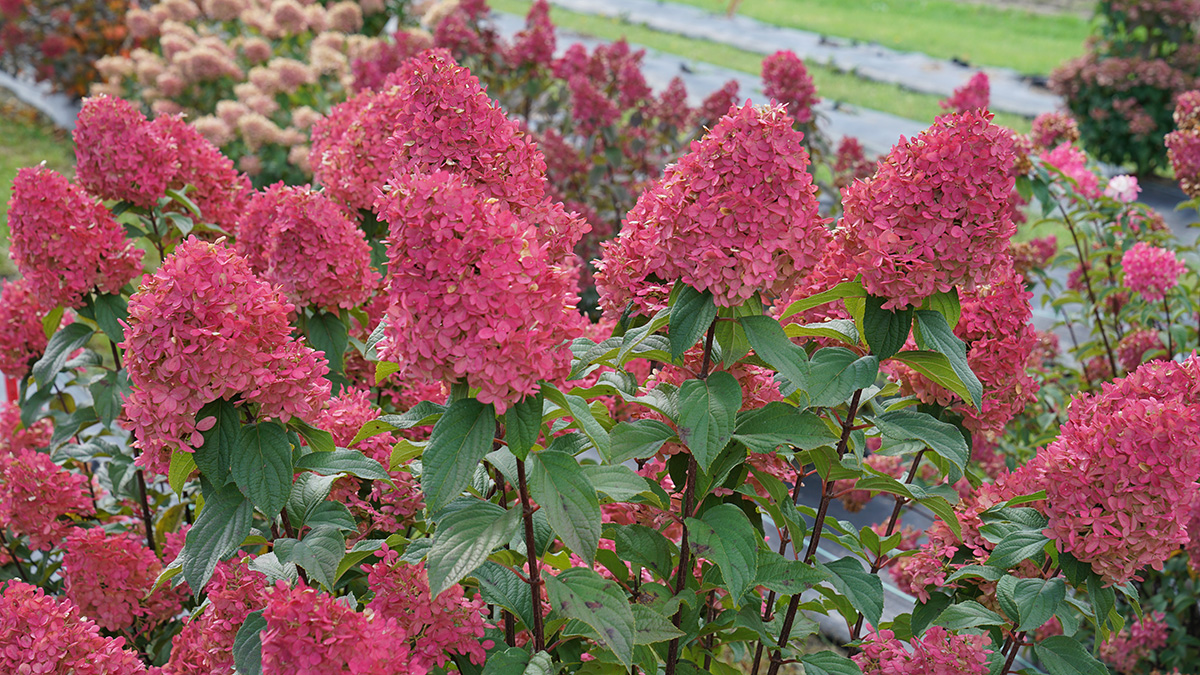 Quick Fire Fab® panicle hydrangea
H. paniculata 'SMNHPM', Zones 3–8
When you need a large shrub to fill a corner, screen a view, or just make you smile, Quick Fire Fab® panicle hydrangea is there. This is an improved version of Quick Fire® hydrangea (H. paniculata 'Bulk', Zones 3–8). You can expect a longer season of floral display as well as large, dramatic mophead blossoms. This panicle hydrangea has the same dependability of early bloom and easy care as Quick Fire® but with sturdier stems and superior performance. Growing 6 to 8 feet high and 5 to 6 feet feet wide, it is one of the earliest blooming hydrangeas for the Northern Plains. It's adaptable to a wide variety of soil types, but keep it in evenly moist soil in full sun to partial shade and you will be rewarded with three months of blooms from early to late summer. The flowers start out white, then shift to pink and red, looking like marbled frosting.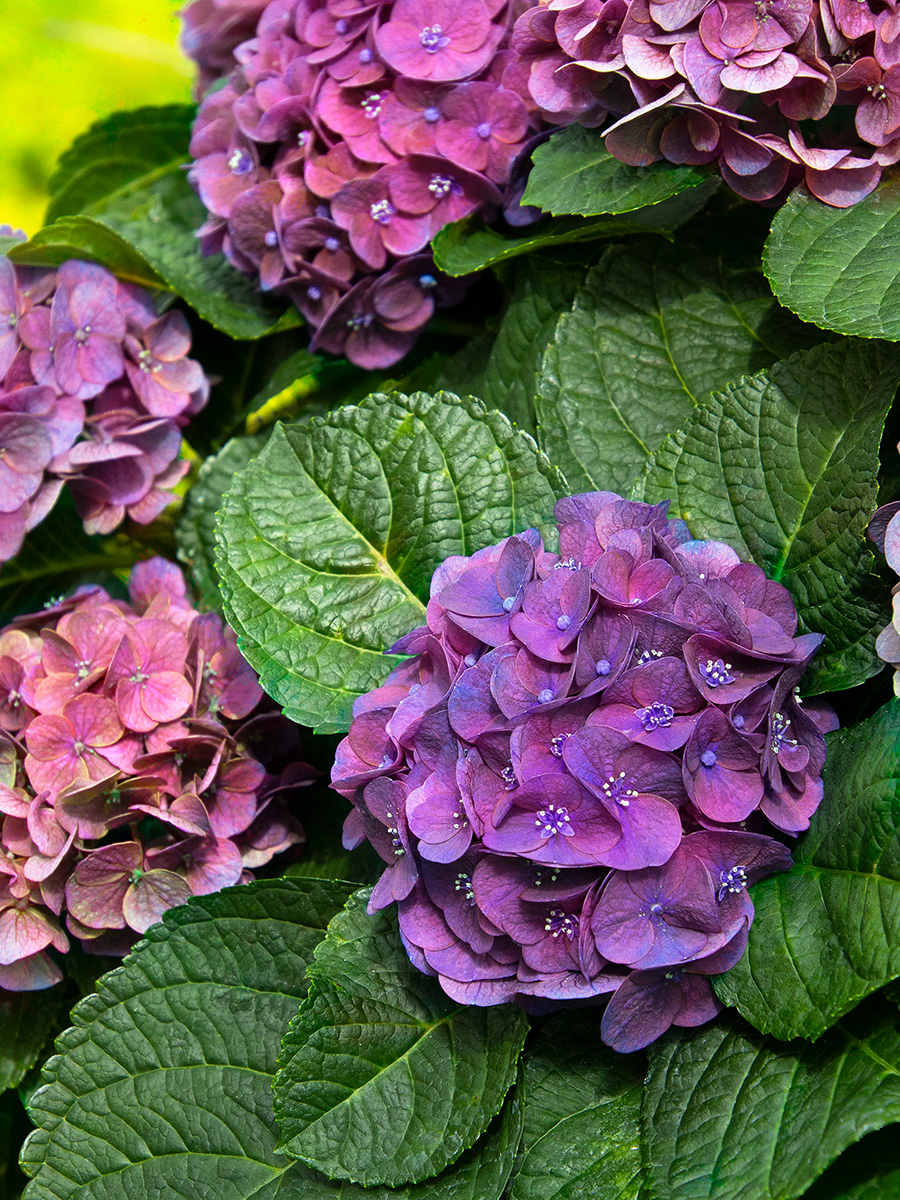 Seaside Serenade® Newport bigleaf hydrangea
H. macrophylla 'HORTMANI', Zones 4–9
When you are a hydrangea junkie in the Northern Plains, it's hard to resist growing at least one of those temperamental bigleaf hydrangeas (H. macrophylla, Zones 5–9) and trying to get it to bloom. With Seaside Serenade® Newport, we now have a fighting chance in this battle. Bloom color is dependent upon the soil pH, with acidic soils producing blooms with more blue-violet flowers and alkaline soils producing pink flowers. Even though this hydrangea is bred for hardiness, you should provide it with additional winter protection if you want to see those large mophead flowers bloom. It takes partial shade and requires moist soil. Don't prune except to deadhead; otherwise, you risk removing the next flush of flowers. In the spring after new growth emerges, dead wood can be removed, and you can prune to shape if necessary. A fast-growing shrub, Seaside Serenade® Newport can live up to 20 years in an ideal situation.
These five improved hydrangeas are by no means our only options, but they are a delightful collection of specimens that together fill a broad range of needs in the landscape. One of these will surely be the right plant for your situation.
For more on hydrangeas, check out:
And for more Northern Plains regional reports, click here.
—Marti Neely, FAPLD, owns and operates Marti Neely Design and Associates in Omaha, Nebraska.