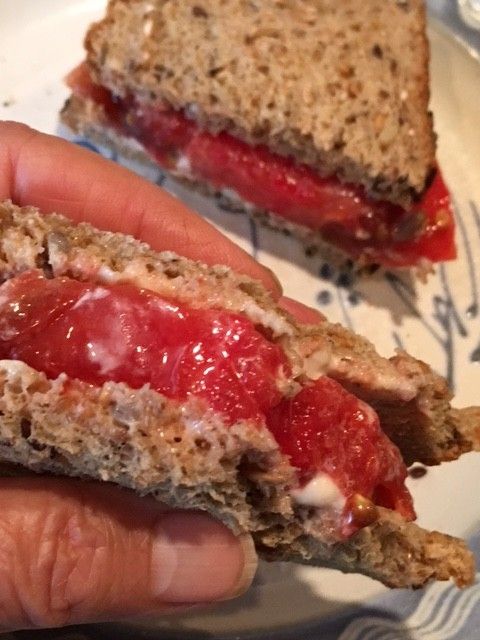 The tomatoes are peaking here in my Maryland zone 7 garden. A week or so of cooler temps slowed them down a bit… however we are picking and eating them everyday–and sharing them. I know there are infinite ways of eating tomatoes. Besides just sliced with freshly ground salt and pepper, here are a few ways that I am enjoying these mouthwatering fruits.
Juicy, dripping, moist, tasty, dead-ripe, delicious, delectable, luscious, succulent, scrumptious, sweet, acidic and tart are just a few apt descriptions of a homegrown, summer-ripe tomato. Sliced on a plate and seasoned lightly with freshly ground sea salt and black pepper is all one needs to accompany any meal. Alongside a meal or used in combination with other fresh produce, they go well with every single summer food.
I'm not going to wax poetic about tomato sandwiches here, because I have done that previously. However, the tomato sandwich pictured here, which I prepared and devoured yesterday, was perhaps one of the best ones I have ever eaten. It was perfect… although I might say this more often than I know.
Ratatouille is a simple summer stew made from onions, garlic, peppers, squash, eggplant and tomatoes. Saute onions with sliced summer squash, eggplant and a bell pepper or a chile pepper if you like it hot, and I put in a fresh bay leaf or two. Cover and cook over medium heat until crisp tender. Add chopped garlic and a tomato or two and season with salt and pepper, stirring well. Cover and cook another 5 minutes or so. Add your choice of herbs: chopped basil, Italian parsley, oregano, and/or marjoram, cover and remove from heat.
There are many variations on this theme, which can be served as a side dish or an entree with pasta or couscous, rice, quinoa, or other grains. This ragout can be made ahead and eaten hot, warm or at room temperature.

Tomato, cucumber and onion salad is a summertime staple. For a quick, refreshing summer salad, toss sliced tomatoes with sliced cucumbers, onion and perhaps a little bit of chopped herbs like basil, oregano, tarragon or dill. Drizzle with a little extra-virgin olive oil and season with salt and pepper. Add a splash of balsamic or herb vinegar if desired. Sometimes I add feta cheese.

Don't forget gazpacho, oven-roasted Roma tomatoes, cherry or baby pear-shaped tomatoes on your kabobs, fresh tomato pizza and tomato tarts. Make a cornmeal or whole-wheat crust and pre-bake it, when cooled, smear generously with pesto, tapenade, or sundried tomato paste and cover with sharp cheddar, smoked gouda or fresh mozzerella. Cover the top with thick slices of ripe tomatoes seasoned with salt and pepper. Bake in a hot oven until the cheese is melted, about 15 to 20 minutes.

Last though not least, make yourself a Welsh rabbit (rarebit) and top it off with slices of fresh tomato. This flavorful, creamy cheese and beer sauce is such a fast and easy dish–and quite satisfying–I do not know why folks don't have it in their regular recipe repetoire. It is especially good when enhanced with slices of heirloom summer tomatoes. I will be teaming up with friend Tina Marie Wilcox to prepare this recipe in just 10 minutes at the annual IHA conference in Michigan in September–we have 10 entries for a hops cookoff! www.iherb.org I'll post the recipe at that time.

Meanwhile, enjoy the tomato harvest now while they are ripe and plentiful!