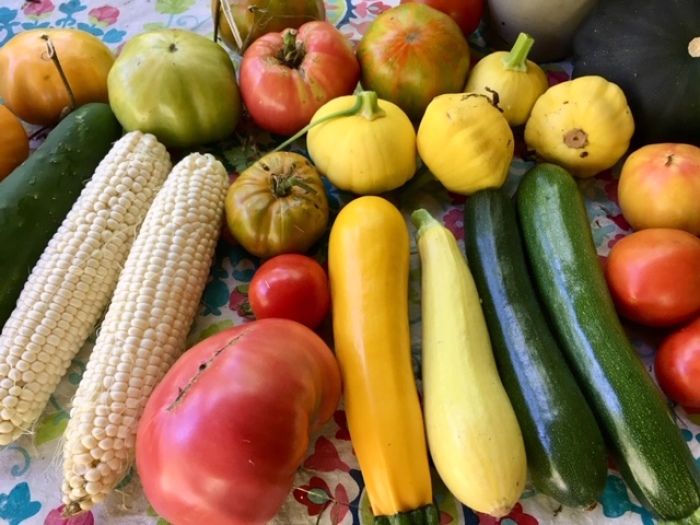 It's that time of year gardening friends–we're up to our ears in squash, tomatoes, cukes and corn! Oh what a lovely dilemna. Revel in the garden bounty–eat it everyday, share it when you can–and preserve the harvest by canning, fermenting, freezing and drying. Now.
This week, I went to a friend's for supper with another friend and we all brought a dish to share. We had tomatoes three ways: in a Greek-Style Salad, cooked with okra and simply sliced. We had corn two ways: on the cob and in a quiche with summer squash; cukes were in the Greek Salad and quick-pickled in a refrigerator brine. Simple and delightful fare for a hot summer night, served with some garlic-rubbed bruschetta and cold beer.
As posted in my last blog, there are infinite ways to prepare squash. I am harvesting green zucchini, yellow summer squash and pattypans; I try to get them when they are small rather than large when they are more tender, the seeds are smaller and the flavor is more pronounced. Large squash have tough skins and they are more watery; if you are using large squash I find it best to remove the seed cavity. Today I am going to a potluck cookout and am making a big pan full of the aforementioned, oven-roasted with olive oil, onion, garlic, salt and pepper. I will add fresh chopped herbs after they are cooked. This week I made a tasty stuffed squash, which there are many variations for–I'll post that recipe next blog.
Last night, I cut up about 6 or 8 tomatoes, enough to fill a casserole dish. First I poured a bit of olive oil in the bottom, then I covered the bottom with fresh basil leaves, filled the dish with tomatoes, generously drizzled with olive oil and sprinkled with sea salt and freshly ground pepper; adding 6 to 8 whole, peeled garlic cloves is an option. Then I roasted them at 400 degrees F for about 45 minutes until they were reduced to about 1/3rd of the amount and were dark red-orange, bubbling with dark specks across the top. Oven-roasted tomatoes can be used in a variety of ways–they are umami-rich, bursting with concentrated flavor–they can used as a condiment, sauce, or personally, I like eating them right out of the dish with a spoon. This can be frozen for future use, if it isn't devoured immediately. I eat a tomato sandwich everyday, usually for breakfast as it is a delightful way to start the day.
Corn is as high as an elephant's eye in my neck of the woods and is piled high in all of the markets and farm stands. I was taught how to tell a ripe ear of corn many summers ago, when I helped harvest a field of corn on a neighbor's farm. You can tell by feeling the fullness of the corn in its husk and by the brown silk at the end–no need to peel the corn down and look inside like I see many folks doing at the grocery store. I love corn-on-the-cob, my favorite is the yellow and white corn together–briefly steamed or cooked in its husk on the grill. I do not slather butter on it or even salt it–I like it just as it is–although occasionally I do sprinkle it with smoked paprika. I like corn pudding and corn chowder, though I especially like to make calabacitas, which are great as is, or rolled up in a tortilla with cheese! Here's a link to a version of that recipe: /item/9700/three-sisters-saute
Tis the season–take advantage of the bounties of our gardens–and give thanks to the farmers who grow our crops.