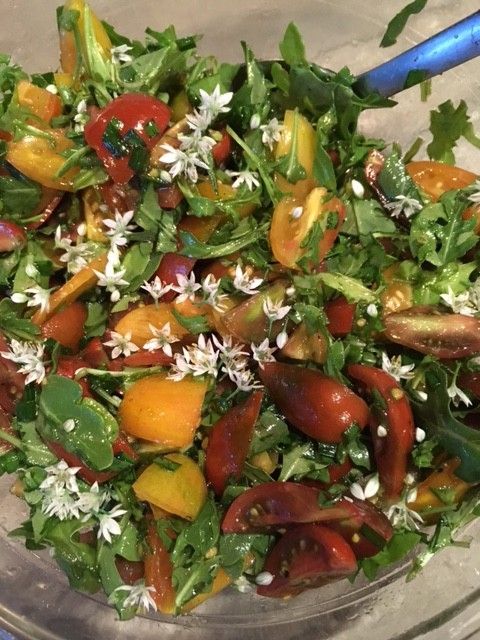 Although the most popular herb to pair with tomatoes is basil, no contender, many other seasonal herbs combine well with these beloved juicy fruits. In Greece, oregano is the herb served on their summer Greek salad of tomatoes, cucumbers, feta, sometimes garnished with olives or capers. Mint is often paired with tomatoes, especially in tabouli and sometimes combined with breadcrumbs on top of a baked tomato. Tarragon is often used on tomatoes in France and Mexican mint marigold is similar in flavor. Of course, the herb of choice with tomatoes in most Latin American and Mexican dishes is cilantro. Besides these other herb ideas, below is a tasty recipe for tomatoes with arugula and garlic chives.
This is a great way to use cherry tomatoes, although regular tomatoes can be used… just cut them into bite-sized pieces. I love eating cherry tomatoes out-of-hand when I'm in the garden or snacking in the kitchen, however I prefer to cut them for salads rather than plop them on there whole. A whole cherry tomato is hard to spear with a fork in a salad plate and more than once I have squirted myself or neighboring diners when biting into a cherry tomato at the table. I recall, when my daughter Lucie was small, we were dining out with my parents, and she bit into a cherry tomato and it squirted across the table and landed directly on her grandfather's silk tie.
Right now the garlic chives are in full bloom–and these oniony-tasting, edible flowers pack a powerful punch. If you haven't tried them, you might be surprised at what a strong allium flavor just one tiny bloom has. A few flowerheads will flavor an entire salad bowl.
Arugula is bolting now, so use it up–and the flowers are quite good to eat. It is time to plant some more as a fall crop right now; it is a good cool-weather green.
Tomatoes with Arugula and Garlic Chives
Tomatoes with Arugula and Garlic Chives is as pretty to look at as it is good to eat. Eat it as a salad, with some crusty bread and imported olives. Or use it to top bruschetta or pizza garnished with a little feta or Asiago, or toss it with pasta and add a bit of Parmigniano. This recipe first appeared in The Greens Book by Susan Belsinger and Carolyn Dille, Interweave Press, 1995–and I've made it every summer, numerous times, ever since!
Serves 4 or 6
1 pint cherry or pear shaped tomatoes, quartered lengthwise and halved crosswise
About 2 to 3 tablespoons extra-virgin olive oil
1 to 2 tablespoons balsamic vinegar
2 to 3 cloves garlic, minced
About 2 tablespoons chopped chives, common or garlic
Salt and freshly ground pepper
About 2 cups arugula leaves
Chive flowers for garnish
Combine the tomatoes in a bowl with the olive oil, balsamic vinegar, the minced garlic, chives and arugula. Salt and pepper generously and toss well. Taste for seasoning and adjust with oil, vinegar or salt and pepper as needed.
Serve straightaway or the salad can sit at cool room temperature for an hour or two before serving; the tomatoes will give off a lot of juice if allowed to sit. Serve the salad as is or spoon the tomato and herb mixture evenly over garlic bruschetta drizzling a little of the marinade juices over all, or toss with pasta adding a drizzle more of olive oil. Garnish with chive blossoms before serving.