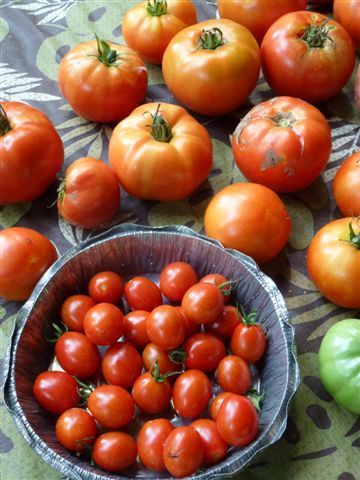 "Homegrown tomatoes homegrown tomatoes
Wha'd life be without homegrown tomatoes
Only two things money can't buy
That's true love and homegrown tomatoes"
   —Guy Clark, Homegrown Tomatoes (listen on YouTube)
  
Summertime and the livin' is easy… and it is just about the height of our summer growing season… just finished the first week of August.  Vegetables like tomatoes, squash, eggplant, cucumbers and beans have nearly reached their peak, although the peppers have a little more time to maturity. We have another good month of these wonderful seasonal veggies and then they'll start slowing down production once the cooler night temperatures set in. Already the nights are cooling down just a bit-you can feel it in the air-better sleeping weather-that is for sure.
Here in my Maryland zone 7 garden, it seems downright jungle-like. We've had rain so that plant foliage as well as weeds are verdant green. The grass holds dew until late morning and is wet when the sun begins to set and it feels like a soft, plush damp carpet to my bare feet. It is home to hoppy frogs, slithering snakes and the occasional turtle-I can tell by how the grass moves. Unfortunately the humidity has caused the mosquitoes to come out and I can't sit outside in the evening without their pesky buzzing and biting; have to slather on my homemade insect-repellent oil. 
The butterflies dance all day on the herb flowers of bee balm, Echinacea, thyme and near-spent lavender blooms as well as phlox, marigolds, agastache and vegetable flowers. Bees overnight in the curcurbit blossoms. The other morning I was up very early and went out to the garden and the butterflies and bees weren't up yet, which somehow tickled me. I spied many of the latter (imagining them to be fairly drunk on nectar) sleeping in the flowers they chose to pollinate and overnight in.
Well I sort of got off the subject of this blog… and that is tomatoes. Green, yellow, red or orange–cherry, pear, round or big meaty ones–I love them all. I am sort of a tomato junkie this time of year. I can eat them at least three times a day-and one of those times-is almost always on a tomato sandwich. I consider myself an artiste at them and you can read about it here.
I love them just sliced with salt and pepper; I adore them with basil; mozzarella and olive oil makes the perfect Caprese salad. They are superb with cucumbers and feta in a summer Greek salad. Any way you slice them is okay with me. Fresh, sauteed, roasted, or grilled, I make them into soups, salads, casseroles, pizzas, pastas, pies and more. I also pick them green to make fried green tomatoes, dipped in egg and cornmeal with seasonings for an occasional summertime treat. Besides eating them solo, I combine them with eggplant, Greek-style or in caponata Italian-style; with squash in the French ratatouille; with corn in Mexican calabacitas and Southern-style sauteed in butter or made into succotash; stewed with green beans or okra, Lebanese or Turkish-style; or combined with a medley of summer veggies in my tagine to make a fragrant summer stew. One of my main summer staples is homemade garden salsa. Well here is a new recipe for you to try, featuring tomatoes-as well as garden cucumbers, peppers, onions and garlic-try this easy and tasty garden gazpacho.
A final note, even though it is hot, get out in the kitchen and start preserving your summer-ripe tomatoes so that you can enjoy them in the cold weather months. It is so worth the effort. Can them whole, make them into sauce or salsa, ketchup and chutney, make them into juice-just do it now-you'll be glad you did!