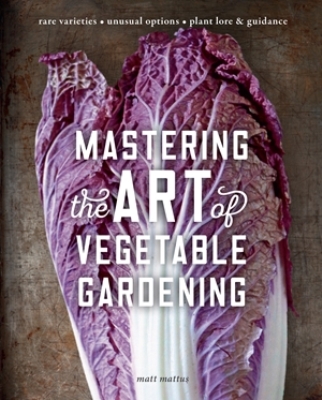 Most "how-to" vegetable gardening books do just that. They tell vegetable gardeners the best practices for growing their favorite leafy greens, pulling perfectly straight carrots or keeping tomatoes safe from harm.
Matt Mattus does all that and more in his new gardening book. Mastering the Art of Vegetable Gardening (Cool Springs Press, 2019) is one part how-to and many more parts of the beauty of vegetable gardening.
His book promises "gardening on a whole new level for those who have begun growing vegetables at home."
Alongside the typical best practices for gardening, he adds in rare vegetable varieties, unusual options and sprinkles in tasty bits of plant lore while he's at it.
Mattus is the voice behind the award-winning Growing with Plants gardening blog. He has a wealth of gardening knowledge at his fingers tips, but it's his creative side that's more interesting. According to the books' press release, Mattus worked for Hasbro for 28 years.
For those unfamiliar with the Hasbro name, the company is one of the largest toymakers in the world. Because he was a creative director and visual futurist there, it's easy to understand why he injects his gardening book with so much more than gardening advice alone.
"Be creative. Treat your vegetable garden as your own private fantasy supermarket," he says. The emphasis is on having fun with what you plant and grow.
The book offers details for over 200 different varieties of fruits, vegetables, herbs and leafy greens. Yes, Mattus describes how to grow broccoli, but he also gives solid advice for growing yard-long beans. The potato section includes how to source seed potatoes, but also adds an important history lesson on the Irish Potato Famine.
His book is beautifully illustrated with full-color images that pop from the page. The assortment of winter squashes is especially enticing.
Some of his down-to-earth growing tips include:
Ways for cold-climate gardeners to grow okra.
What to add to the soil to prevent blossom-end rot on tomatoes.
How to grow cowpeas.
Work arounds for growing parsley.
Tips for growing fennel to perfection
Ideas for raising artichokes from seed.
Advice on trying uncommon onion varieties.
It's worth noting that Mattus is a gardener's gardener. He's grow every vegetable he writes about, tests every technique he talks about and takes every photo. Like so many of us, one of his personal heroes is Julia Child. It's telling that her book on Mastering the Art of French Cooking served as an inspiration for his work on the fine art of vegetable gardening.
The Quarto Group provided a complimentary copy for this review; opinions are my own.