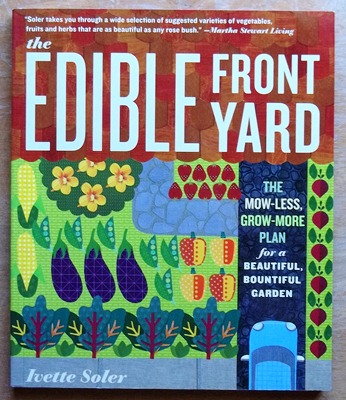 As much as some gardeners would love to be able to plant a big vegetable garden in their backyards, the truth is many landscapes aren't too accommodating. Some backyards are too small and others are just too shady for growing vegetables.
One good alternative is to plant a vegetable garden in the front yard. For many gardeners, the front yard provides plenty of sunny growing space that can be planted with tomatoes instead of turf.
Gardeners can replace grass with lemongrass by following the advice Ivette Soler offers in her colorfully complete book called "The Edible Front Yard: The Mow-Less, Grow-More Plan for a Beautiful, Bountiful Garden" (Timber Press, 2011).
One of the first things the author did when she bought her house was to tear up the turf in the front yard and plant a garden with sages, grasses and succulents. Over time she added culinary herbs and what she calls "architectural edibles" like artichokes and fennel.
Her book gives detailed instruction on how to create an edible front yard for a new take on curb appeal. The beautiful images liberally sprinkled throughout the book prove that a front yard can be both lovely and luscious at the same time.
Like all gardening, planning is the key to success. Front-yard gardening also requires applying common landscape design principles to edibles, such as massing one kind of plant together or repeating the same plants in patterns to add structure to the garden. Soler also provides advice on how to use form, texture, and color to advantage.
The first part of her book is filled with the ornamental edibles that can be "the supermodels" of the front yard. In addition to artichokes, basil, beans, chard, corn, eggplant, kale, lettuce, peppers, and sage fall into this category.
For each of her front-yard vegetable recommendations, she explains what it is, where to plant it, how to grow it, and how to use it in the kitchen. She also includes the vegetables that provide less impact like carrots, cauliflower, cucumbers, and large tomatoes.
Special instructions detail how to espalier a dwarf apple tree, how to plant a lettuce lawn, how to remove concrete, what to do with unwanted plants, and organic methods for maintaining the garden.
Another of the book's benefits is that it provides three reproducible front-yard vegetable garden designs with images, plant lists, and placement.
Soler writes that it takes courage to plant a front-yard garden. "Be bold and brave, because no matter who you are, there is a style of edible planting that will capture your imagination and suit your taste—from the wildly mixed and exuberant to the elegant and composed."
(Timber Press provided me with a free review copy of "The Edible Front Yard: The Mow-Less, Grow-More Plan for a Beautiful, Bountiful Garden.")