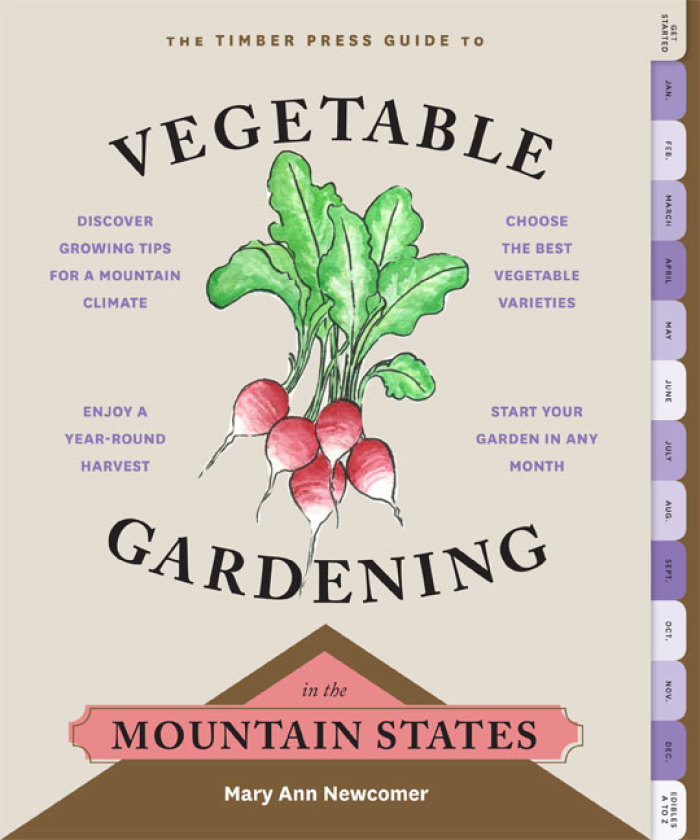 Vegetable gardeners in the Rocky Mountain region have a new resource they can turn to for answers on how to garden in a challenging climate. Mary Ann Newcomer's latest book, The Timber Press Guide to Vegetable Gardening in the Mountain States (Timber Press, 2014) is designed to help gardeners make the most of their vegetable growing experience.
Mary Ann got hooked on gardening as a four-year-old while gardening with her grandparents in Eastern Washington state. Her grandfather helped her start a small garden bed where she planted radishes, lettuce and corn.
"The radishes were a great idea, because they were up in a matter of days," she said. "I could eat the lettuce almost as soon as it was up and the corn grew really tall." All two stalks of it.
That early experience led to a lifetime of planting gardens. She wrote Vegetable Gardening in the Mountain States as a way to share her passion for growing food. Because she grew up eating "local" long before it was popular, she wants to help others experience that same sense of satisfaction.
Before she started writing the book she read something that stayed with her.  "It went something like, 'Imagine a seed the size of your fingernail. Consider how that seed, with a modest amount of care, can create and produce up to a thousand or more times its weight and size, and can be eaten.' I thought of the watermelon seed," she said.
Anyone who's tried to grow a vegetable garden in the Mountain region understands how difficult it can be to get even one watermelon to sprout.
"This region is vast: almost six million square miles," Mary Ann said. "I checked and quadruple checked the weather, soil, gardening conditions all across this region. The wild swings in our temperatures, altitudes, snowfall, precipitation and you have an incredible set of obstacles to deal with."
Despite these challenges, vegetable gardens have been growing here for more than a hundred years. "It's totally doable."  Here are Mary Ann's top three tips for gardeners:
With a little bit of planning and forethought, you can grow exceptional varieties of vegetables, fruits, and berries that are unsurpassed in freshness and flavor. To me, it's time very well spent, considering you are going to be able to eat what you grow. It isn't rocket science."
You do not have to grow everything. Grow what you have space for. Don't try to grow it all at once. 
Proper watering and good soil are the keys to the kingdom. 
Mary Ann said it's important for gardeners to just give vegetable gardening a try and not be overwhelmed by the simple act of gardening, she said. "Start small, dream big."