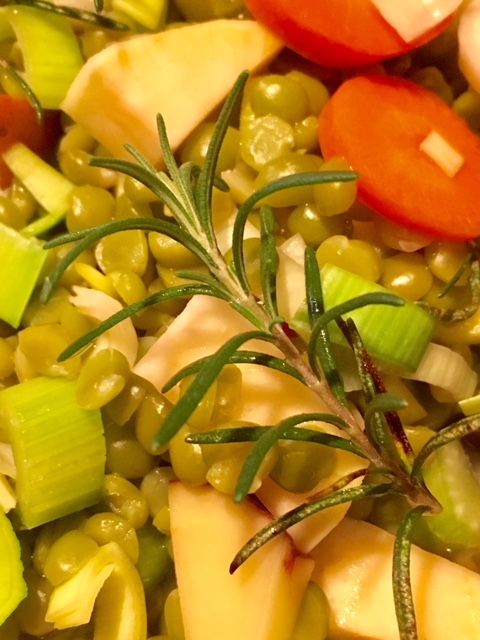 This soup blog was inspired by our recently departed, Dr. James Duke, an inspiration and mentor to many of us–and a master soup maker. There is nothing like a warm bowl of soup on a cold winter day. What better way to start off this auspicious New Year's Day (with a full Wolf moon to boot) than with a healthful, warming winter soup?
My split pea soup sticks with you–it is chockablock full of vegetables and flavor–as well as roots and herbs that will build up your immune system and keep you healthy during the cold and flu season. Besides containing split peas, which are rich in protein and contain antioxidants, there are healthy, seasonal root vegetables: leeks, potatoes, carrots and rutabaga, and of course, some celery (as our dear Dr. Jim Duke always included in his soup of the day; I will never make a pot of soup using celery without thinking of him).
In fact, here is an article that I worked on with Jim many years ago, in order to get some of his soup recipes published (I took the pic of him making soup at home). https://www.motherearthliving.com/cooking-methods/healing-soups-from-green-farmacy There are three healthy and tasty soups within the article so click on each one to get the recipes.
I've always thought that rosemary was the herb for split pea soup–the original version of this delicious pulse soup was created by Carolyn Dille and me over 35 years ago for Gourmet Magazine and appeared in our first book Cooking with Herbs. Over the years, I have tweaked it here and there; this newer healthy version still includes bay, rosemary and garlic, and has the additions of seaweed, astragalus, freshly grated turmeric root and chiles, as well as some of my umami medicinal mushroom powder.
Here are some of the seasonings I use to make my split pea soup and in many other soups:
bay
I rarely make a soup without adding at least 1 or 2 bay leaves, since they add a delightful, subtle flavor to any soup, stew or casserole. Fresh leaves have a bit of balsam, various spices like allspice and nutmeg and a hint of citrus in their bouquet.
rosemary
Besides, its wonderful resinous, piney, slightly camphorous flavor, with a suggestion of citrus, this herb has many healing properties from antioxidant, anti-inflammatory, antidepressant, antiseptic, diuretic, nervine to cardiac and nervous sytem tonic and promotes the flow of bile.
garlic
I agree with the old Teluga Indian saying "Garlic is as good as ten mothers"–these beloved bulbs pack a powerful and pungent amount of goodness–I eat alliums daily, often with all three meals. Contained in their individually wrapped cloves are some of the following virtues: anti-microbial, antibiotic, anti-carcinogen, expectorant, stimulates digestion and lowers blood pressure, blood sugar and cholesterol. Best used fresh in goodly amounts.
sea herbs
I thoroughly enjoy the flavor of sea vegetables and use them often in many dishes. There are many to choose from and all are full of minerals and vitamins, especially vitamin A and various B vitamins, depending upon which ones you are using. I often combine a number of sea vegetables in the processor and reduce them down to small flakes so they are readily available for use. When I add seaweed flakes to most dishes, I reduce the amount of salt drastically, since they have naturally occuring salts. I find that seaweeds contain umami and therefore add flavor to soups and many recipes.
astragalus
This very mild-tasting root is slightly earthy with a hint of sweet and perhaps slightly woody-tasting–it is an undetectable flavor in any soup. I use its antimicrobial and immunostimulant properties in soups, broths and stews, throughout the cold and flu season. It is a tonic and stimulates the immune system. A whole sliced piece of root looks very much like a tongue depressor–it can also be purchased in smaller slices–just drop them in the soup pot and remove them before serving.
turmeric
This bright, saffron-colored root is known for its many medicinal virtues from antioxidant, anti-inflammatory, antimicrobial, antibacterial, antiviral, anti-cancer activities to healing wounds, reducing muscle and joint pain, as well as plaque buildup in arteries, increases bile and protects the liver. It is a dye and both the fresh root and powder will stain fingers, kitchen towels and counters a bright yellow. Fresh roots are more readily available these days in Asian markets, health food stores and even groceries, however using the powder is fine too. The latter tastes a bit more bitter than the fresh root; turmeric is slightly pungent and peppery, with a hint of camphor.
chiles
I'm a chilehead–I like the heat and flavor of capsicums and use them daily. The benefits are many: anti-bacterial, antiseptic, a stimulant and a tonic; contain vitamin C and A and trace minerals; and reduces cholesterol. You can stir some chile flakes or even chiles en adobo into the soup pot or sprinkle flakes or hot sauce on top.
Click here for recipe for Healthy and Hearty Split Pea Soup: /item/128642/healthy-and-hearty-split-pea-soup
Here is a link to a lovely tribute first published in United Plant Savers newslettter written by Helen Lowe Metzman , Dr. Duke's long-time gardener and friend: https://thegreenfarmacygarden.com/from-the-desk-of-james-a-duke/