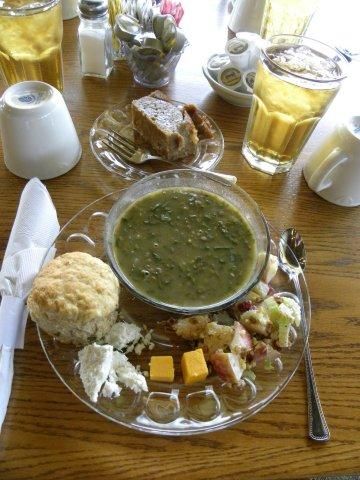 The Medicinal Herb Seminar at the Ozark Folk Center was held April 5 and 6, 2013 and we had a record number of attendees–over 200 herbies traveled from all over the U.S. Friday, we divided into groups to hike around and identify herbs and wild edibles as well as discuss their growing habits and how they are used. Leaders included herbalists Rosemary Gladstar, Steven Foster, Sasha Daucus, Tina Marie Wilcox, Kathleen Connole and I. The day was perfect for being outside and the energy of so many like-minded folks gathered together was incredible.
On Saturday, we spent the day in the big auditorium listening to our herbalist speakers and I did my program on my 'Favorite Herbal Remedies'. We did have a few breaks to look at the gardens and visit the shops in the Craft Village. Lunch was at the Skillet Restaurant and there were so many of us that we had to split into two groups.
I had met with the cooks and sent the recipes for the soup, biscuits and salad ahead of time. The staff at the restaurant did a bang-up job of preparing the food for 200 people–and it was superb. Hats off to all of the cooks, management and waitstaff who worked so hard to pull this off. I told Barb Wilson that I thought her biscuits might be better than mine! Jessica Sterlin made her Bread Pudding with Rum Sauce for dessert. Everyone requested recipes and so I decided to post them here on the blog since I knew that I had already posted the Lentil and Greens Soup here (/item/11769/lentil-and-greens-soup) and I figured all the readers would enjoy a tasty biscuit recipe.
The biscuit recipe uses part wholewheat flour, buttermilk, fresh or dried sage leaves and garlic and you can't eat just one. Go out and cut some of those sage leaves that are sprouting out and if you have any green garlic that you can pull from the garden that will be even better than garlic cloves. /item/13588/buttermilk-biscuits-with-garlic-and-sage
The waldorf salad is my favorite: it is both tart and sweet; creamy and crunchy and simply delicious. It is a family favorite that is quick and easy to prepare. /item/13586/not-your-average-waldorf-salad