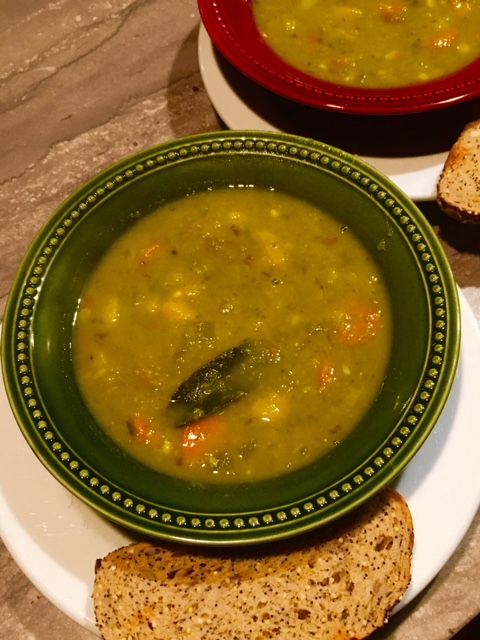 Ingredients:
Serves 6
1 pound split peas
1 sprig rosemary
2 bay leaves
2 carrots, diced
1 large potato, diced
1 small rutabaga or 1/2 medium rutabaga, diced
3 stalks celery, diced
1 medium leek or 1 small onion, diced
2 tablespoons olive oil
3 garlic cloves, minced
1 large slice astragalus root or 3 or 4 smaller slices
1 generous tablespoon minced fresh rosemary or 2 teaspoons dried crumbled rosemary
2 to 3 teaspoons freshly grated turmeric root or 1 teaspoon powdered turmeric
2 to 3 teaspoons seaweed flakes
1 to 2 teaspoons medicinal mushroom powder or a mushroom bouillon cube, optional
About 1 teaspoon sea salt
6 to 8 dashes Angostura or other similar bitters
Red pepper flakes, optional
If you don't have a certain ingredient–no worries. No leeks? Use onion. No rutabaga? Use another potato or a few parsnips. No fresh turmeric root? Use powdered… you get the idea… substitute what you have on hand. This soup can be made in advance; it is even better the next day. If it gets too thick just add a bit more water.
 
Wash the peas well, then sort through them to remove debris if need be. Add the peas to large soup pot and cover them with 3 inches of water. Add the rosemary sprig and bay leaf. Cover (with lid slightly askew–watch out because pulses tend to boil over easily) and bring to a boil, reduce the heat, and simmer for about 20 minutes.
Add the carrot, potato, rutabaga, celery, leek, garlic and astragalus and olive oil and stir well, cover and cook for about 10 to 15 minutes.
Add the rosemary, turmeric and seaweed flakes, and the mushroom powder or bouillon if desired, stir well, cover and cook the soup over low heat for about 20 to 25 minutes, or until the peas are done, stirring occasionally.
If the soup gets too thick, add another cup or two of water. Add the salt and bitters towards the end of cooking. Once peas and vegetables are very tender, taste and adjust the seasoning if necessary and serve hot. Sprinkle with red pepper flakes if desired.