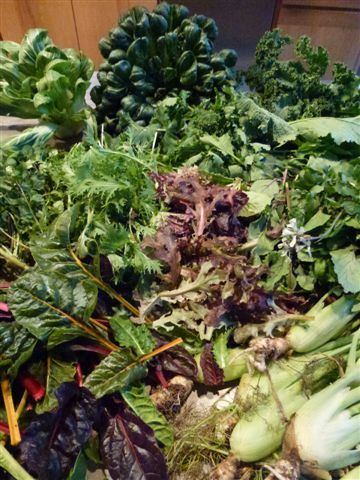 Last week, with the impending threat of a cold freeze, I received a call from my neighbor, Denise Sharp. She lives nearby on Sharp Farm, where she grows many crops, is open-to-the-public for educational tours and hayrides, keeps livestock, sells vegetable, herb and flowering plants, both retail and wholesale from her two greenhouses and numerous cold frames, and where she and her son Alan recently built a high-tunnel greenhouse. Denise is a dynamo—she never seems to slow down—if she is not working on the farm, she is refurbishing a house or working on machinery or off somewhere hiking or skiing.
Since the new-this-year, high-tunnel house is not being heated during the winter months (at least not this year), I was the fortunate recipient of her invitation to come and harvest great gobs of greens before they succumbed to the freezing temperatures. So I set out, dressed in many layers, with boxes and clippers. When I arrived Denise and her assistant were hunkered down cutting greens. They had already pulled the fennel bulbs and trimmed back all of the Swiss chard, hoping the latter might sprout again.
The greenhouse is about 110-feet long by 22-feet wide with galvanized pipe supports and double layers of heavy plastic. There are fans and doors at both ends. The walkway runs down the center and there are planting beds on both sides. Denise told me that she added tons of amendments and peat to make the Maryland clay soil friable. She has been harvesting the in-ground crops all fall. Besides greens like arugula, cilantro, frisee, tat-soi, bok choy, spinach, baby lettuces, kale, broccoli rabe and chard, she had a few root crops—the fennel, beets and some scallions—not to mention a lovely volunteer crop of chickweed.
I peeled off one layer of clothes after shooting some photos and began harvesting some of this late fall, hardy bounty. I also helped clear a few beds, pulling out lettuces and cilantro. Then I loaded up my booty of boxes of greens and headed home. Whereupon, I unloaded them and took some photos and then picked over, trimmed and bagged some of them for storage; trimmed the cilantro and put in a jar with water and placed it on the kitchen windowsill; and washed the greens that I was going to prepare for dinner in my salad spinner.
Last week, I posted a recipe for Tangy Kale Slaw and today I'll write the recipe for Lentil Soup with Greens—a simple and warming winter soup. Not only are the hardy winter greens high in vitamins and earth's minerals so they are nourishing and good for us; once they have been exposed to cold weather they become much sweeter and are delicious to eat!