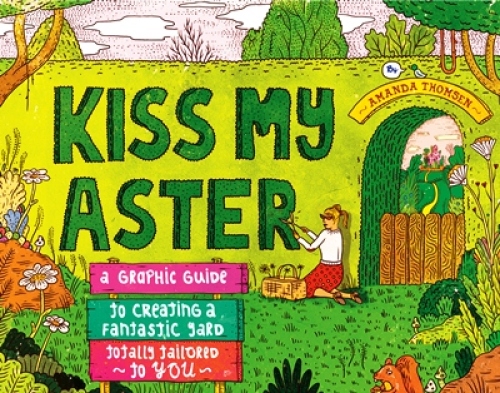 Amanda Thomsen, Chicago landscape designer and master gardener, is the voice behind the popular gardening blog called Kiss My Aster. She's known for her witty, irreverent approach to home and garden projects. 
Now she's taking her slightly kooky, but inspiring message to a larger audience with her one-of-a-kind look at gardening in her book, Kiss My Aster: A Graphic Guide to Creating a Fantastic Yard Totally Tailored to You (Storey Publishing, 2012).
This book is as interactive as a gardening guide can be. Grab your colored pencils and play Color Me Gnome or spend some time with pencil in hand completing the garden Word Find game. She designed the book based on the Choose Your Own Adventure books she read and enjoyed years ago.
Flip to any page and you'll find colorful, hand-drawn illustrations that are as captivating as the content. If the images don't get you, her clever play on words certainly will. "The Labor Party" gives helpful hints on how to choose a crew to help with maintenance and "Lean, Mean & Evergreen" helps with selecting the right evergreen for your space.
Vegetable gardeners get plenty of her attention, too. She writes about how to build a worm farm, includes a chart called "Grow What?" that's meant to boggle your mind with the kinds of vegetables you can grow and helps with herb growing in the section called "Herbie, Fully Loaded."
The author has plenty of experience growing vegetable gardens. Her first book, Grocery Gardening: Planting, Preparing and Preserving Fresh Food, was a successful collaboration with other veggie-loving garden writers.
Thomsen knows about vegetables, hedges, stone walls, lawn care, planting evergreens, worms, soil and sustainability, but she also understands every garden should reflect the personality of the gardener who creates it. Her sense of humor and simple writing style help take the mystery out of gardening and make the journey seem more like an entertaining adventure.
My free review copy of "Kiss My Aster" was provided by Storey Publishing.