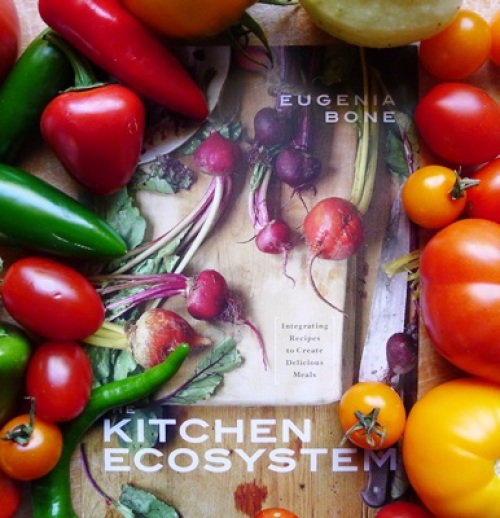 What does your pantry say about you?
Instead of shelves lined with a hodgepodge of canned goods from the store, your pantry should be stocked with home-preserved foods that help you create the tastiest meals possible. Each pantry needs to be a reflection of the cook's "palate, pocketbook and place."
In her newest book, food writer and cookbook author Eugenia Bone provides all you need for transforming your ordinary kitchen into an ecosystem. 
The Kitchen Ecosystem: Integrating Recipes to Create Delicious Meals (Clarkson Potter, 2014) is more than a cookbook, it's a way to approach the food we prepare as part of a longer continuum. Consider every meal as an investment in a future meal.
Instead of tossing remnants onto the compost pile, repurpose celery leaves, corn cobs or fish bones by turning them into stock for tomorrow's soup. Harvest or buy beets with their greens attached and use some of the beets for a salad one night, make a gratin from the beet greens the next night and preserve the rest of the beets for a meal in the future. 
The author says the three steps to the tastiest home-cooked meals include using seasonal ingredients, replacing commercial products with homemade and preparing base recipes with what typically ends up in the garbage.
Creating a kitchen ecosystem is a more thoughtful and economical approach to cooking. Each pantry needs to be stocked with the food items that support what the cook-and cook's family-likes to eat. It's a reflection of each kitchen's background, economy, health and region.
One of her basic shortcuts is to preserve in small batches using a pressure canner while cooking dinner. She says processing a pint or two of chicken stock takes only 20 minutes. The stock is then deposited into the pantry to gather interest for a future dinner.
In addition to the pantry, the refrigerator's condiment shelf is an important part of the ecosystem, too. Just about everything you see there can be homemade.
"If you find yourself buying something a lot, like mayonnaise, make it instead and everything will taste better," she says.
Because Bone's palate is Mediterranean, she has the ecosystem to support that cuisine. It means having a year's worth (60 pints) of home-preserved tomatoes in the pantry to use for pasta sauces and fresh whole milk in the fridge for making ricotta cheese. The liquid whey from the ricotta is then used to poach chicken, fish or pork for another flavorful meal.
In The Kitchen Ecosystem, Eugenia Bone shares all of her time-tested methods to help home cooks create a pantry that offers fresh options for flavor, convenience and creativity in cooking.