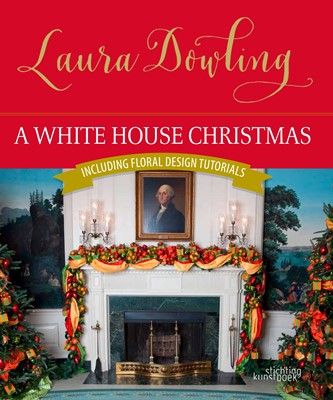 Laura Dowling's new book arrives just in time to help ordinary folks create fabulous decorations in their homes for the holidays. A White House Christmas (Stichting Kunstboak, 2017) is an inspiration for anyone who longs for a way to bring the magic of the Blue Room to any room.
Dowling is the former Chief Floral Designer at the White House, serving from 2009-2015. Her book is as beautiful as the decorations she used to embellish the People's House every holiday season. The full-color images show in detail how it all comes together. 
If you haven't been lucky enough to receive a White House invitation during the holidays, the next best thing is taking the White House Christmas Tour in the book. The tour allows readers time to admire every gorgeous detail beginning at the East Entrance, walking along the ground floor and finishing at the North Portico.
Along the way, Dowling offers DIY advice and floral design tutorials. The step-by-step techniques make it seem easy to create professional-looking wreaths, custom ribbon designs, long garlands and much more.
"As a native of the Pacific Northwest, I always gravitate towards seasonal, natural materials for holiday decorations," she writes. "Winter fruits and vegetables, including citrus fruit, peppers, persimmons, and potatoes, combined with evergreens and berries can be used to create inspiring holiday wreath designs."
She says her holiday vegetable and fruit wreaths were inspired by the childhood crafting projects she worked on with her grandmother. The tutorial for these wreaths includes DIY tips like starting with a sturdy frame and strong wire for hanging. 
"The key to getting a dense, but light look is to work in layers beginning with a foundation of ribbon or foliage followed by layers of fruit and vegetables in various shapes and textures," she explains. 
As vegetable gardeners understand, fresh fruits will only keep for so long. Dowling advises to have a decorating plan in place to replace wreaths as needed. As an alternative, consider using both fresh and faux materials for a longer lasting display.
She also explains that vegetable wreaths — like one made from purple potatoes, pearl onions and orange winter berries — can last for the entire season. 
Whether your holiday decorations are meant to be enjoyed by thousands of strangers or just close family and friends, Dowling's book and expert advice will surely make for a grand celebration.