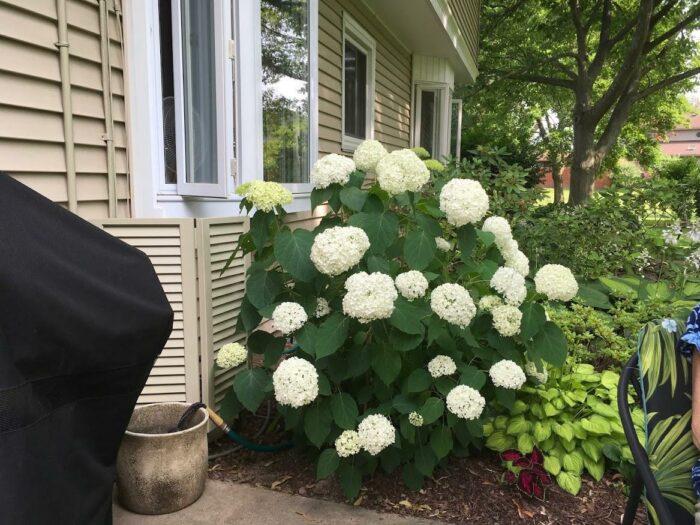 Today we're visiting Dean and Pam Kindig's garden in Rochester, New York.
"Hand in hand with the invisible hand of God." Gardening is a partnership that the gardener has with God, with Mother Nature. It's dynamic; you never know how an ice storm in April, or a rainy June, or a neighbor's tree falling on your Japanese maple will alter the canvas. Sometimes you get an unexpected dash of color placed by an industrious squirrel, or a family of cardinals who've discovered a recently planted treat in your yard. Yes, sometimes it's the Garden of Weedin', but more often it's your Eden. Welcome to the Kindig Gardens.

Looking from the house into the backyard, facing west, the second week of June 2020.

Entrance to the back path, which turns left at the far end, on the second week of June 2020.

The back path June 12, 2020, with a new 'Pinky Winky' tree hydrangea (Hydrangea paniculata 'Pinky Winky', Zones 3–8) at left.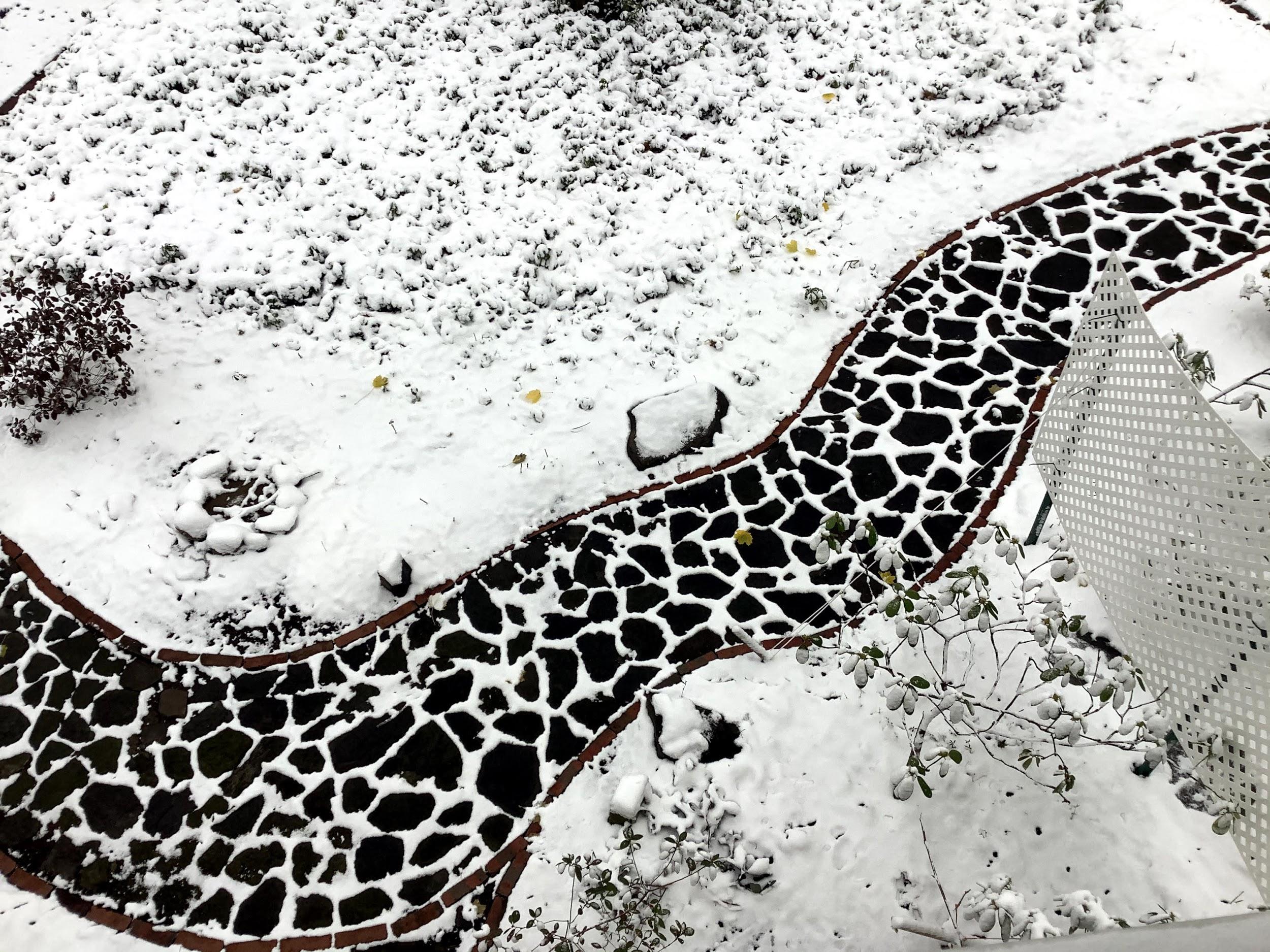 Snow stays on the moss but is melted above the rocks by their warmth, creating unintended art.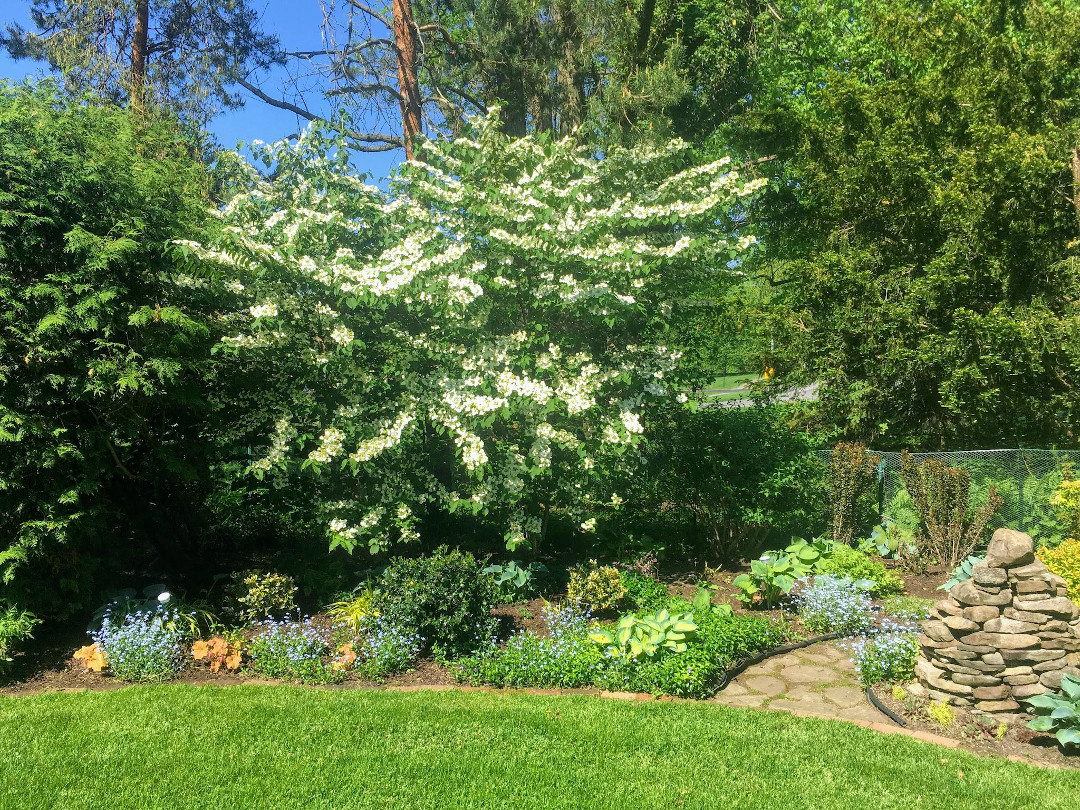 Two of these doublefile 'Shasta' viburnums (Viburnum plicatum f. tomentosum 'Shasta', Zones 5–8) are planted right next to each other near the cairn at the north end of the old arborvitae hedge that blocks Baird Road. Their showy white flowers appear opposite each other, double file, and they grow in partial shade or sun, providing a pretty hedge in spring to fall. They have eye-catching red berries in the fall that attract birds. I remember viburnums from my Grandma Greene's house, but they likely belonged to a neighbor and hung over the fence, affording my grandparents the beauty for free.
In 2020, so entranced by these "dogwoods on steroids," we purchased another viburnum, a doublefile 'Mariesii' (Viburnum plicatum f. tomentosum 'Mariesii', Zones 5–8), to go against the brown fence on our north side. The 'Mariesii'' was already over 2½ feet tall as of June 1, 2020, while the Shastas are a mature 10 feet, roughly the same height as the arborvitae hedge, which I trim to ladder height. The 'Mariesii' may bloom up to two weeks after the 'Shasta', which will extend the viburnums' impact in the garden. Both are deer resistant, and in the morning sun they are simply stunning.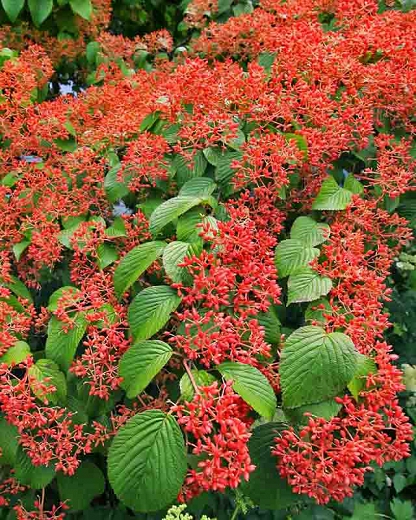 Fall berries on the viburnum extends the show.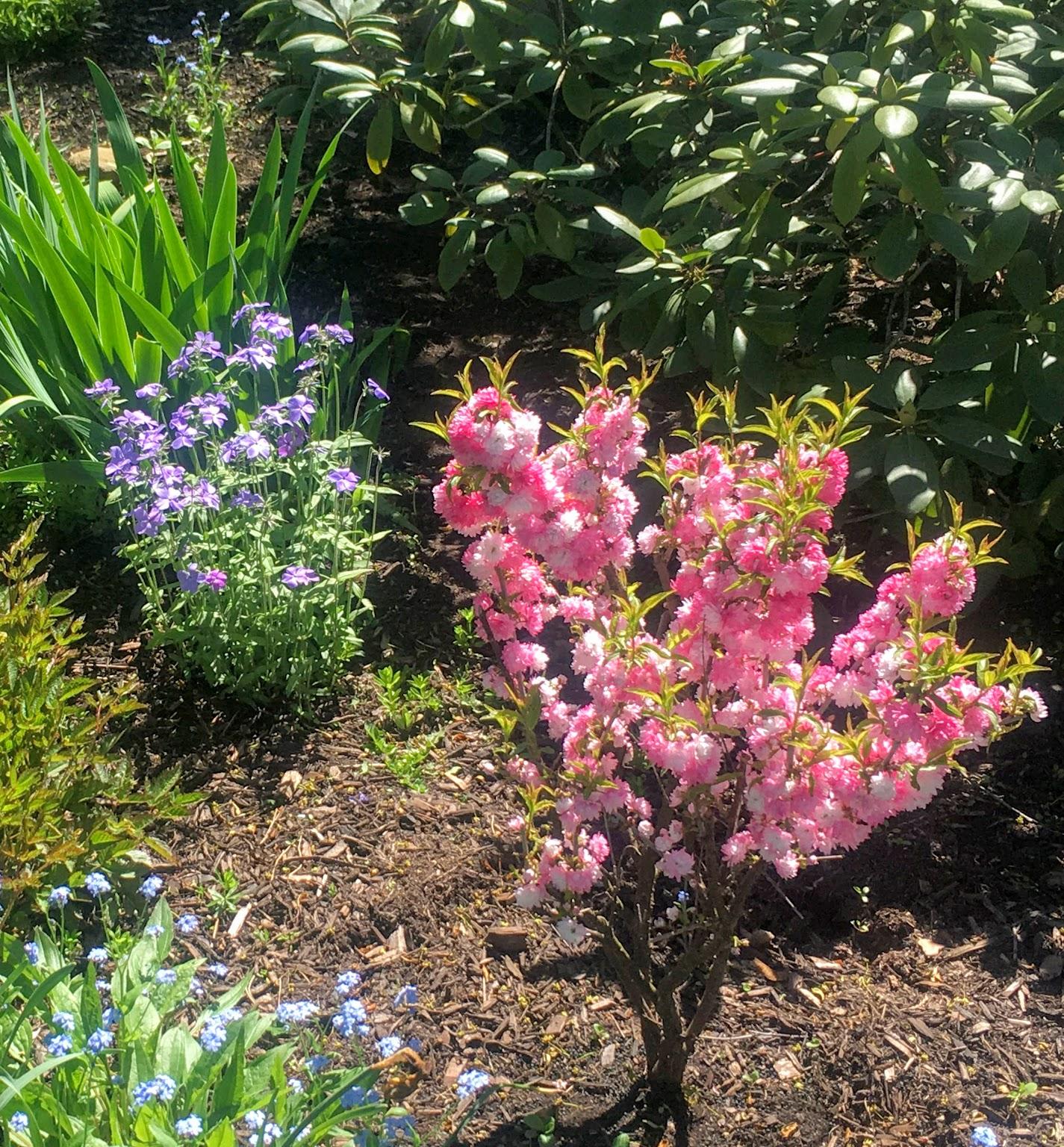 If you exit the family room through the sliding door and walk straight ahead, the flowering almond (Prunus glandulosa, Zones 4–8) is right in front of you. Its double-flowering pink blooms are striking enough, but the flowers arrive as early as late April and appear before the bush leafs out. Its early timing is incredible. By late May, the bush's leaves begin to hide the blooms, but by then the rhododendrons and irises behind the almond are beginning to make their entrance. The flowering almond's mature size can be 3 to 4 feet wide and 4 to 5 feet tall. We'll keep pruning this prunus to keep it in the 3-to-4-foot height range.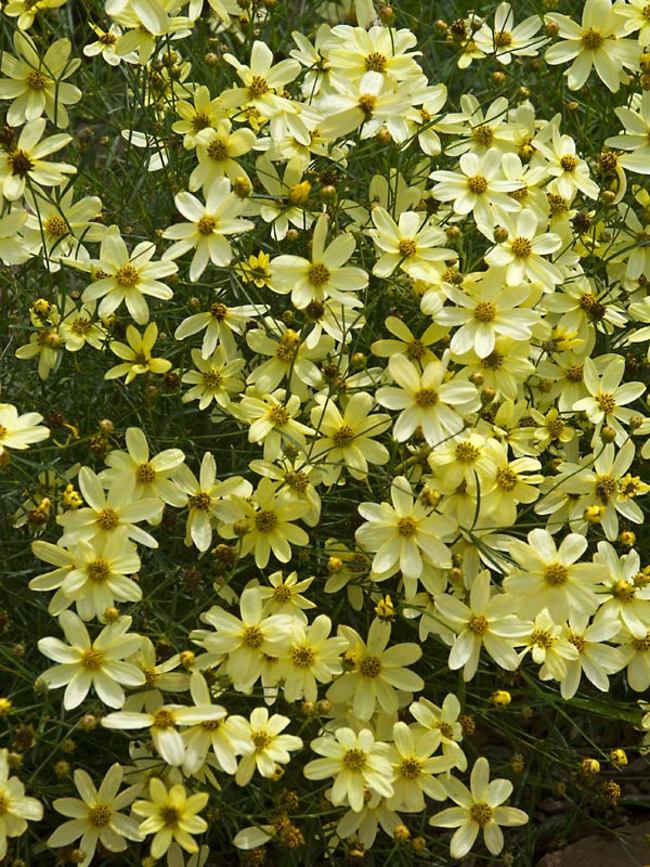 This threadleaf variety of coreopsis (Coreopsis verticillata 'Moonbeam', Zones 3–9) has an airy texture and optimistic yellow color. It'll grow 18 to 24 inches high and wide, and is deer resistant. The 1993 Perennial Plant Association's Plant of the Year, it's often placed near echinacea, and I'll consider that when dividing it in the future.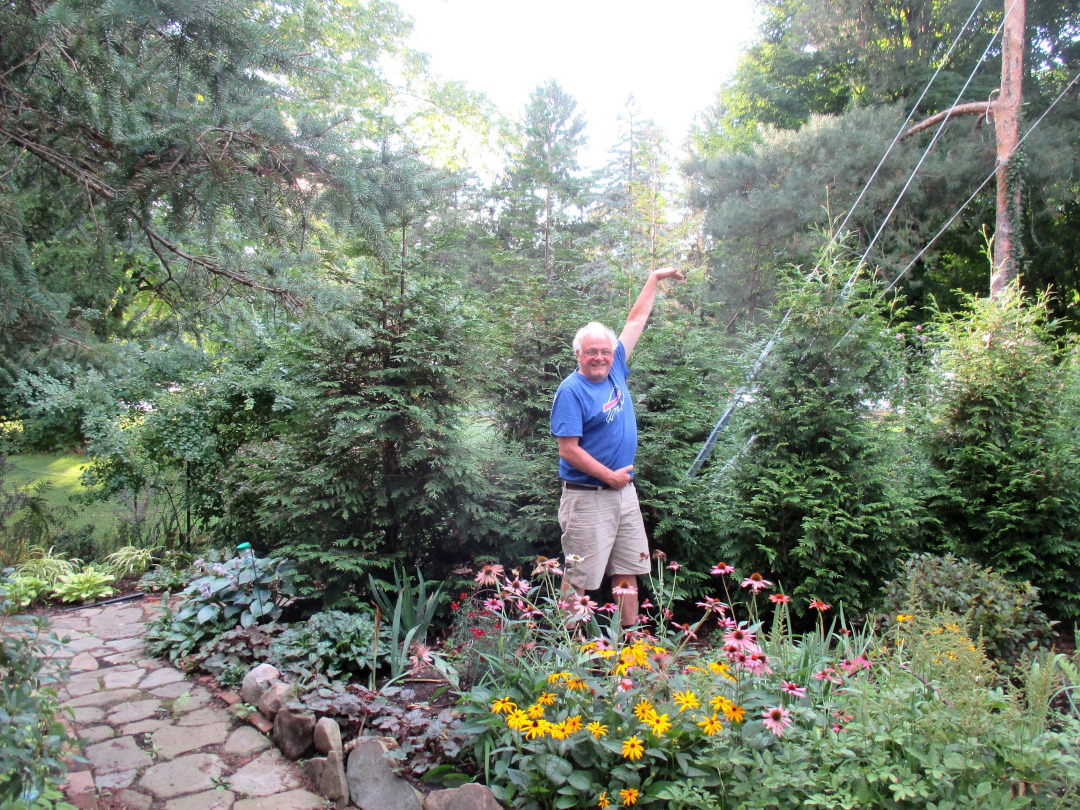 Steeplechase arborvitae (Thuja 'Steeplechase', Zones 4–8)—don't confuse this one-word-name evergreen with the double-word "arbor vitae" (Latin for "tree of life"), which is the fanlike white matter that brings sensory and motor information to and from the cerebellum. (It's harder to grow outside the skull.) We looked for hedges that deer didn't regard as candy, and we're most impressed with 'Steeplechase' for its 3-foot annual growth. We also have hedges of the 'Green Giant' variety. This picture shows the height of the eight or nine 'Steeplechase' arborvitaes that were planted in 2016 to block the telephone pole and road. Four years later, they are now almost 20 feet tall and 8 feet wide! For my money, 'Steeplechase' arborvitae are the best solution for windbreaks and privacy.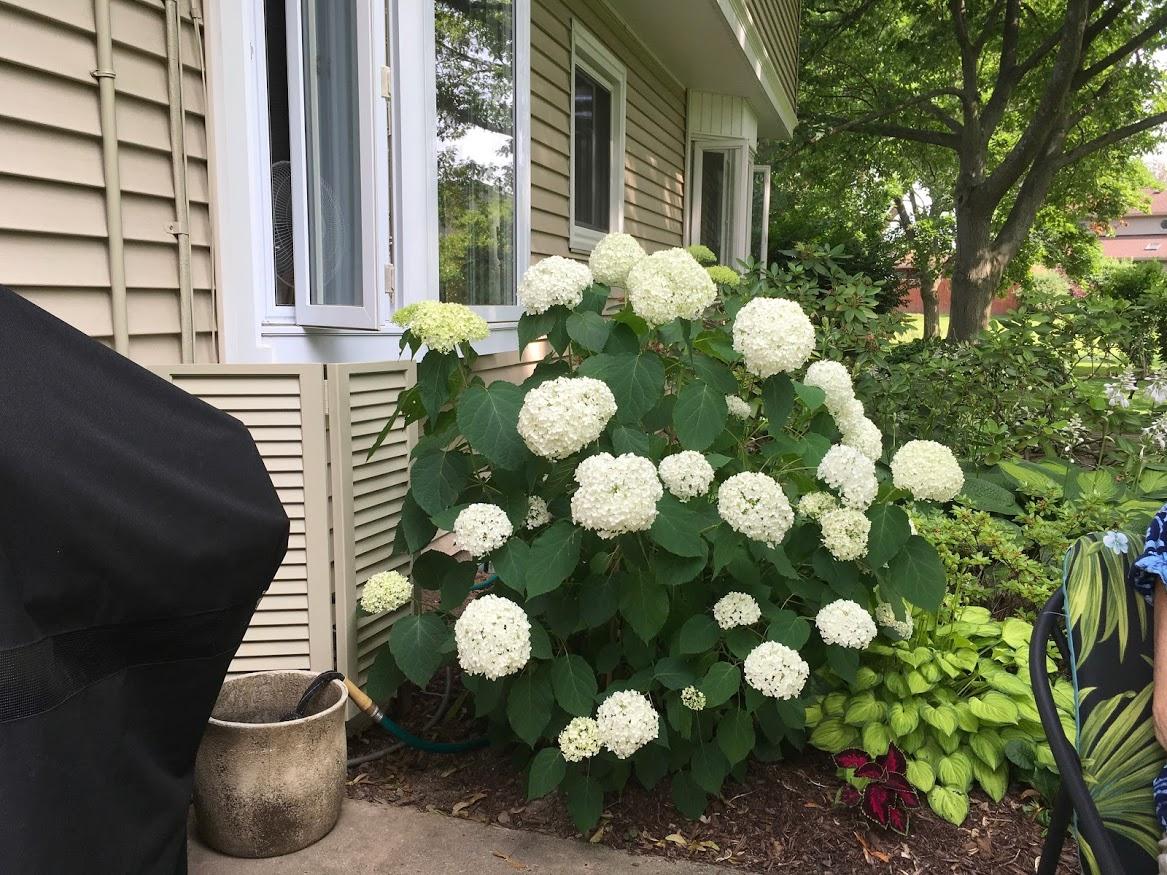 We purchased this hydrangea in April 2017 because it's our first grandchild's first name. 'Annabelle' is the best-known variety of smooth hydrangea (Hydrangea arborescens, Zones 3–9). 'Annabelle' has stunning white flowers, often producing heads over 8 inches in diameter. Unlike the better-known blue and pink hydrangeas (Hydrangea macrophylla), 'Annabelle's snow-white color can't be altered by soil pH, and it blooms every year, even after severe pruning or intensely cold winters. 'Annabelle' thrives in the sun and will enjoy its new, sunnier location in the hydrangea garden along the path by the brown fence.
Unlike our granddaughter with the same name, it has a tendency to droop, so supporting her with stakes may be necessary. It may also help to prune 'Annabelle' down to about 18 to 24 inches tall rather than cutting it to the ground every year. This will allow the stems to thicken a little each year, becoming stouter and better able to support the other branches and blooms. A new smooth hydrangea that stands more upright, especially after a rain, is called 'Incrediball', but we prefer the name of the original.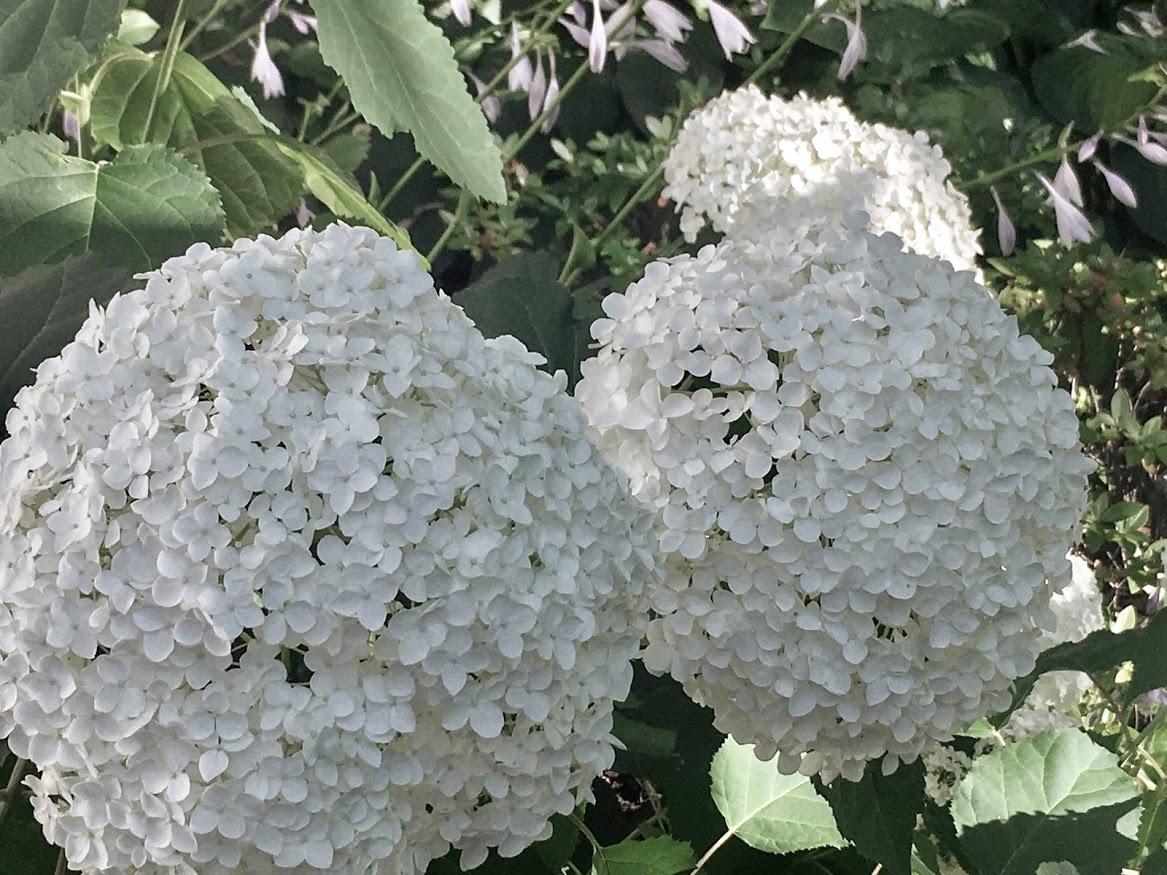 'Annabelle' flowers
Come back tomorrow for more of this beautiful garden!
Have a garden you'd like to share?
Have photos to share? We'd love to see your garden, a particular collection of plants you love, or a wonderful garden you had the chance to visit!
To submit, send 5-10 photos to [email protected] along with some information about the plants in the pictures and where you took the photos. We'd love to hear where you are located, how long you've been gardening, successes you are proud of, failures you learned from, hopes for the future, favorite plants, or funny stories from your garden.
If you want to send photos in separate emails to the GPOD email box that is just fine.
Have a mobile phone? Tag your photos on Facebook, Instagram or Twitter with #FineGardening!
You don't have to be a professional garden photographer – check out our garden photography tips!
Do you receive the GPOD by email yet? Sign up here.