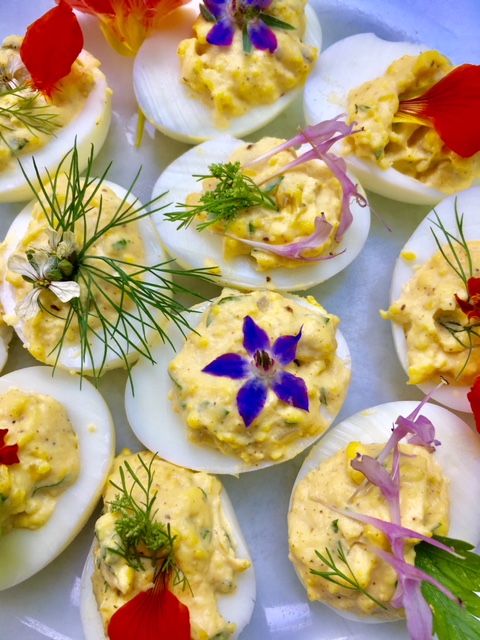 What food do we think of for picnics, barbecues, potlucks and cool summer fare on hot summer days? Yep, deviled eggs are perhaps more American than apple pie. They are quick and easy-to-make, provide protein and everyone seems to like them. And every single person I know has their own recipe… here's our family favorite… with a list of variations.
Our family loves deviled eggs. My grandmother used to make them–then I took over–and eventually I passed the job to my daughter Lucie. When she was in charge of the deviled eggs, she knew better not show up at a family gathering without them! In the summer, we vary the herb by adding fresh tarragon, or a tablespoon of fresh minced basil, or even minced chile pepper. The recipe can easily be doubled or halved depending upon how many you are serving; we have to allow at least 2 halves per person in our family! Since Lucie moved to the West Coast, her sister Cady has been making the deviled eggs for family events… now she has gone off to Florida… so the deviled egg preparation has come full circle and it is up to me again!
How to cook the perfect hard-boiled egg
Be sure not to overcook your eggs–there is nothing worse than grey rings around the yolks–I suppose I might admit that this is a pet peeve of mine–which is easily remedied if you use the following instructions. I put my orgnaically grown eggs into a pan that will hold them fairly snug so there's not too much jiggling-around room. Cover them with cold water and place the pan over medium high heat. Pay attention to when they start to simmer and once they come to a boil, reduce the heat to medium low and set the timer for exactly 9 minutes. When the timer goes off, remove the pan from the stove and pour off the hot water. Then run cold water into the pan to stop the cooking and cool them; if the water feels warm after a few minutes, dump it and add more cold.
At this point, even though the eggs are still hot, quickly take them one by one, and rap them on the side of the sink, gently yet firmly, turning and breaking the shell all the way around. Drop the cracked eggs back into the cold water and allow to sit for another 10 to 15 minutes. By breaking the shell and putting into cold water, the eggs cool quicker and the water seeps into the broken shell and membrane and makes peeling much easier. This method will give you a perfectly cooked egg yolk–perhaps just the slightest bit soft for some (it makes for the creamiest filling)–you could cook 1 minute more (no longer!) to have a totally dry yolk.
Lucie's Deviled Eggs
Makes 24 deviled egg halves
12 extra large eggs, hard-cooked, halved lengthwise, yolks removed
About 4 tablespoons mayonnaise
1 teaspoons Dijon-style mustard
1 1/2 tablespoons finely snipped chives and/or dill
1 tablespoon chopped sweet pickles
1 tablespoon pickle juice
Salt and freshly ground pepper
Paprika
Small dill sprigs and/or chive tips or edible flowers for garnish
To prepare the filling, mash the yolks in a small bowl with a fork. Add the mayonnaise, mustard, chives and/or dill, pickles, pickle juice, salt, and pepper. Blend well. Fill the halves with the filling. Dust the tops lightly with paprika and garnish with a small chive or dill sprig, and an edible bloom if desired.
Arrange the eggs on a plate. Serve immediately or cover and chill. Serve at cool room temperature.
Variations:
~ Use any herbs or edible flowers that you like.
~ If you like it hot, add minced chile peppers, Siracha, hot sauce or harissa, (these may tint the filling orange) perhaps cilantro to complement.
~ Use a variety of mustards.
~ Stir in a little pesto, salsa verde or chimichurri sauce (these will tint the filling green).
~ Add curry or chili powder or herbes de Provence.
~ I usually add just a clove of garlic, a minced scallion or a small shallot, just because I love alliums.
~ Use dill pickles instead of sweet.
~ Leave out pickles and add finely chopped capers or very finely minced sundried tomatoes.
~ Minced olives are tasty or just a slice on top for garnish.
~ You could add pimento cheese to the filling or a tad of herbed cream cheese.
~ It is popular here in Maryland to add Old Bay seafood seasoning (and might I add quite tasty). 
~ For those who do like mayonnaise, try using sour cream.