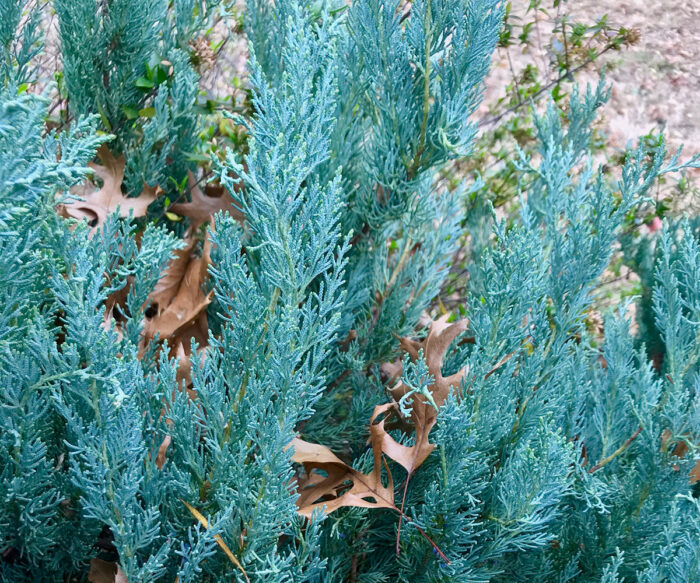 Interest in growing conifers in the Southeast continues to be on the rise. Every year we learn more about which species and cultivars grow best in our region. One of the dynamics certain conifers can bring to your garden is the addition of cool blue hues. However, our region's unique combination of wet winters, summer humidity, and various soil densities translates to a need for careful selection when adding conifers. Additionally, gardeners need to seek out regional information for what mature size they can expect for each plant. Here are four diverse conifers that are perfect for our region and provide stunning blue foliage.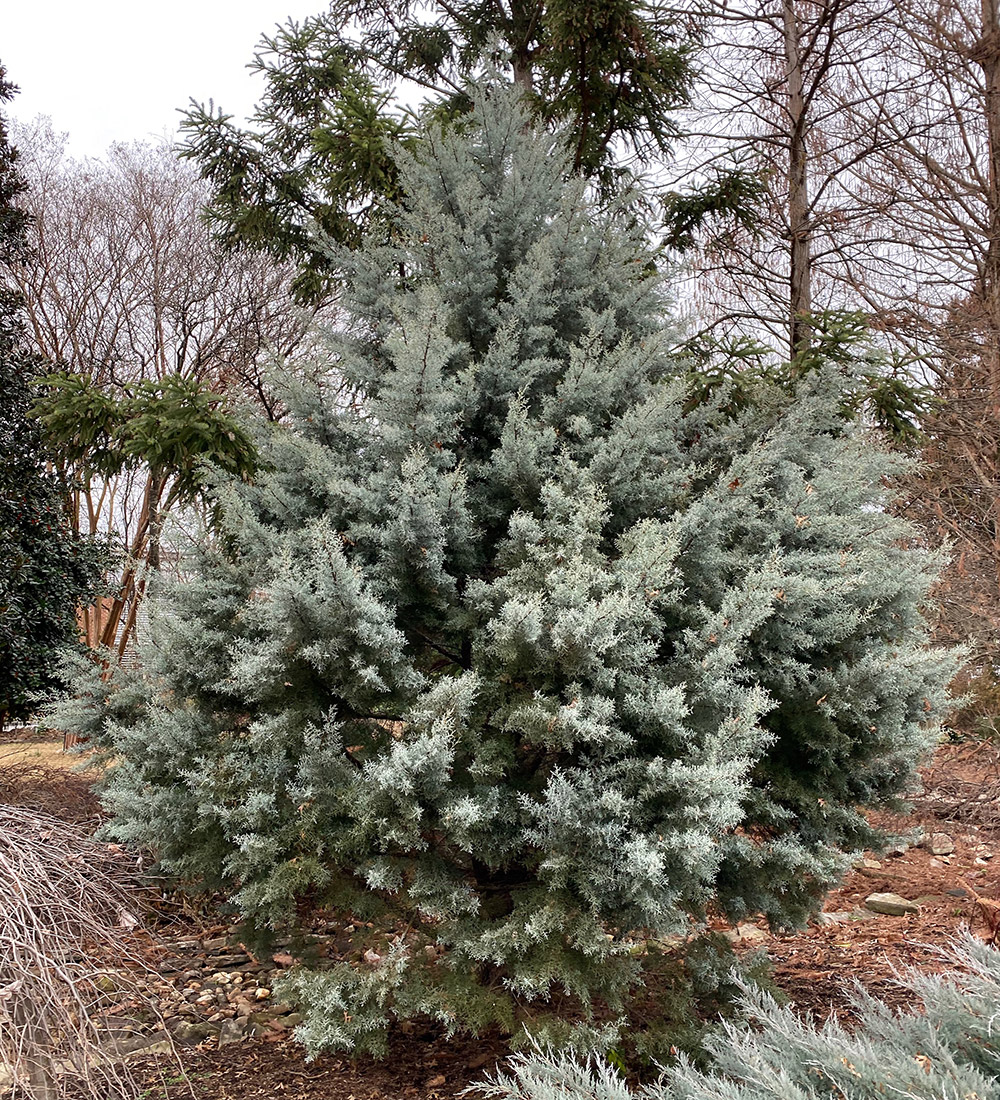 'Blue Ice' Arizona cypress
Cupressus arizonica var. glabra 'Blue Ice', Zones 6b–9
'Blue Ice' Arizona cypress is a midsize conifer that is perfect for use as a screen or backdrop. It has fine-textured and steely blue foliage. Topping out at around 40 feet high and 20 feet wide, it retains a pyramidal shape even in old age. This native conifer to the southwestern United States and Mexico loves full sun but doesn't seem to mind our humidity. 'Blue Ice' is not the only cultivar of Arizona cypress that exists, but it is certainly one of the most commercially available. Readers may also be familiar with the cultivar 'Carolina Sapphire', which is slightly larger at maturity and more of a true blue. As the cultivar name suggests, 'Blue Ice' has a more glaucous, silvery blue color. As a bonus, Arizona cypress is very aromatic when the needles are crushed or brushed up against.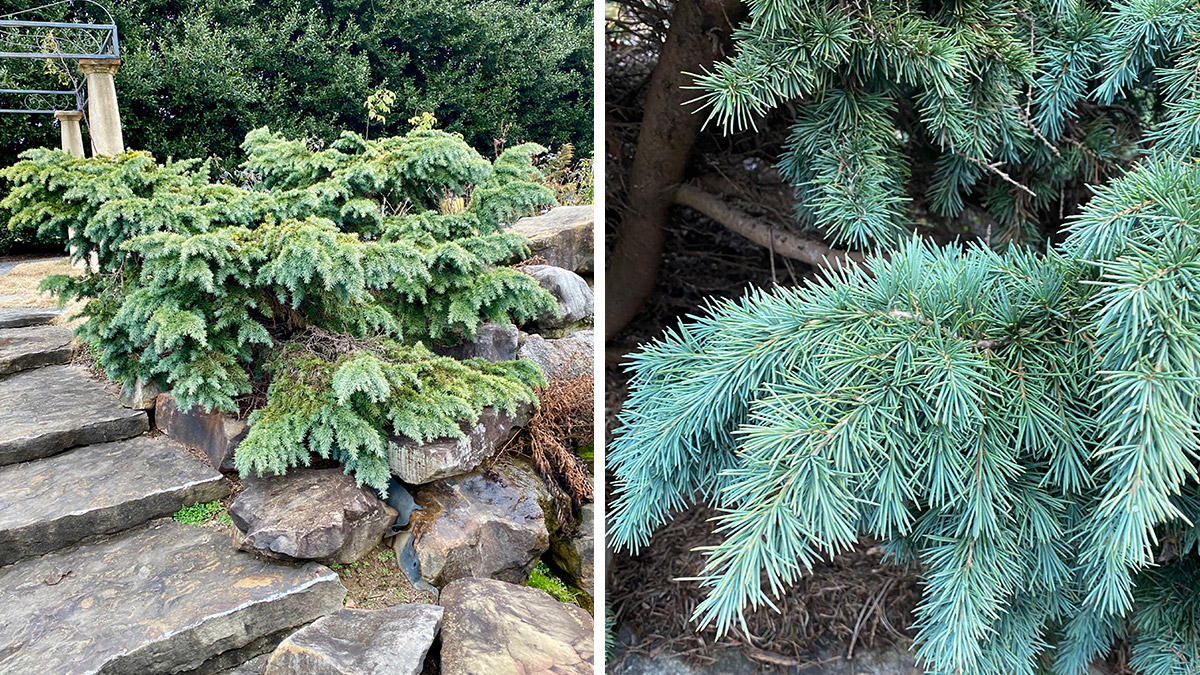 'Prostrate Beauty' blue deodar cedar
Cedrus deodara 'Prostrate Beauty', Zones 6b–9
There are plenty of deodar cedar cultivars with blue foliage. However, when considering the size of most residential landscapes, few people have the room for the common cultivars with gigantic proportions. Luckily, there are several smaller, blue-foliaged cultivars. Two of my favorite deodar cedars are 'Glacier Blue' and 'Feelin' Blue'. Compared to the species, these are very small plants indeed. However, one of the lowest-growing cultivars available is 'Prostrate Beauty' deodar cedar. It grows 5 feet high and 10 feet wide over many years. When young, this plant stays nearly flat. Over time, a leader may develop. If you don't want a leader to develop, only light pruning will be required to remove it. This plant will thrive in full sun or partial shade and is much more dynamic than your typical foundation shrub.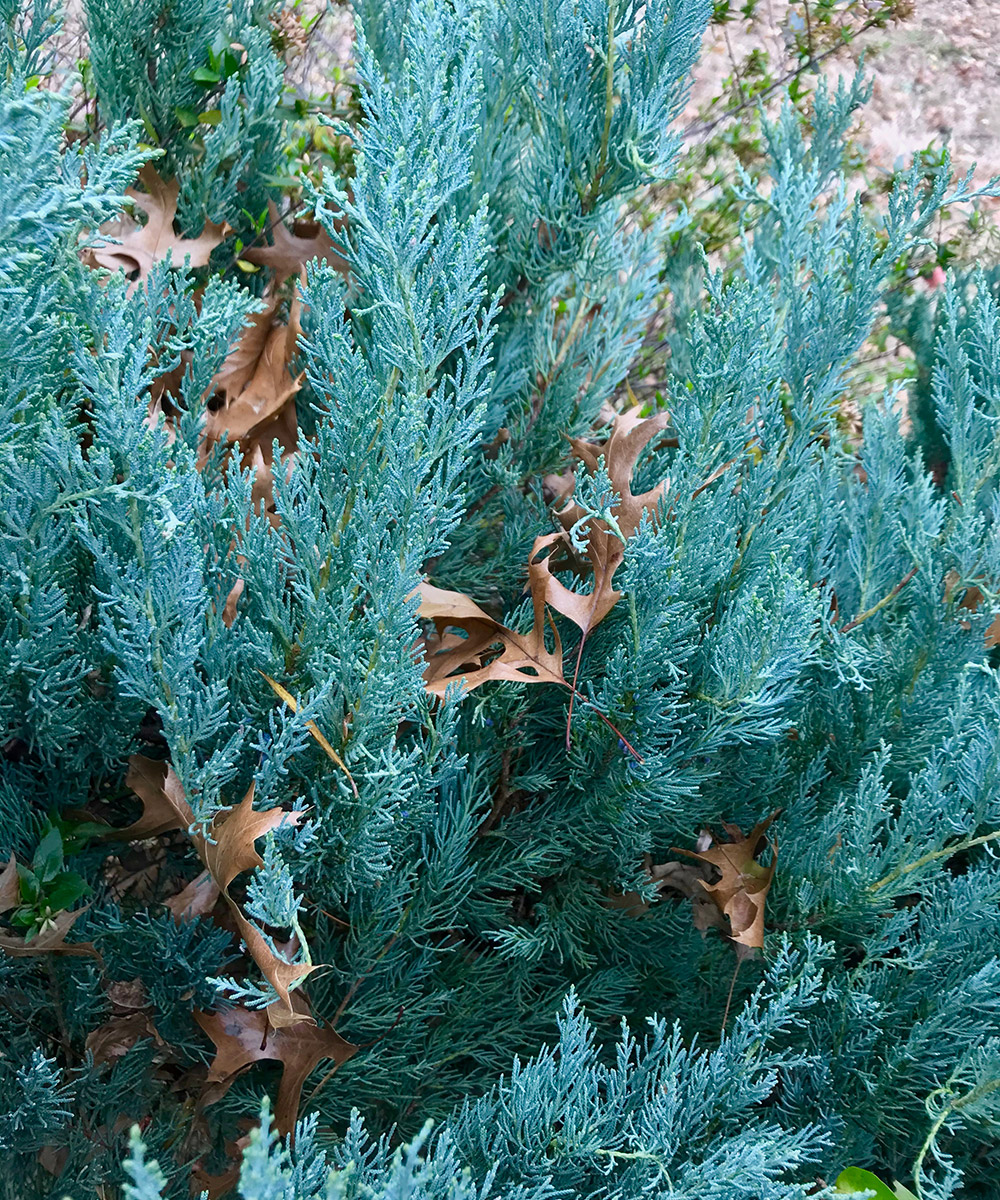 Compact blue Eastern red cedar
Juniperus virginiana 'Glauca Compacta', Zones 4–9
Truly one of our toughest native plants in the Southeast, Eastern red cedar thrives in a variety of soil conditions. Several cultivars  available have blue tones. However, 'Glauca Compacta' sticks out for its overall appearance. It will get around 10 feet high and 5 feet wide. Its color is strikingly blue and holds up very well when cut for wreaths. Plant it in full sun next to conifers with gold foliage. In fact, the contrast between any gold plant and this conifer's particular blue foliage is striking.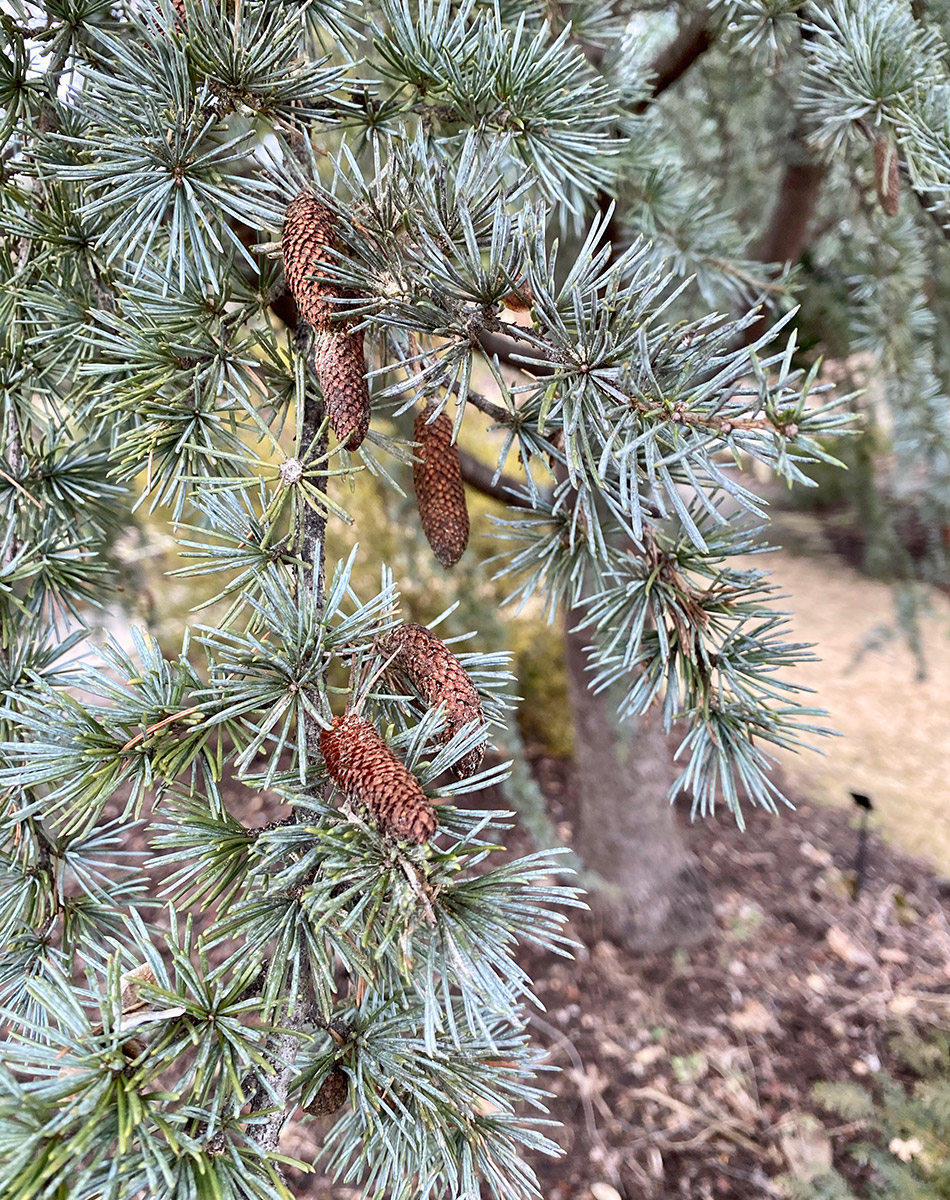 Columnar blue Atlas cedar
Cedrus atlantica 'Glauca Fastigiata', Zones 6–9
The Southeast seems worlds away from the native range of the Atlas cedar in the mountains of Morocco. However, as one of the hardiest of the true cedars, it finds itself right at home in our region. The glauca group of this species' cultivars have bluish-green to bluish-gray needles and are referred to as blue Atlas cedar. You may also see them sold as C. atlantica 'Glauca' and C. atlantica var. glauca. 'Glauca Fastigiata' has a narrow habit, which is often better for the home landscape. Columnar blue Atlas cedar is typically 40 feet tall and 25 feet wide at maturity and makes a wonderful, tall accent plant. Additionally, it is always a show-stopper as part of a mixed screen in the background of a garden.
Conifers that bring the blue continue to be some of the most popular, particularly large, blue, evergreen conifers that can diversify screening options for the backdrop of gardens. Yet there are several smaller selections suitable for more-compact spaces. One of the great things about conifers is the diversity of shape, size, and color they can add to the landscape. For more great conifer recommendations for the Southeast, check out Dwarf Conifers That Can Take the Heat.
—Andy Pulte is a faculty member in the plant sciences department at the University of Tennessee.