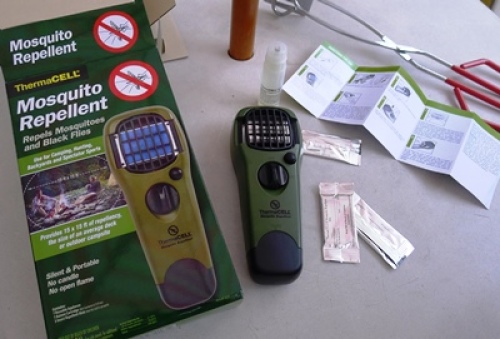 While sitting on the patio one recent evening, I noticed a swarm of dragonflies swooping and dancing about 15 feet above my head. I was enjoying this beautiful ballet of graceful insects when I started to wonder what those dragonflies were after.
Then it hit me: they were chasing and catching the mosquitoes that weren't bugging me.
It was the first time I used the Thermacell Mosquito Repellent the company sent me to review. Unlike mosquito repellents you have to spray on or candles you have to light with a match, Thermacell is an area repellent. The small device uses a butane cartridge to heat a repellent pad and silently release an odorless repellent that drives mosquitoes — black flies and other flying insects — away.
The repellent is a synthetic copy of the natural repellent found in chrysanthemum flowers and it really works. Once the Thermacell was clicked on, it created a nice 15-foot by 15-foot invisible bubble of protection around me.
It took about 10 minutes for Thermacell to warm up and provide protection without any open flame or hot wax. Just outside the protective zone, the dragonflies were enjoying a delicious mosquito buffet.
The company says Thermacell provides up to 50 times more protection than citronella candles. But what sold me on this product is that it's been tested by the Environmental Protection Agency for safety and effectiveness. Plus, the U.S. Army uses it in Iraq, Kuwait and Afghanistan.
Each small blue mat lasts up to four hours and turns white as a signal that it's time to replace it. The company representative told me the product is most effective when the altitude is lower that 5,000 feet because the power source for the repellent function is a butane cartridge. However, it worked just fine in my mile-high Denver backyard.
The Thermacell is small enough to carry with me into the garden and place on a nearby flat surface while I'm gardening. It's a terrific alternative to spraying myself with sticky mosquito repellent so I can garden in peace. Of course, it would be effective while grilling on the patio, hosting backyard barbeques, or taking it along while camping.
I've written about ways to keep insect pests out of the vegetable garden, but that's before I tried this ingenious area repellent. Now I can add Thermacell to that list.
(Thermacell Mosquito Repellent sent a free device for me to review; opinions are always my own.)