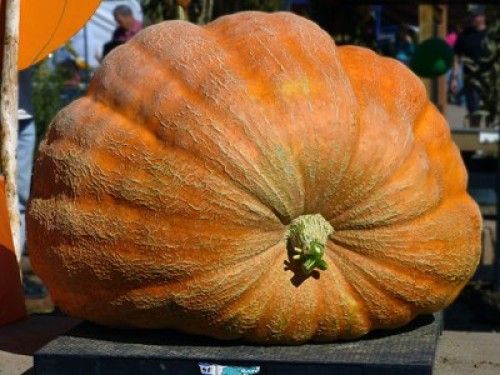 Gardeners around the globe have been trying to amaze their friends, family and neighbors by growing unbelievably large pumpkins for more than 150 years.
But it was just this year that Ron Wallace of Rhode Island, set a new record at the New England Giant Pumpkin weigh off with a pumpkin that tipped the scales at over one ton-2009 pounds.
That's sets an unbelievably high bar for fellow growers aiming for next year's record.
It wasn't that long ago when giant pumpkins weighed in at less than 500 pounds. Advances in the art and science of giant pumpkin growing took a huge leap in 1983. That's when a grower in Nova Scotia named Howard Dill grew a 466-pound pumpkin. Since then growers have been planting 'Dill's Atlantic Giant' seeds to grow bigger and bigger pumpkins.
Would you like to try to set your own Cucurbita maxima record? Here's what you'll need:
Space. You'll need a 10-foot by 10-foot growing area if you want to grow a 400-pounder or a 20-by-20 foot patch for anything bigger.
Seed. Not every pumpkin seed will grow into a giant. Growers spend much of their off season carefully selecting seeds with pedigrees from past winners.
Time. Giant pumpkin growers plant their selections in April, move plants to hoop houses in May and hand-pollinate flowers in late June.
Patience. Each grower spends long days during the summer watering, fertilizing, worrying about the weather, watching for disease problems, and fending off all kinds of pests from insects to elk. 
A Truck and Friends. It takes some planning and manpower to move a giant pumpkin from the patch to the contest.
Specialized Knowledge. Giant pumpkins don't grow to over 1000 pounds on their own. The best methods for learning how to grow a giant are reading books, looking at web sites and getting to know other growers. Even though giant pumpkin growers are competitors, most are willing to share their tips, tricks and even their seeds.