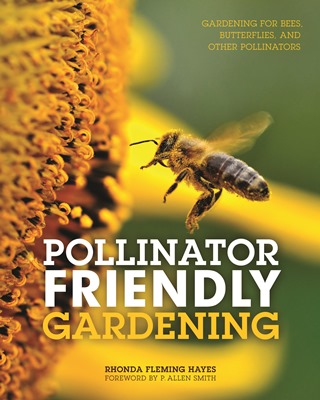 In her new book, Pollinator Friendly Gardening, award-winning garden writer Rhonda Fleming Hayes states the need for vegetable gardeners to plant more flowers to attract bees, butterflies, and other pollinators to their gardens.
"Without pollinators, a vegetable garden isn't possible."
Gardeners need pollinators to fertilize flowers to set fruit for the most productive gardens possible. Even if you already plant plenty of flowers, there's always room for more.
April is National Lawn Care Month and a good way to celebrate is to take up some of the turf and replace it with flowering plants that attract pollinators. Pollinator Friendly Gardening (Voyageur Press, 2015) provides the inspiration and ideas for reducing, replacing and rethinking the lawn.
"For gardeners always looking for more places to plant, they need to look no further than their lawns," Rhonda writes. "It's easy to chip away at the sod, little by little expanding your flowerbeds. Or go about it more systematically and consider widening all the beds by a foot or two, or more."
Gardeners can plant flowering lawn substitutes, like miniclover, cheddar pinks, creeping red thyme, white stonecrop or ornamental strawberry. 
For more bang for the pollinator-friendly gardening buck, gardeners can replace a chunk of the lawn area with a new garden bed that's filled with flowers, fruits, herbs and vegetables.
It's obvious Rhonda has spent time thinking about what would be most useful for a gardener when it comes to planting for pollinators. Her book is filled with helpful plant lists for the specific annuals, perennials and landscape plants that attract bees, butterflies, and hummingbirds. Each list is categorized by pollinator to make it easier for gardeners to find the best plants to meet their pollinators' needs.
Special projects, like creating a butterfly feeding station or building a bee abode, turn research into reality for gardeners. The list of Citizen Science Projects provides opportunities for gardeners to collect and share valuable data about pollinator behavior.
In addition to the plant lists, the book includes planting tips, fun facts and insights from other experts. Rhonda's book is a must-have for gardeners who want to help improve the quality of life for pollinators, and in turn, help their own gardening efforts as well.