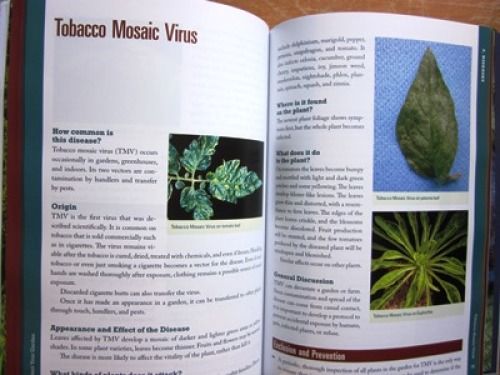 If you're looking for a straightforward guide to dealing with problems in your garden, Ed Rosenthal's new book is for you. "Protect Your Garden" (2013, Quick American Publishing) is a troubleshooting guide that helps gardeners solve their most vexing pest, disease and nutrient problems.
The book shuns synthetic solutions and instead gives gardeners an arsenal of eco-friendly ideas for using barriers, biological controls, and sensible green pesticides.
A Note from the Author
Quick American Publishing sent me a free review copy of Rosenthal's book and in the front pages was a note signed by Ed. He wrote, "For four decades I've been writing for a demanding audience that is growing a high value crop, often indoors, close to family and pets. The harvest must be safe for them to consume. My advice remains the same, regardless of the plant:
Believe your eyes.
Use ingredients that are safe to use on edible plants.
Repeat: Do not use products only approved for ornamentals on your vegetables!
Evolve-garden methods change."
How to Protect Your Garden
Rosenthal's book is easy to use. Gardeners can quickly turn to any of five sections and find what they're looking for. The sections cover pests, diseases, nutrient deficiencies, environmental stresses, and controls like pesticides and fungicides, as well as Beneficial Biologicals. 
In the section on pests, each chapter offers a description of the pest, full color images for easy identification, what the pest does to the plant and a variety of preventive measures and problem-solving techniques for managing each pest.
Pests include everything annoying from ants to beetles to whiteflies. Gophers, moles and rats are also included. Even if you don't know what's causing the damage to your garden, the pictures are a good guide to helping solve the mystery.
The section on diseases follows a similar format with the name of the disease, what it looks like, what causes it and how to control it. Black spot fungus, damping off and powdery mildew are just a few of the fungal and bacterial diseases covered in the chapter. 
Rosenthal also gives gardeners ideas on how to prevent plant diseases in the first place. He recommends soaking seeds in compost tea, hydrogen peroxide or other treatments to promote disease-free germinations, then follow by spraying when plants are under stress.
Gardeners concerned about the environment will appreciate all the eco-friendly controls listed in the book. A home-made solution of 90 percent alcohol and water kills mealybugs and scale; capsaicin insecticidal spray helps protect insects from plants and also acts as a contact insecticide. Chamomile blossom tea suppresses damping off and cinnamon is a fungicide and a pesticide.
If there was one thing I didn't like about the book is the resource section. There are several pages of advertisements for some of the products mentioned in the book. The author does make a point to thank the companies for their support which helped make the book possible.
"Protect Your Garden" is available for purchase online.