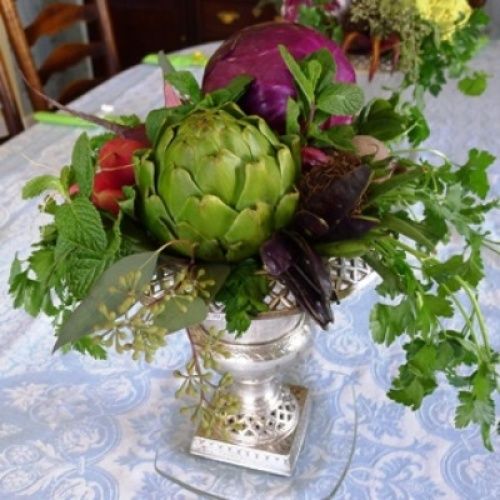 Vegetable gardeners are familiar with using pumpkins and gourds for fall decorating, but how many of us think about using fresh vegetables as decorations throughout the year? There are many holidays and special occasions where a vegetable centerpiece could easily take the place of a floral arrangement.
Talented members of the Garden Club of Denver created table arrangements using vegetables instead of flowers at a recent meeting and luncheon. Each of the arrangements featured different combinations of colorful fresh fruits, vegetables, and herbs.
Seeing those clever vegetable arrangements gave me ideas. It occurred to me that vegetable gardeners could make still-life centerpieces to match holiday celebrations.
For Valentine's Day, a vegetable centerpiece combination could include red cabbage, pink and white turnips, and assorted red peppers. A St. Patrick's Day centerpiece of green cabbage, parsley, green onions, and green peppers could easily replace the typical pot of shamrocks. I can easily picture an Easter centerpiece with colorful carrots and their greens.
To use vegetables in a centerpiece, follow the basic principles of floral design. Start with a container that will match the size and scale of the arrangement and the table. Look for a colorful container or a clear one. Use the shape to help you decide the number and kinds of vegetables it will hold.
Here are some other design tips to help get you started:
Make sure the arrangement is balanced on all sides.
Use contrasting colors such as bright with dark.
Add a stunning large or unusual vegetable as a focal point, and place it to the side.
Make sure the arrangement is in proportion to the container and the table space.
Create repeating patterns of vegetables and herbs to give unity to the design.
Of course, you can also add a few fresh flowers if you want to give the centerpiece some added pizazz.