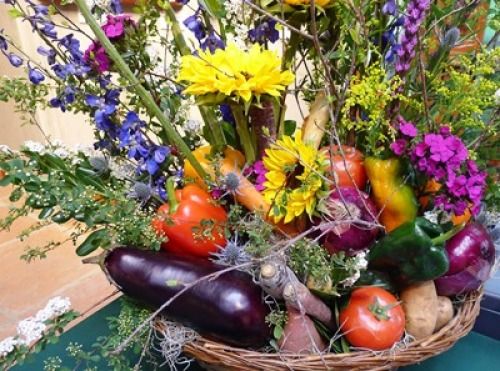 I'll always remember the Thanksgiving I forgot the table centerpiece. I realized how empty the table looked once I added the tablecloth and place settings. There was a big empty space in the middle.
With guests about to arrive, I had to think fast. I grabbed a clear glass hurricane vase and filled it with all the extra fresh fruits and vegetables that were in the fridge. I layered apples, oranges, lemons, a lime, celery stalks, carrots, a few small red potatoes and some jalapeno peppers leftover from the final garden harvest.
Even though I was a bit of a wreck, the centerpiece was beautiful.
If you'd like to try your hand at making a similar memory, here are some ideas for creating fruit, flower and vegetable centerpieces and other decorations for Thanksgiving:
Go outside the cornucopia and fill the horn of plenty with unusual fruits and vegetables instead of the typical pumpkins and gourds. Fill the basket with turnips and colorful potatoes, red and yellow beets or apples in assorted colors.
Select fruits and flowers in complementary colors to fill a tall vase. For example mix orange flowers with orange bell peppers and red hot peppers; add stalks of asparagus instead of ordinary greenery.
Use a grapevine wreath as the centerpiece by placing it flat on the table and tucking (or wiring) small fruits and nuts in between the vines. Stick in small flowers to add interest. For extra impact, place a large candle on a small plate in the middle of the wreath.
Fill a long, low basket with fruits, vegetables and assorted small succulents or air plants. These arrangements naturally look good because of the plants' architectural qualities.
Find a deep square dish and place a purple cabbage in the center. Fill in with colorful peppers and radishes. Add large curly kale leaves to take the place of flowers or greens. 
Place tall flowers in a large vase and use bunches of cilantro, parsley, mint and other herbs to drape over the edge.
The best part of these Thanksgiving decorations is they're as delicious as they are beautiful. Save all the edibles to make a hearty fall soup after the holiday is over.