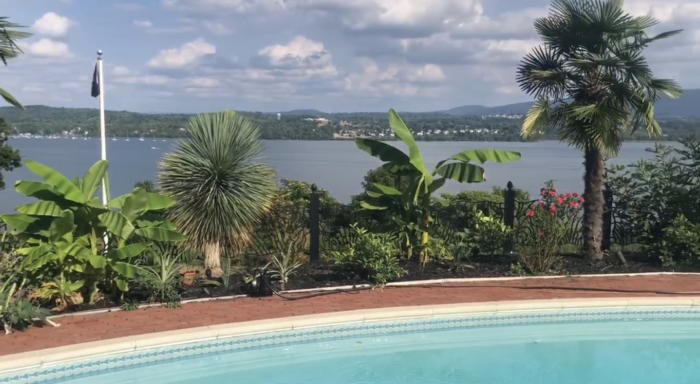 Today's post is from Tim Covington, who likes gardening with a tropical flare—even though he gardens in chilly upstate New York.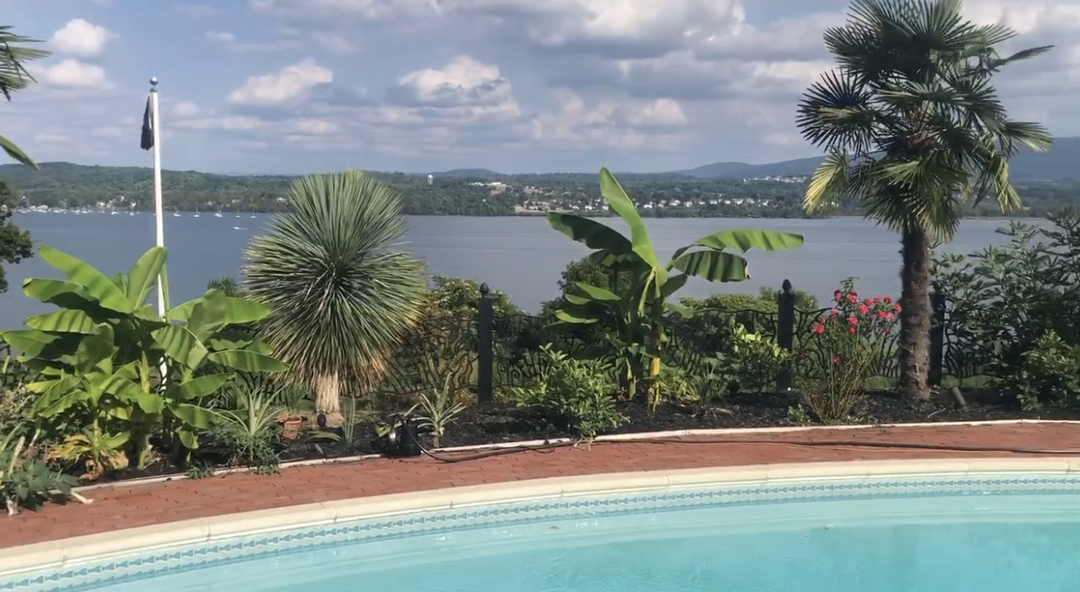 My obsession with palm trees and tropicals came from gardening failures. When I first started gardening, I went the "normal" English garden route. But it seemed the more I paid for the plants the more the deer enjoyed a colorful, expensive meal. I then made a discovery—deer don't like banana plants. Thus began my experiments: I added a ginger plant, and the deer ignored it. I put in a sago palm, and still nothing. Feeling bold, I bought a blooming Brugmansia. The deer did not even touch it. Almost overnight I became a tropical gardener in upstate New York.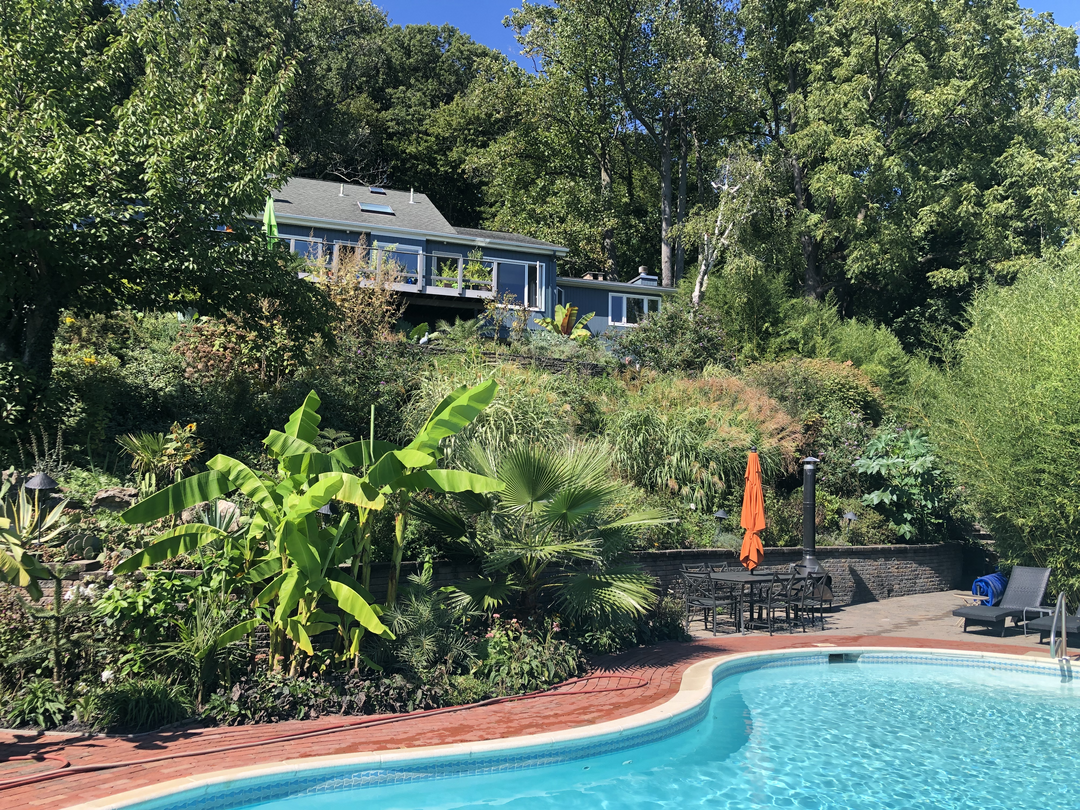 Thanks to trial and error, I have created a tropical oasis on the banks of the Hudson River. What was once a grassy hill down to the pool is now filled with bananas, palm trees, cactus, and perennials.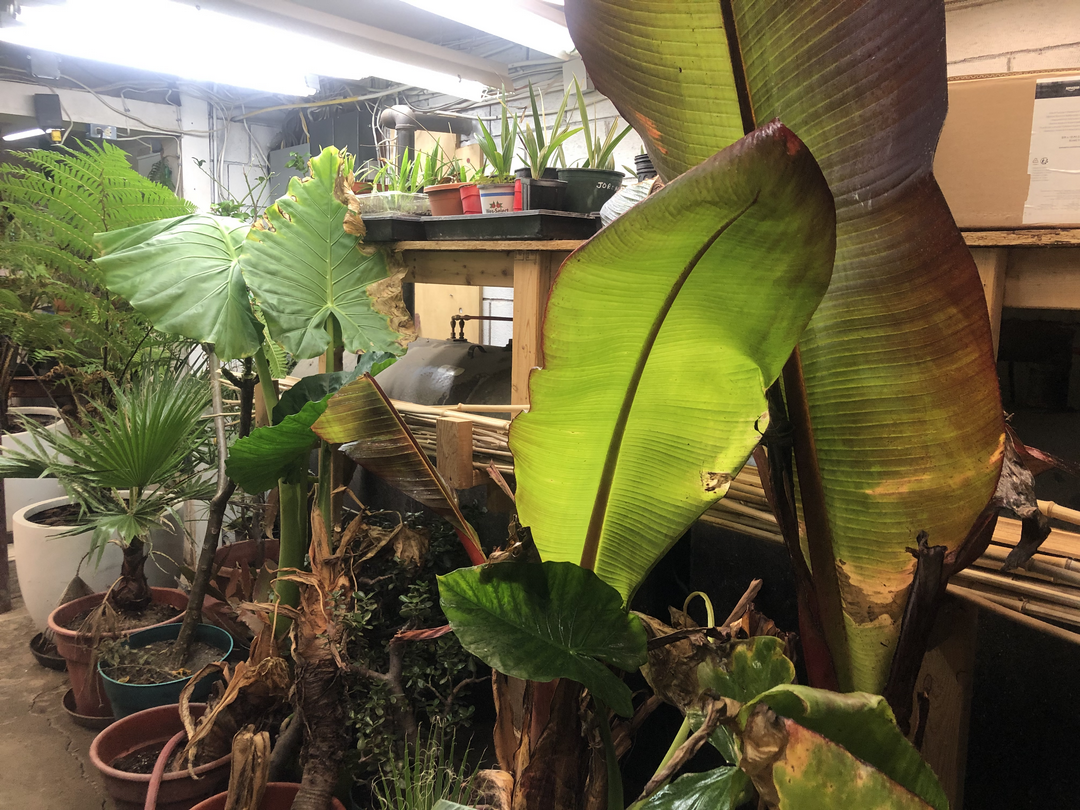 Each fall I fill up my garage with the tender tropicals that must live inside during winter. I even give my koi a winter home in a large holding tank. It's like a greenhouse but with fluorescent lights and a car.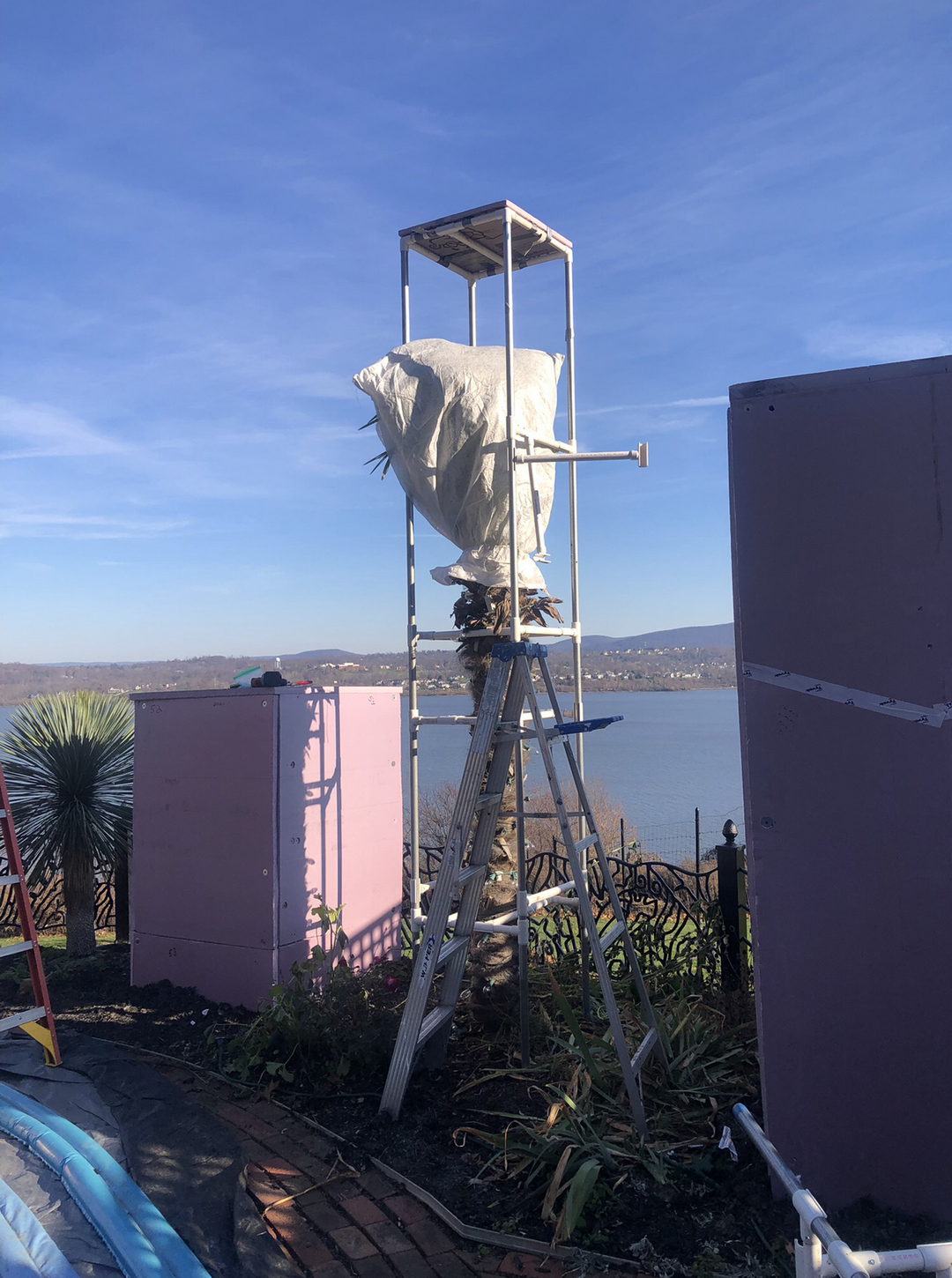 But the big challenge is keeping the large tropical plants outside year-round. I started with Musa basjoo (a banana hardy to Zone 6) and other zone-pushing tropical plants that could handle Zone 6A with some protection. But most importantly, I learned how to get Trachycarpus fortunei (windmill palms) through a Zone 6A winter as well as Washingtonia robusta, date palms (Phoenix dactylifera) , and jelly palms (Butia capitata). My education all came from books and YouTube.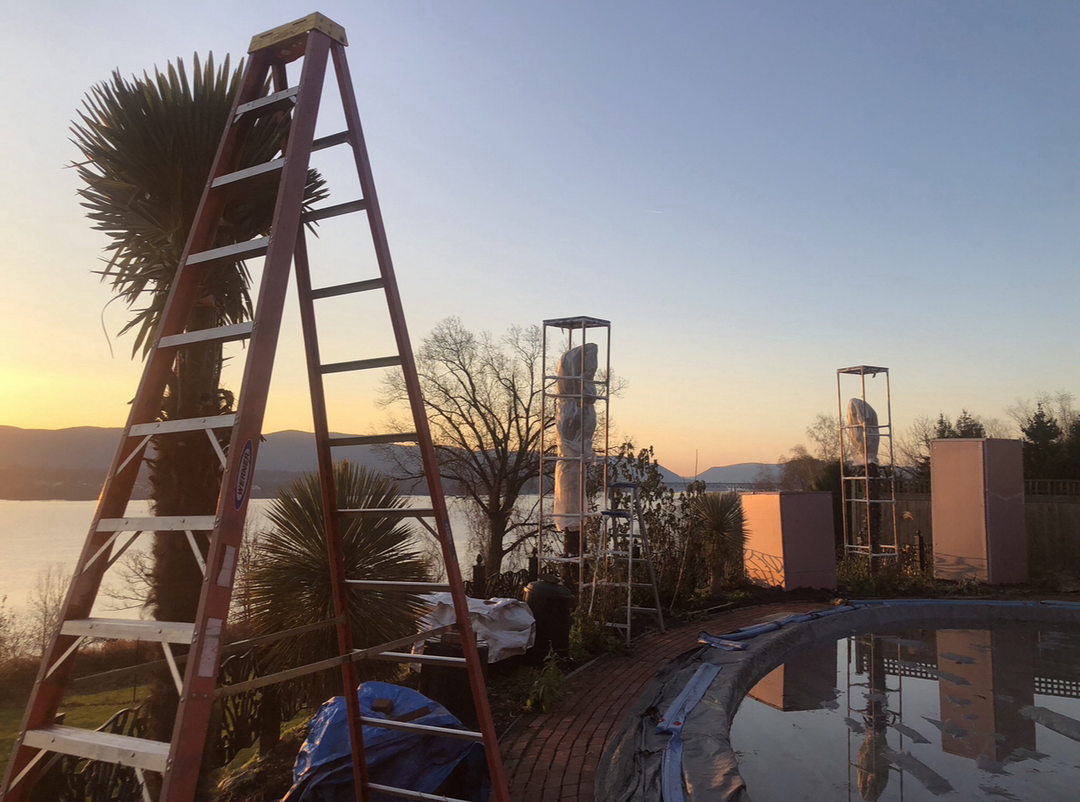 Each palm requires a slightly different configuration, but the result is that you can have large, beautiful palm trees even in cold winter zones. I was very lucky to find Island Wide Palm Trees, located in Long Island, NY, which specializes in palms. They sell not only palm trees but also the proper protection structures for windmill palms. The method for Trachycarpus saves a lot of time and is easy to store.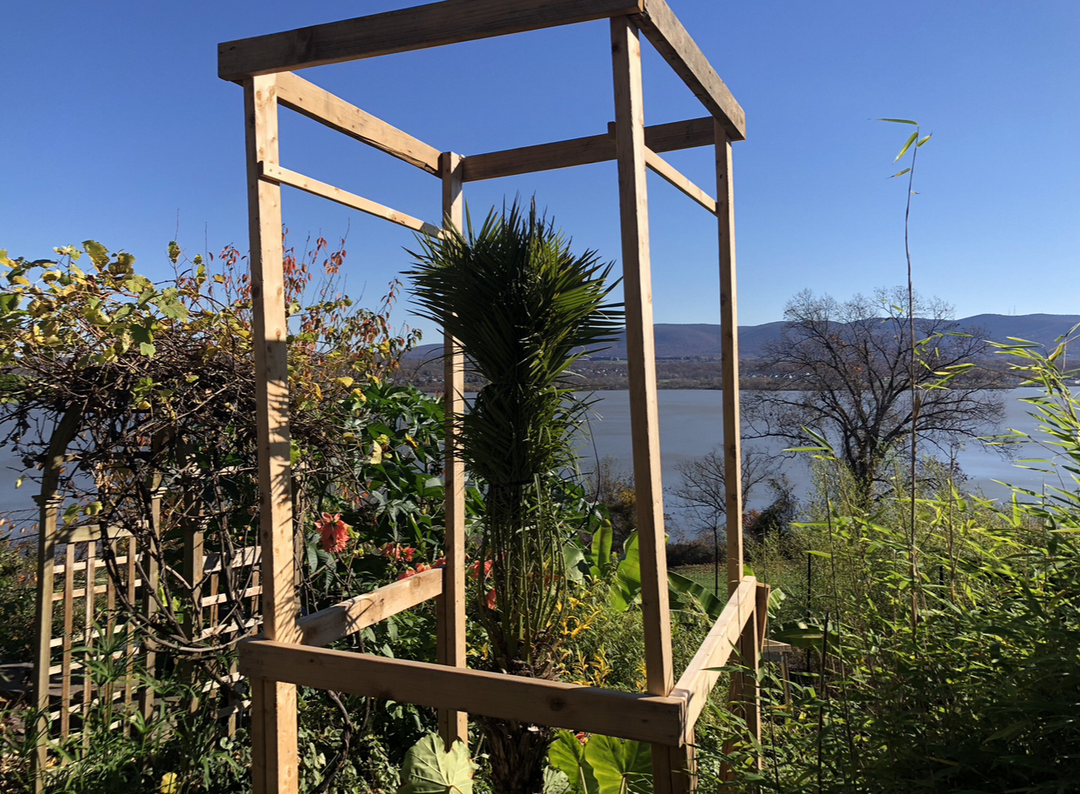 My other palms require a "box" covered by insulation board. This takes more work, but the result in the spring is a beautiful palm tree ready for summer. I use Christmas lights with a thermocube so that the box keeps all my palms above freezing.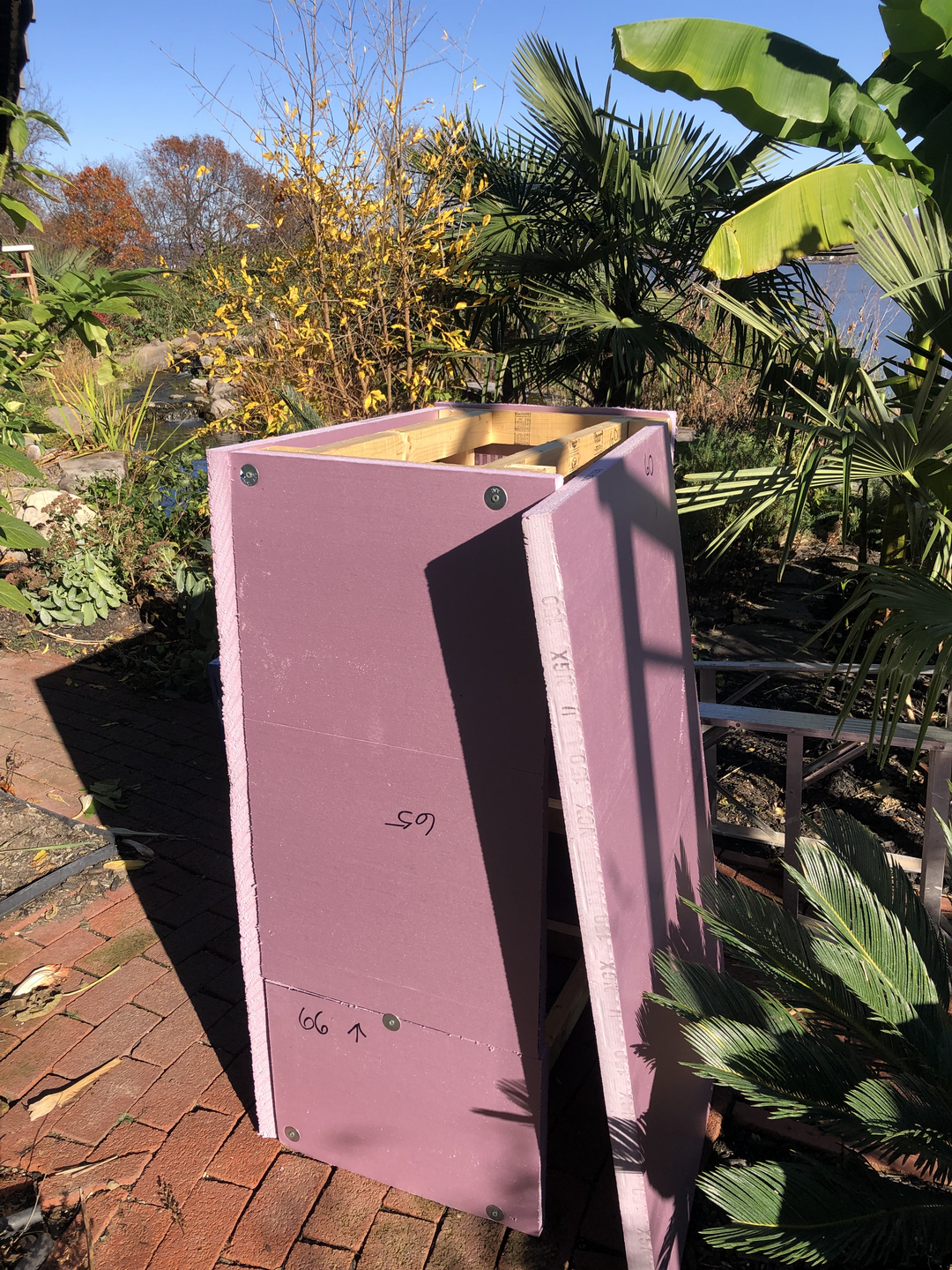 The boxes are easy to put together once you have the wood frame constructed. And I put them on top of my palms when frost is predicted.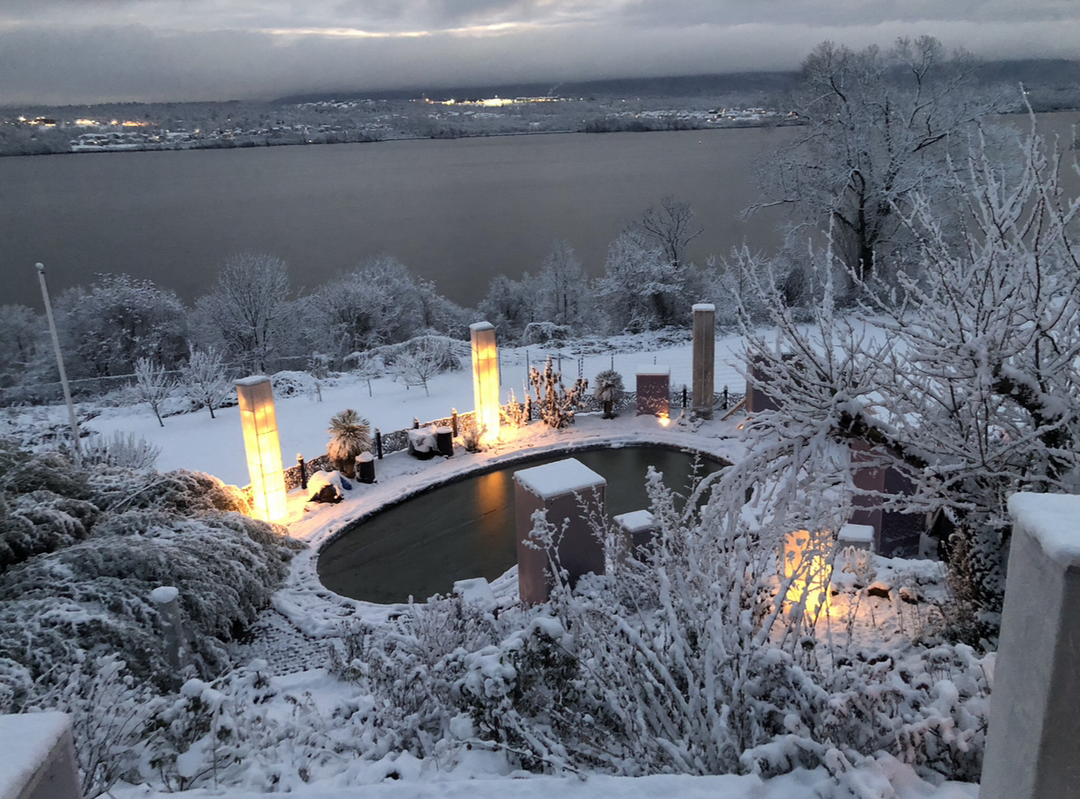 And now here in the Northeast, I wait for spring to appear so I can remove all these structures and return the yard to the tropics until November. You can see more of what I do on my YouTube channel, or follow me on Instagram.
Have a garden you'd like to share?
Have photos to share? We'd love to see your garden, a particular collection of plants you love, or a wonderful garden you had the chance to visit!
To submit, send 5-10 photos to [email protected] along with some information about the plants in the pictures and where you took the photos. We'd love to hear where you are located, how long you've been gardening, successes you are proud of, failures you learned from, hopes for the future, favorite plants, or funny stories from your garden.
Have a mobile phone? Tag your photos on Facebook, Instagram or Twitter with #FineGardening!
Do you receive the GPOD by email yet? Sign up here.