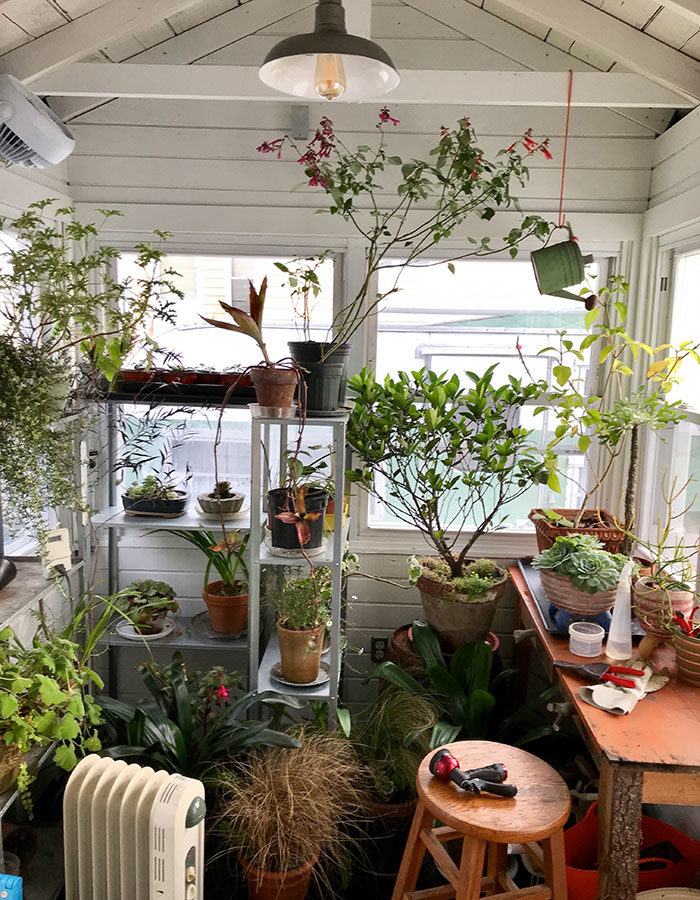 Cold-climate gardeners are faced with a choice at winter's outset: quit gardening until spring, or bring some plants inside and garden on. I recommend the latter. For one thing, tender perennials and tropicals, often sold as annuals, will live on for seasons to come given the right cultural conditions. Overwintering them—and propagating them—stretches your garden budget. A houseful of plants also improves air quality, humidity levels, and our outlook during long cold winters as we stay physically in touch with the garden.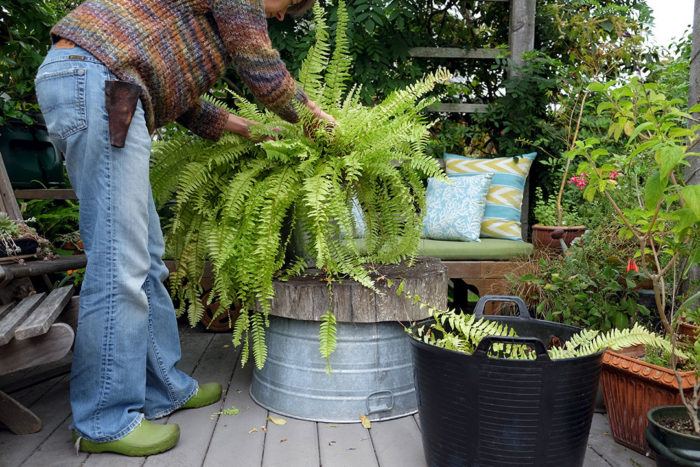 Plants such as rhizomatous begonias (Begonia spp. and cvs., Zones 6–12), citrus (Citrus spp. and cvs., Zones 9–11), ornamental figs (Ficus spp. and cvs., Zones 10–12), and some ferns such as Boston fern (Nephrolepsis exaltata 'Tiger Fern', Zones 9–11), bear's paw fern (Phlebodium aureum 'Mandaianum', Zones 9–11), and rabbit's foot fern (Davallia fejeensis, Zones 10–12) appreciate the warmth and can tolerate the low humidity inside our homes' living areas. They should be brought back inside to acclimatize a week or two before turning on the heat. First, gently relocate spiders, pillbugs and other insects, and remove tired foliage, weeds, and debris. Repot and divide as needed, but don't fertilize until early spring. If your house is very dry, set containers on pebble-filled trays of water to increase humidity.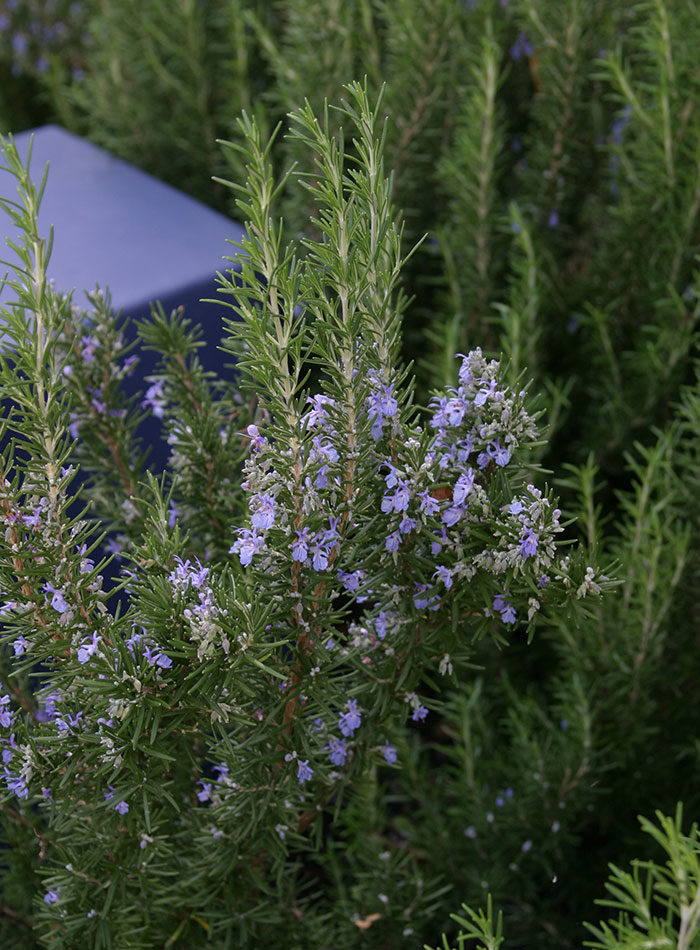 Plants from temperate climates, such as rosemary (Rosmarinus officinalis, Zones 8–10), sweet olive (Osmanthus fragrans, Zones 7–9), gardenia (Gardenia jasminoides, Zones 8–11), cuphea (Cuphea spp. and cvs., Zones 6–11), echeveria (Echeveria spp. and cvs., Zones 9–11), and scented geranium (Pelargonium spp. and cvs., Zones 11–12), appreciate cool winter temperatures but need plenty of sun. Move them inside as night temperatures dip into the mid-50s, and give them south-facing windowsills in minimally heated rooms. I load up an uninsulated entry porch equipped with an electric heater to prevent freezing. Growth will slow—though some plants will bloom—and they will need watering less frequently than plants in warmer rooms.
Plants that go completely dormant, such as dahlias (Dahlia spp. and cvs., Zones 9–11), cannas (Canna spp. and cvs., Zones 8–11), gladiolus (Gladiolus spp. and cvs., Zones 7–10), fuchsias (Fuchsia spp. and cvs., Zones 6–11), fruiting figs (Ficus carica, Zones 6–9), tuberous begonias, and blue anise sage (Salvia guaranitica, Zones 7–10) want cool, dark storage. Frost triggers dormancy, so move them inside a week or two after being hit by frost.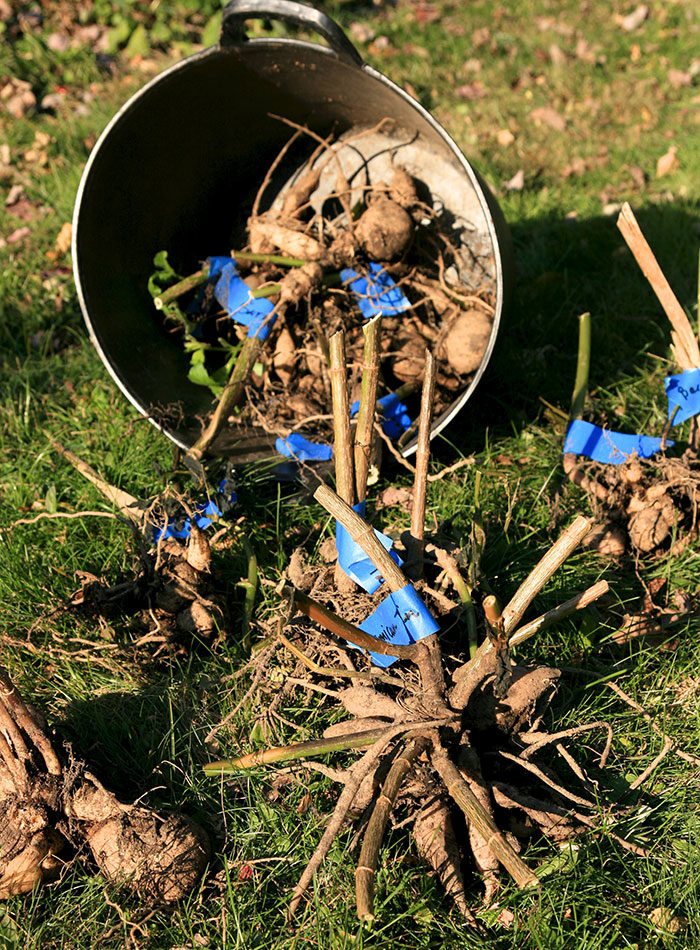 Prepare dahlias, cannas, gladiolus, and other tender summer bulbs for bare-root winter storage by allowing them to dry in the sun after digging. Remove stems as well as any bulblets and feeder roots, and brush soil off. Store gladiolus corms and canna tubers in paper bags. Dahlias are like Goldilocks; their conditions must be "just right." If winter storage is too damp, they'll mold and/or rot; too dry, and they'll shrivel. Tailor your storage method to compensate for humidity levels. I wrap mine in newspaper; others use plastic bags. Gardeners at Green Animals Topiary Garden in Portsmouth, Rhode Island, home to a RI Dahlia Society display, store their tubers in Styrofoam boxes filled with dampened vermiculite. Whatever method you choose, check them periodically. If tubers show signs of shriveling, spritz them with water. If they become squishy or moldy, increase air circulation. Potted plants (salvias, fuchsias, figs, etc.) in dark storage may be cut back hard. Allow the soil to dry out between watering once per month or so.
Come early spring, plants will show signs of growth, even in dark storage. Plan to move those plants into the light, and water everything more frequently. Start fertilizing in March, treat any infestations with dilute applications of insecticidal soap or horticultural oil (depending on plant and insect species), root tip cuttings, and get a jump on spring.
Kristin Green is author of Plantiful: Start Small, Grow Big with 150 Plants that Spread, Self-sow, and Overwinter. She gardens in Bristol, Rhode Island.