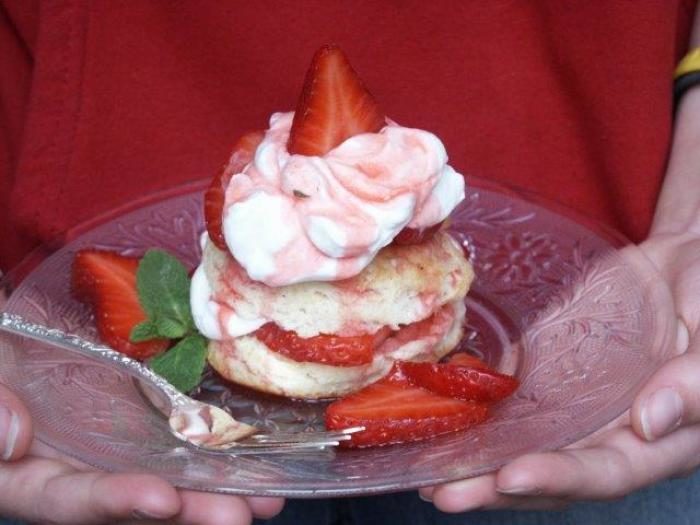 Ingredients:
Makes about 8 3-inch shortcakes
About 5 sprigs of lemon balm or orange mint
1 pint whipping cream
1 quart strawberries, rinsed, hulled and sliced
2 tablespoons grenadine syrup
Handful sweet woodruff sprigs, optional
2 cups unbleached white flour
3 teaspoons baking powder
Scant 1/2 teaspoon salt
3 tablespoons sugar
6 tablespoons unsalted butter
1 cup half-and-half
2 tablespoons orange mint or lemon balm, chopped fine
1 tablespoon unsalted butter, melted
1 tablespoon of sugar
Preheat oven to 425ºF and lightly butter a baking sheet.  
Bruise the herb sprigs, and put them in a bowl with the whipping cream, cover and refrigerate. Toss the berries in a bowl with the grenadine and handful of woodruff and stir to mix. Let stand for at least 30 minutes.  
 
Combine the flour, baking powder, salt, and 2 tablespoons of the sugar in a bowl or processor. Cut the butter into the mixture until it is a coarse meal. Add the half-and-half to the dry ingredients and mix until just blended. Add the chopped herbs just mix them in. Do not overmix.  
Turn the dough onto a floured surface and knead 8 or 10 times. Roll or pat the dough to about 3/4 inch thick. Using a 3-inch cutter, cut out rounds, using all of the dough. Place the rounds of dough on the baking sheet, brush the tops with the melted butter, and sprinkle them with the sugar.
Bake the cakes in the center of the oven for about 12 to 14 minutes or until golden brown. Cool the shortcakes for at least 5 minutes before splitting them open; they are best served warm, but room temperature is fine.
While the cakes are baking, remove the herb sprigs from the whipping cream, add a heaping tablespoon of sugar and whisk until softly whipped.
To assemble the shortcakes, split them in half. Place a spoonful of berries on the bottom half with a bit of the juice. Add a dollop of whipped cream and place the top half on top. Repeat with the fruit and the cream and garnish the top with a berry slice and an edible flower. Serve immediately.