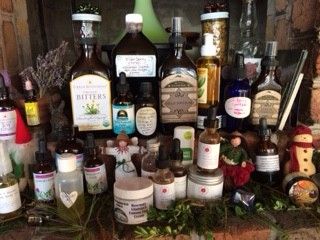 I had planned on doing a blog about favorite herbal products for holiday gifts, however this is an even better time to post some of these amazing creations–for the new year–and to help get us through the cold and dark days ahead. I want to extol the virtues of some herbal businesses that I know and use on a regular basis from growers, purveyors, bloggers and creators of delicious and delightful herbal products. Be well and take the time to pamper yourself during the cold winter months ahead.
These herbalist folks are doing great work and I support them and use their products on a regular basis–many of them daily. Although I cultivate many herbs, dry and preserve them, as well as formulate them into everything from cleaning products, spritzers, scrubs, salves, lotions, bath salts, oils, shrubs, syrups, bitters, tinctures and elixirs; I appreciate and support my fellow herbalists and am inspired by their formulations. I also go to them for ingredients that I do not grow enough of, are hard to find, or ones that I need to make my own preparations.
Rebecca Altman of Kings Road Apothecary is an inspiration for me. Her products are creative, delightful, imaginative and most important, useful and effective. I love her blogs, which are quite informative, sometimes quirky, real, honest and heartfelt. Her surprise boxes are like Christmas once a month and her creations vary from bath salts, herb-infused oils for kitchen and boudoir, bitters, hot cocoa mixes, smudges, incense herbs, syrups, elixirs and much more. Her kava surprise box is still holding me in a dreamy state; the reishi and cordyceps hot chocolate is fortifying and delicious; her cacao and burned caramel digestive bitters are downright scrumptious; and her rose elixirs and tinctures are so good for the heart and I have also given many of them as gifts to help loved ones through the grieving process. Rebecca also has great links to other people, sites and herbal info in her blogs. www.kingsroadapthecary.com
Thanks to Kiva Rose for turning us on to Rebecca–Kiva has also linked me to many other incredbile healers out there–and she too, is an inspiration. Kiva is a practicing folk herbalist and forager living in the Gila wilderness in New Mexico; she is a good writer, teacher, and is full of herbal knowledge. Her website The Medicine Woman's Roots is at https://bearmedicineherbals.com/ and along with her partner, Jesse Wolf Hardin, she co-edits, publishes and writes Plant Healer Magazine (https://planthealermagazine.com/), which is an online herbal zine full of so much herbal information, each one tends to run to hundreds of pages in length "Featuring experience-based & adventurous writings by teachers, practitioners & plant lovers, combining inquiry, inspiration & skills in artful celebration of the evolving folk herbalism culture".
Although I make and teach classes on bitters, I purchased Urban Moonshine bitters (www.urbanmoonshine.com) when they first appeared on the scene at the Women's Herbal Conference. And I have been supporting their wonderful business and consuming their high-quality bitters almost daily (I also use my own and others), not to mention their other products. My favorite bitters is their original, though I quite like the citrus and the maple formulas too. I'm working on their newest flavors, chamomile and apple cider bitters too. The little spritzer bottles are great for traveling. They also have tinctures and tonics, as well as some new formulations "Hit the Hay" helps us to sleep and "Simmer Down" tonic helps reduce stress. I use their "Joy Tonic" and their "Energy Tonic" with good results.
Jovial King is founder and CEO and she and chief herbalist, Guido Mase have written DIY Bitters, Reviving the Forgotten Flavor: A Guide to Making Your Own Bitters–this is a book you need if you use and love bitters as I do. Check out their website for videos about their products and sign up for their newsletter for info regarding sales and Guido's blogs and notification of his truly enlightening and educational webinars.
My favorite herbal product which I use daily is Rosemary Gladstar's Famous Face Cream. I have Rosemary's formulation for this cream and have made it many times. However, dear friends and medicinal herbalists, Andrea and Matthias Reisen, make this better than I do. They manufacture and distribute many of Rosemary's products under the name of Sage Mountain Herb Products at their medicinal herb farm and educational center, Healing Spirits Herb Farm (www.healingspiritsherbfarm.com). I have discussed this in detail with Andrea and she uses essential oils of vanilla and sandalwood. Their cream is sumptuously-scented, emollient, a bit unctuous when applied, though it soaks in rather quickly and protects the skin; although I use it everyday it does not clog my pores. When I wear this, I get comments regularly about how good I smell and people suggest different aromas that I remind them of (ie: cinnamon rolls, chocolate, cookies–and even "good enough to eat!").
Healing Spirits sells all sorts of other herbal products as well as high-quality dried medicinal herbs. I purchase bulk dried herbs from them, as well as from two other favorite medicinal herb farms. Jeff and Melanie Carpenter, owners and operators of Zack Woods Herb Farm, have recently co-authored the book, The Organic Medicinal Herb Farmer; they are growing gorgeous medicinal herbs. You can order an autographed copy of the book and bulk dried herbs at www.zackwoodsherbs.com. Nancy and Michael Phillips of Heartsong Farm and Healing Herbs (https://www.herbsandapples.com/) also grow wonderful herbs, and as their weblink suggests, apples. Nancy wrote The Herbalist's Way (a lovely and informative book which I own and recommend)and Michael has authored The Apple Grower, The Holistic Orchard, and his upcoming Mycorrhizal Planet. There are many dedicated herb growers across the country–these are folks that I am proud to know –and I admire them deeply for their sustainable and green work that they do as earth stewards supplying us with the best medicinal herbs and educating all of us along the way.
I'd be remiss if I left out Avena Botanicals (www.avenabotanicals.com) because I have used many of their herbal formulas and products; Deb Soule and her staff have been doing good work for many years now. They offer a huge array of herbal products from tinctures and dried herbs to creams, oils, elixirs and more. Two of my favorite formulations are "Avena's Elixir" and "Aphrodite's Elixir" and right now I am taking their organically grown and harvested, tinctured schisandra berries to buoy me up during the winter months since it supports the respiratory and immune system. I reviewed Deb's book when it first came out here /item/14141/book-review-how-to-move-like-a-gardener-planting-and-preparing-medicines-from-plants

Whoo, this is getting to be a long blog! There are many many herbalists out there who are doing good work for all of us, too numerous to mention and I salute all of them. Rosalee de la Foret is doing remarkable herbal education and has shared her knowledge and recipes through her blog the past eight years. She has just created a new website https://www.herbalremediesadvice.org/ where you can get the best of her recipes and herbal info, so check it out and get her free e-book Herbal Energetics. I am in the process of making her recipe for "Evergreen Body Butter" right now–the infusion of pine needles in almond oil is ready.

My thanks and deep appreciation to herbalists eveywhere for growing these incredible plants for our food and medicine and sharing their knowledge and creations. These are tools to get us through our everyday lives–especially the dreary cold and grey days of the season–celebrate and use them!