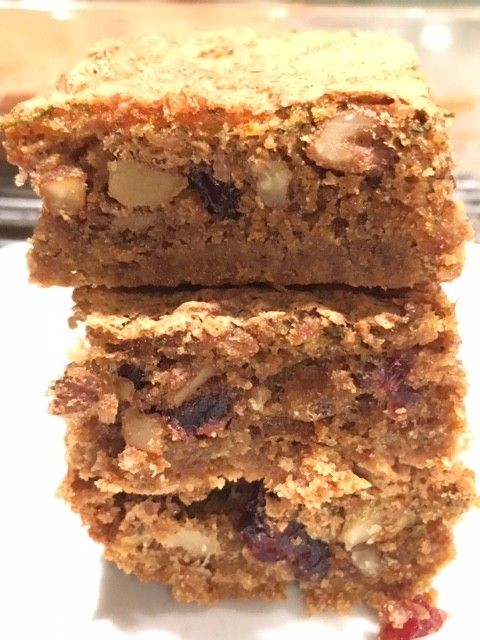 Recently, at my daughter Lucie's wedding instead of a traditional wedding cake, we had a dessert table. Lucie and Matt decided to have a selection of some favorite desserts, which our friend and caterer Anna Saint John created. Since I had a number of requests for recipes, I am posting or linking them here. They are tried and true and very popular amongst guests and family.
The Cranberry Nut Bars with Rosemary were at a pre-party along with a Spiced Yule Log–prepared by Zack Wilkes. The following is what was on the dessert table at the wedding: Lucie wanted my Surprise Key Lime Pie with Dark Chocolate (smeared over graham cracker crust before filling) and Matt wanted German Chocolate Cake. Another fav of Lucie's is my Blondies with Dried Apricots and Beebalm (I made the butter this summer while the-plants were blooming) and foodie friend Lisa Cherkasky's Ginger Molasses Krinkles. Anna Saint John made them all and they were wicked good. For the evergreen solstice theme, I made a White Pine Shortbread with tangerine zest and juniper pinon bitters; I got the original recipe from Wild Muskoka Botanicals blog.
Cranberry Nut Bars with Rosemary 
These tasty bars can be made with walnuts, pecans or hazelnuts, flavored with dried cranberries or cherries and fresh rosemary with a hint of orange zest–these are a seasonal treat, surprisingly tasty. /item/10194/cranberry-nut-bars-with-rosemary

 
Surprise Key Lime Pie with Chocolate 
I created this recipe for a "Cabin Fever" class that I often teach in February featuring foods with a tropical flavor. This key lime tart combines dark chocolate on the crust and vanilla-flavored whipped cream on top–a true flavor extravaganza! Recipe below.

German Chocolate Cake
We used the recipe from The Beekman 1802 Heirloom Dessert Cookbook: 100 Delicious Hertiage Recipes from the Farm and Garden by Josh Kilmer-Purcell, Sandy Gluck and Paulette Tavormina; pages 47-48.

Blondies with Dried Apricots and Beebalm
These buttery blondies combine the sweet/tartness of dried apricots with flowers and leaves from Monarda didyma, also known as beebalm (has a citrusy, Earl Grey tea-like flavor). I gathered the flowers and foliage at their peak this summer and made an herbal butter with them and froze it just for the wedding. Orange mint or any of the lemon herbs would work here: lemon balm, lemon verbena, or lemon basil. /item/4067/blondies-with-orange-mint-and-apricots

Ginger Molasses Krinkles
My friend and food stylist, Lisa Cherkasky, shared this recipe with me about 20 years ago–they are crunchy on the outside and chewy inside with three kinds of ginger: dried and ground, freshly grated and candied. Recipe to come…

White Pine Shortbread
I found this recipe on the Wild Muskoka blog–sign up for the newsletter and try some of thier shrubs and bitters! I did make a few modifications to the recipe: I put the fresh pine needles in the food processor with the sugar and pulsed until it was finely ground (no worries about chopping fine with a knife and having any tough parts); I used 1/4 cup less sugar than called for, the zest of 2 tangerines instead of an orange and I added juniper and pinon bitters. This makes a delightful cookie. https://wildmuskoka.com/blogs/recipes/white-pine-shortbread

Guests got to experience lots of unusual flavors; there was definitely something to appeal to every one's sweet tooth. All in all–way better than a wedding cake!
Susan's Surprise Key Lime Pie with Chocolate


For an optional decadent addition to Key Lime Pie, I like to sprinkle bittersweet or semisweet chocolate chips or chopped chocolate over the crust when it comes out of the oven; stick it back in the oven for just 2 to 3 minutes and then bring it out and spread the melted chocolate over the crust. Then to gild the lily, top this pie off with vanilla-flavored whipped cream–thus creating a tropical combination of flavors–lime with both vanilla and chocolate (makes your mouth squirt!).
One 9-inch pie; serves 8
2 cups graham cracker crumbs (about 12 whole crackers)
8 tablespoons unsalted butter, melted
1/3 cup organic coconut palm sugar, or organic cane or confectioners'sugar
Generous 1/2 cup of semi-or bittersweet chocolate chips or chopped chocolate
3 eggs, separated
14 to 15-ounce can sweetened condensed milk
1/2 cup fresh-squeezed lime juice or key lime juice
2 to 3 teaspoons fresh grated zest from 1 lime (just the green-no bitter white)
2 large pinches salt
6 drops orange bitters
1 cup heavy whipping cream
2 teaspoons vanilla sugar
Scant 1/4 teaspoon ground vanilla or 1/2 teaspoon pure vanilla extract
Preheat oven to 350 º F.
The graham crackers should be crushed into fine crumbs in a food processor. Add the butter and the sugar and pulse until blended. Firmly press the crumb mixture evenly into a pie plate and up the sides. Bake in a preheated oven for 10 minutes. If using the chocolate, sprinkle the bits or chopped chocolate over the hot crust and stick it back in the oven for a few minutes. Remove from oven and carefully spread the melted chocolate over the bottom of the pie crust with a metal spatula.
In a mixing bowl, lightly beat the yolks and combine them with the condensed milk, lime juice, zest, salt and bitters and blend well. The mixture will thicken due to the reaction of the condensed milk and citrus juice.
To assemble the pie, pour the filling into the crust. Bake in a preheated oven for 12 to 15 minutes until the filling is set. Cool on a baking rack and serve at room temperature. Or chill and allow to sit out at room temperature for about 20 minutes before serving. Garnish with vanilla whipped cream before serving.