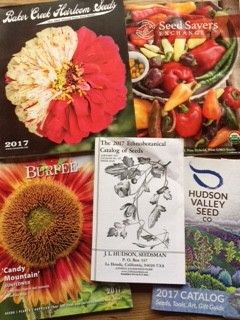 My first seed catalog for 2017 arrived before Christmas. I save them as they come in and look forward to taking the time to enjoy them, sitting by the woodstove with the pile of catalogs, perusing the photos and descriptions of mouthwatering herbs, vegetables and fruits, dreaming of this year's garden-to-be.
Admittedly, I have been receiving fewer catalogs every year since I tend not to order from all of them that I receive–and I am sure seed companies need to save the expense of printing and shipping color catalogs to folks who don't place orders. There are a lot of choices out there–and I have ordered from many of them over the years–there are a number of fine purveyors–some really old, tried-and-tried–as well as some newer ones who offer more organic and heirloom varieties which are appealing to me. It's impossible to order from all of them, however it sure is fun to look at the many selections. Nearly all of the catalogs are now available online. Here are a few that I will be ordering from soon–as well as a few that I order from their websites.
Currently, I am intrigued with Hudson Valley Seed Company (www.hudsonvalleyseed.com)–I met these friendly folks and browsed their handsome booth in Rhinebeck, New York, at the Country Living Fair last summer. Their 2017 catalog has "Seeds, Tools, Art, Gift Guide" printed on the cover and that they do have. While there are many companies using beautiful artwork on their seed packages, Hudson Valley has gone beyond the ordinary. Many of their seed packages called Art Packs, have been designed by artists from all around the country, and each one is indeed a work of art. The packages have a unique design that allows them to be opened and closed (more than once if careful) without tearing off the top of the pack and inside each one has a story and growing information (these make wonderful gifts). The design of these art packs has inspired Hudson Valley to redesign their other seed packs to include growing information. This year, they've added 14 new art packs and I will surely be ordering 'All Stars Kale Mix', 'Lavender Cloud Nicotiana', 'Metta Lettuce Mix' and 'Stinging Nettle'. While eye-catching artwork appeals to my aesthetic sense, most important is good quality seed. I used their seed last year and had good germination and harvest yield.
One of the biggest and showiest catalogs is Baker Creek Heirloom Seeds (www.rareseeds.com)–it is challenging not to want everything pictured! They offer a huge selection of heirloom seed with unusual selections. I might have to try the 'Fastigiata Pin Striped Peanut' from Ecuador; the wild and crazy-shaped 'Gelber Englischer Custard' patty-pan type squash; and certainly, I must try the new 'Dwarf Lemon Coriander' since Cilantro/Coriander is Herb of the Year for 2017 and I have never heard of this flavorsome variety! I will order two standout chile peppers that I got from Baker Creek last year: 'Brazilian Starfish' and 'Biquinho'–both are showy plants and prolific with mature red fruits that are both sweet and hot–though not kickass hot, just pleasantly so. Making tomato selections from this catalog is nearabout impossible since photos and descriptions cause me to practically drool.
On the other hand, J.L. Hudson's The 2017 Ethnobotanical Catalog of Seeds is a straightforward, no-frills, black and white catalog. I have been receiving this intriguing, educational catalog for decades–it is chockablock full of seeds that cannot be had elsewhere. Stated right on the homepage: "We are a public access seed bank–not a commerical seed company. You will find that our presentation of information and how you access our seed bank is a bit different from ordering seeds from the usual on-line commercial enterprise". They are online at https://www.jlhudsonseeds.net/, I find it is best to request the catalog and use the order form although you can now make an online seed request and use paypal. I ordered quite a few unusual chile pepper varieties from them last year and will again this year, as well as kale and lettuces… and always a few enticing flower seeds.
Every year, I order seeds from Renee's Garden Seeds–I have ordered seed from Renee Shepherd when she started as Shepherd's Garden Seed many years ago. Renee's Garden offers "The Best Heirloom & Gourmet Vegetable, Flower & Herb Seeds". She was the first of the artistic garden seed packets with lovely watercolors of the vegetable, herb and flower selections and continues with these delightful renderings. She has just updated and has a brand new website: https://www.reneesgarden.com I especially like her selection of cottage garden, edible and herbal flower seeds and always order from her vast array of nasturtium seed (I love nasties and want all of them!); she has so many cosmos, poppies, sunflowers and zinnies to choose from it is quite difficult to decide; she has many vining plants like moonflowers and 'Cardinal Creeper', including every color of morning glory; and she is the queen of sweet peas.
There are other companies that I like and support: Seed Savers Exchange; Native Seeds/Search; Seeds of Change; The Cook's Garden; Territorial; Nichol's Garden Nursey; Thomas Jefferson Center for Historic Plants; Johnny's Selected Seeds; and Vermont Bean Seed Company. In the future, I will post another blog featuring my favorite businesses from which to procure herb seeds.
Enjoy some time during these cold winter months perusing your seed catalogs–dreaming, scheming and planning this year's garden–spring is just around the corner!