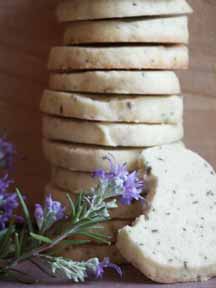 December 4 is National Cookie Day and since this is a special holiday month–why not celebrate with cookies? Check out this recipe for a delightfully versatile cookie featuring herbs from the garden–with many variations–they are really easy to make and can be made ahead.
According to the National Day Calendar web site, National Cookie Day was initiated by the Blue Chip Cookie Company in 1987. The word cookie comes from the Dutch koekie, which means little cake. I've been baking holiday cookies for many years and I usually make them ahead and freeze them so I can have an assortment to make cookie plates to give as gifts. The following recipe is easy to prepare–there are many variations–and it freezes well, before or after baking.
This recipe is adaptable–I often make it healthier by replacing half of the unbleached flour with whole-wheat pastry flour. Also, dough can be made ahead and rolls can stored in freezer until ready to slice and bake. All ingredients should be finely ground or minced since any big pieces will hang up when slicing. If I want to use nuts or seeds, I often roll the whole rolls in them so they are on the outside of the roll and after cutting they decorate the edges of the cookies.
herbal butter cookies
Delightful with tea, coffee, eggnog or a glass of red wine, these cookies are simple to make and any herb can be used.  Probably my favorite is a close race between rosemary, cinnamon basil, and anise hyssop flowers. The red flower petals of Monarda make a lovely cookie and the flowers and leaves of orange mint are quite tasty. Any of the mints or lemon herbs, as well as lavender or rose geranium flowers, are quite good too.  Both lavender and rose geranium are very perfumey, so use less of them–about 1 tablespoon of the chopped flowers. They keep well in a tin, or up to 2 months in the freezer.
Makes about 3 to 4 dozen cookies
12 tablespoons unsalted butter, softened
2/3 cup organic sugar
1 large egg
1/2 teaspoon vanilla extract
2 cups unbleached white flour, sifted
2 to 3 tablespoons minced fresh herb leaves and/or flowers
Pinch of salt
    
Cream the butter and sugar. Beat in the egg and the extract. Gradually mix in the flour, and stir in the minced herb and a pinch of salt. The dough will be soft. Divide the dough into 2 parts. Using plastic wrap to shape the dough, roll each part into a cylinder about 1 1/4-inches in diameter. Chill the rolls for an hour, or place in the freezer for 20 minutes.     
Preheat the oven to 350? F. Remove the plastic wrap and slice the dough into 1/4-inch rounds. Place the cookies on ungreased baking sheets and bake for about 10 minutes, until the cookies are a light golden brown. Remove the cookies from the baking sheets while they are hot and cool on racks. (They tend to stick if allowed to cool on the pans).
Here is an update from the original recipe for flavor combinations/variations. My favorite herb in them for the holidays is rosemary; sometimes I add 1 to 2 teaspoons orange or tangerine zest.
Here are a few other variations:
-any lemon herb with 1 to 2 teaspoons lemon zest
-tarragon with 1 to 2 teaspoons grapefruit zest
-2 tablespoon poppy seeds with orange or tangerine zest
-2 tablespoons sesame seeds, few dashes of cinnamon
-scant teaspoon nutmeg or mace with a 1/4 cup ground hazelnuts
-rose geranium leaves with splash of rosewater and 1/4 cup ground pistachios
-replace 1/2 cup of the flour with cornmeal and add 1/2 teaspoon cinnamon, and/or chopped pinenuts on outside of roll
-mint leaves and 1/2 teaspoon peppermint extract
This recipe is excerpted from not just desserts-sweet herbal recipes by Susan Belsinger; it is available for sale on her web site: www.susanbelsinger.com. If you have an herbie or gardener on your gift list-check out Susan's The Herbal Calendar 2015 and the creative herbal home coauthored with Tina Marie Wilcox. Susan can send them in time for the holidays and will be glad to autograph them.