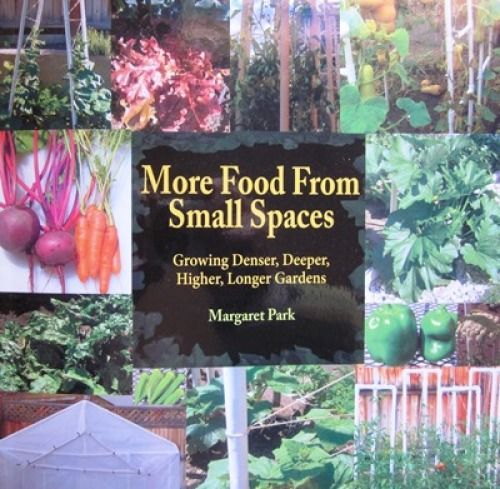 When Margaret Park of Salt Lake City, Utah, started experimenting with small space gardening, she wasn't aware of any methods that focused on garden size. 
"I was faced with the reality of my cramped urban backyard and decided I would test what seemed like good ideas for small-scale growing," she said. 
The successful results of her experimental methods are now available to gardeners everywhere in her new book. "More Food From Small Spaces: Growing Denser, Deeper, Higher and Longer Gardens" (Great River Books, 2013) shows how anyone can grow healthy, organic vegetables in a very small area.
In her 8 x 24 foot garden patch, she spaces plants close together, trains them to grow up instead of out, and sows new crops throughout the year. 
"I think the discoveries that are unique to my book are my Center Square Plan for maximizing the ratio of cultivation space to work space, the various towers and trellises I designed for growing vertically and the multiple-use greenhouse for winter and early spring harvests that can also be used in summer for shade or extra trellis support," she explained.
The author and innovator built simple, snap-together trellis structures out of PVC pipes. The structures are sturdy, durable and space saving.
Park said she even designed some trellising for tall tomatoes and cucumbers. A double-duty trellis is used to successively crop peas and winter squashes for big yield in less space.
She also has discovered a number of methods that help lengthen the growing season.
"Building a simple greenhouse can add three months of food harvesting," she said. She details the various cooling strategies in hot weather and warming strategies for cold weather that can also extend the harvest.
Park said a key to success with such intensive gardening is deep, fertile soil and she explains all the how-to's in Chapter 2. This chapter also explains the bokashi composting system.
The bokashi composting method was developed by a Japanese plant scientist, according to Park. She said this method for composting is a way to add friendly microbes to the soil.
"It's a very fast and space-conserving way to recycle plant materials from the kitchen and yard into compost," she said. "Bokashi composting transformed my vegetable-growing plot from dead dirt to living soil in a year, and my soil keeps getting better."
Gardeners are invited to keep up with Park's small-space growing efforts on her Center Square Garden Facebook page.