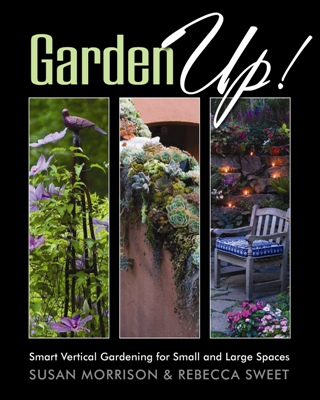 If you find you're short on space for vegetable gardening this year, just look up. That's the advice from Susan Morrison and Rebecca Sweet in their new book, Garden Up! Smart Vertical Gardening for Small and Large Spaces (Cool Springs Press, February 2011, $19.95).
The book is filled with ways to vertically enhance the landscape with ornamentals, but there's also a chapter devoted to vertical gardening with edibles. The two landscape designers from northern California put their heads together and came up with more than a dozen creative solutions for using vertical spaces to grow small fruits, herbs, and vegetables in all sizes of gardens.
There are many edibles well-suited for vertical growing like strawberries, tomatoes, and any vegetable with a trailing habit, just to name a few. Dwarf and columnar fruit trees, like 'Compact Stella' cherry and 'PixZee' peach, serve double duty by providing vertical interest with a bounty of fruit.
The authors include details about some familiar planting options, like containers and trellises, but they also introduce gardeners to hanging pocket systems, vertical frames, gutter gardens, and free-standing sub-irrigated planters.
Beautiful color photos illustrate ways to take advantage of every vertical space. I especially liked the ideas for growing edible standards, like grapes. Standards are any plant grafted onto an erect stem, like a lollipop.
Espaliers are another interesting growing option and Morrison and Sweet dispel the myth that these are meant only for sophisticated gardens. Training a pear or apple tree to grow flat against a wall can work in any landscape.
Here are other ways to get started growing up:
• Build a strawberry tower with PVC pipe.
• Use a hanging plastic bucket for growing upside-down tomatoes.
• Put a vintage headboard or old ladder to use as a trellis.
• Swap out ornamentals for edibles to add layers to a garden bed.
Once you start looking up, the sky's the limit on veggie growing!
Read more book reviews on VegetableGardener.com…