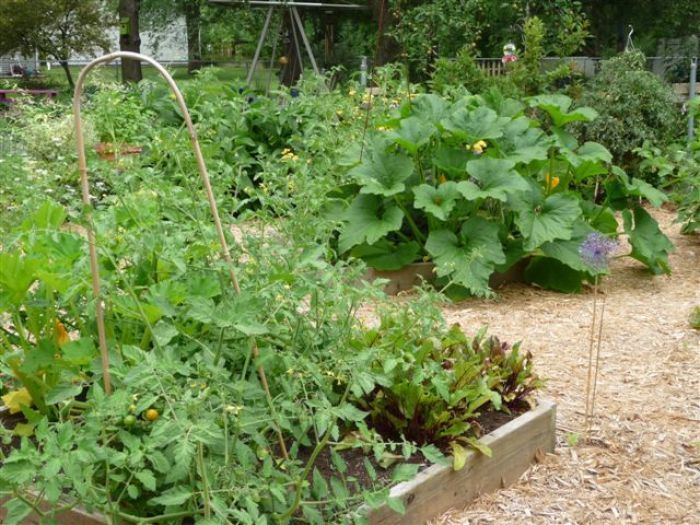 A few weeks ago I flew to Midland, Michigan for the International Herb Association annual conference. This herbal group likes to congregate in more natural settings and out-of-the-way places rather than at hotels in big cities. So our hostess-with-the mostest, Midlander Donna Frawley, chose Northwood University because it was located on the outskirts of town, surrounded by green spaces and walking trails, could comfortably house us at reasonable rates, and the rooms had windows that opened. Why there were even wild turkeys strolling the grounds!
Our transportation to and from the airport, was a kindred spirit named Jeanne Calkins. As we were riding towards the University, she showed us the neighborhoods and talked about the area and when she asked us if we wanted to go the highway or the back way, the three of us traveling herbies answered in unison, "the back way!" So of course, when she said do you want to drive by my house? We all said "Yes!" And when we were all hanging out of the car windows looking at her front yard and she said, "Do you want to get out and look at the gardens?"—well what do you think we said? (Great minds think alike.)
I'll tell you, those Michigan gardeners sure are a dedicated bunch! They make beautiful bountiful gardens happen on street corners, verges, public spaces, and of course, their own backyards. The latter are perhaps what I like best. We gardeners take our little piece of earth and make it into our own little paradise. Some are tidy and neat, compact and efficient, while others are rangy, random and even unkempt. Whatever, however, these gardens are our sanctuary.
Jeanne and her husband Rob maintain one of these special gardens—when we went around the side of her house—my mouth dropped because I had no idea of the extent of the gardens behind their home. We entered a small Eden, filled with flowers, herbs, vegetables, shrubs trees, not to mention the whimsical garden ornamentation, from bird baths, statuary, and sculpture to benches and a garden swing. We oohhed and aahhed and had to tear ourselves away in order to get to the hotel so we could check in and make it to our board meeting.
The next day we went on a field trip (you can go online to www.iherb.org and look at the conference schedule to see where we went and the calendar of events). The highlights were Lavender Fleece Farm and Studio, which is a farm run by Laurie Gisch and her family. She is one of those modern- day renaissance women, who has sheep, goats, horses, llamas, chickens, puppies; she grows lavender and many other herbs and flowers, she harvests and dries these to sell in her gift shop as well as make herbal products; she is a talented potter and weaver and she sells her crafts also (I do not believe that this woman sleeps). From there, we visited numerous gardens, we spent a number of happy hours at Dow Gardens where we toured the house and grounds, and walked with gardener Chuck Martin through the rose garden and children's garden. It is an impressive estate with well kept gardens and peaceful vistas, where one could easily spend a whole day; the children's garden is one of the best I've seen. From there we were fortunate to have a "rolling garden tour"—we rode on the bus to see gardens maintained by volunteers throughout Midland stopping at Dahlia Hill, Jerome Street Garden, Plymouth Park Garden and the Bradley Home.
That evening, speakers, board members and guests were invited to the home of Niles and Donna Frawley for a cookout and surprise magic show. When we arrived there early to help, volunteers, interns and herbalgalpals of Donna's were already there en masse, prepping in the kitchen and the tables and chairs were set up outside in the garden under the array of perfectly-pruned fruit trees, laden with fruit, absolutely picturesque. The backyard had lawn under the trees, however the perimeter was lined with garden beds full of herbs and vegetables with berry bushes tucked here and there. Flowers and herbs spilled out of containers on the deck and lining the walks. It was the ideal setting for dining al fresco and a lovely evening was had by all. Donna has an herb business, Frawley's Fine Herbary, making good-quality herbal blends which she is known for at her local farmers' market and she also sells online. We tasted many delectable dishes made with her proprietary blends. (I am addicted to her pickling blend! www.frawleysfineherbary.com) Kudos to Donna and all of her local cookies for the good eats (tha is another plus to hanging out with gardeners=good food)!
The next three days were spent in the conference center, where we had a great assortment of herb and garden vendors from books, plants and soap to aromatherapeutic products, homemade scones and jewelry created from beans and seeds. The building was attractive and comfortable and our all-day sessions were held in a spacious auditorium. Our theme was "Roses and other Herbs from around the World" so we had programs highlighting herbs of many countries, and on all aspects of roses, preparing us for Rose, which will be Herb of the Year for 2012 (check out the preview of IHA's Rose, Herb of the Year 2012 book at https://iherb.org/hoy2012.htm ). We also had an exciting, two-hour cooking session of 10-minute favorite herbal recipes, which was huge fun and very tasty! The speakers are too numerous to mention here, however it was an inspiring, educational conference.
The final day, we had another field trip to gardens galore. We loved the informal gardens at Grand Oak Herb Farm, where we were served tea and a tour by Beulah Hargrove; then we traveled to Heavenly Scent Herb Farm, where we enjoyed an herbal lunch and tour of the impressive gardens and grounds of Kathy and Steve Mathews. Then it was back on the bus to visit Abele Greenhouses, which specialize in roses and Crystal Kauer's Garden, where she takes care of islands of beautifully maintained roses and many other flowering perennials.
It is wonderful to gather with like-minded individuals, visit gardens, learn, laugh and relate; the joining together to celebrate gardening—to inspire, share ideas and knowledge and get our creative juices flowing is what it is all about. Bottom line, whether we garden organically, have an herb farm or nursery, do hard labor in public gardens, just grow containers on a porch, or after years of communing in the garden have become armchair gardeners—we all have the same thing in common and that is the pleasure of gardening this mother earth. We are the fortunate ones, reaping the benefits of being one with nature, surrounded by beauty and sometimes beasts, and knowing the plants which nourish our bodies, minds and spirits.