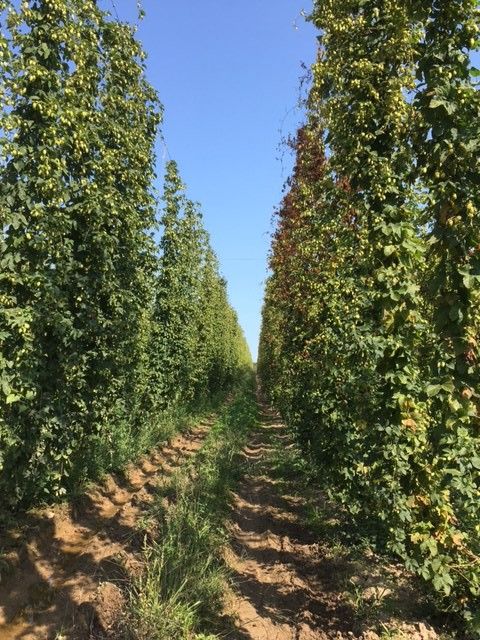 We had a pre- and post-conference tour for the IHA conference and both were fun and action-packed. However the post conference tour to visit hop farms and breweries was a daylong sensory experience that I won't forget.
A small group of us departed the Kellogg Center on a small tour bus with our tour guide John Liberty of West Michigan Beer Tours, who I would highly recommend as a guide for breweries. (www.westmichiganbeertours.com) He is a very knowledgeable fellow and all around fun guy, who entertained us with facts and information about the breweries and hop farms throughout Michigan. Our first stop was Hop Head Farms, where we were to be hosted by Jeff Steinman, who has been one of our speakers at the conference. www.hopheadfarms.com
When we arrived at the farm, we hopped off the bus and headed for a large metal building, where the processing of the hops is done. From the moment we got off the bus, I felt my senses being bombarded. First off, there was big machinery running and the racket was tremendous. A truck full of hop bines was backing up to dump off a load of hop bines into a vast pile on the concrete floor.
There was a huge machine being fed 15 to 25-foot bines laden with hops by an attentive worker. He fastened the hop bines onto a sort of cable conveyer belt, which dragged the vines upward and then about 20 feet or so and then they were devoured into the innards of this behemoth. Inside the hop strobili were stripped from the bines and bounced out onto a conveyor belt which jiggled and bounced them to rid them of debris. From there they bounced onto another conveyer belt where they were picked over by two workers who pulled out any leaves or stems before they moved upward towards hop processing.
The group had to raise their voices to hear one another; employees were wearing ear protection. Meanwhile our tour guide, John, had brought along a few growlers, so he set up cups on a table and poured us a "wet-hopped" beer, made from fresh green hops. It was truly delicious; jam-packed with flavor nuances that most of us had not experienced.
As much as I was enjoying the beer, I was distracted by the cartwheeling of my olfactory. What truly threw me was how my olfactory was assuaged with the aroma of hops, lots of hops, millions of hops. I have smelled hops before plenty of times though never like this! This was a full-blown breathe it, taste it from just inhaling it, overwhelming scent.
I was having difficulty concentrating since my olfactory was working overtime. My whole being was enveloped in the scent of Humulus lupulus--'Chinook' was the harvest that day–and it was a sensory overload. I felt buzzed, electrified, and my hairs were standing on end.
All of this going on at once: noise, sights to behold, and actual activity of large, dangerous equipment, hops dancing on my taste buds and my mind racing to process the intense fragrance–rather like a three-ring circus of Humulus lupulus! The first smell in my nose was hoppy, sweet and earthy, then seriously fruity, citrus and grapefruit, then candylike (wait-"Yikes, Stripes in Fruit Stripe Gum!") followed by resinous and piney–and it didn't stop. It was continuous, full body immersion into hops; I felt slightly swoony, in a good way though.
I asked Jeff Steinman how did he work there with the constant heady hop aroma and he said that you get used to it. He said he smells it when he gets there and then he doesn't smell it anymore. I asked him if it made him want to take naps and he replied "Yes, sometimes".
I was glad when he took us on a tour and I had a break from the intensity of olfactory stimulation. We saw the hop dryer its mammoth hop drawer full of hops and bales of hops ready to be shipped or processed. And then we walked back into the hop processing area and I was glad to be titillated all over again.
Actually it was a relief to go out into the fresh air and sunshine and walk along the hop fields. The farm has over 500 acres in production and we saw rows and rows of bines hanging heavy with lime green hop strobili. Really, you can't quite imagine how many hops that are there unless you see them–one could look down rows as far as the eye can see and not see the end. It was pleasant to rub and smell a number of varieties of hops out in the field–we were able to see, smell and taste 'Glacial', 'Nugget' and 'Crystal'. Thanks John Liberty and Jeff Steinman for a total hop immersion and for making us hop happy!