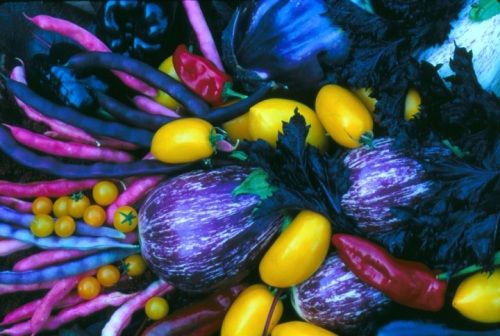 Gardening grew in popularity this past growing season, so did all things cooking. Have foodies finally realized that gardening is an economical solution to their culinary habit? Or are gardeners turning into foodies as they search for recipes to accompany their tasty, and often exotic, heirloom vegetable varieties. Either way, planning your garden around a meal or style of cooking can give you a season full of perfect and affordable ingredients.

If you're gardening with heirlooms this is easy to do—just pick a country to build your garden around. For example, Thailand, Poland, and Russia are known for enough vegetable varieties to fill your garden with the perfect basil for spring rolls, cabbage for cabbage rolls, or beet for borscht. So pick a favorite country to plan your garden around—we're picking Italy. You can check it out below.
Taste of Italy
If you like eating, grow tomatoes, peppers, eggplant, kale, basil, parsley. Your landscape will look good as well, with space-saving leafy trellises of tomatoes, vibrant pepper and eggplant color combinations, eye-catching textures of kale and parsley, and basil's heady aroma and natural pest deterring abilities.
Growing your own vegetables is good for your pocketbook, too
Consider this Italian-style garden for family of 4:
Vegetable
Number of
plants*
Seeds
Estimated
yield**
Cost
Estimated
savings***
Cherry tomatoes
1-4
50
4-18 lb.
$2.75
$9-51
Slicing tomatoes
8-20
50
80-400 lb.
$2.75
$196-993
Pepper
20-24
50
10-13 lb.
$2.75
$35-46
Eggplant
2-4
50
13-25 lb.
$2.75
$6-8
Kale
16
100
21 lb.
$2.75
$47
Basil
250
2 lb.
$2.75
$5
Parsley
250
2 lb.
$2.75
$2
Total
$19.25
$300-1,152
* Information from The Gardener's A – Z Guide to Growing Organic Food by Tanya Denckla
** Estimated yield data is approximated according to yield data from Diggers Club in Australia.
*** Prices found in Decorah, Iowa, for mostly non-organic, conventionally grown food. These prices are much lower than what you would pay for the specialty produce you will be growing in your garden.

Recipe and meal ideas
Stuffed Tomatoes
Tomato Salad
Stuffed Peppers
Baba Ghanoush
Basil Pesto
A sampling of varieties offered by Seed Savers (click on the links below to learn more)
Tomatoes: Cherry Roma and Italian Heirloom
These two varieties are both indeterminate, which means they vine up trellises well and keep producing fruit all season instead of ripening all at once. Cherry Roma is an addictive, 1-inch tomato with a sweet-spicy flavor that is delicious fresh or dried. Italian Heirloom is a heavy producer of over one pound beautiful red tomatoes.
Pepper: Marconi Red
This large sweet pepper is known for its extremely sweet, large fruit.
Eggplant: Listada de Gandia
This is a beautiful purple stripe Italian eggplant. Some think this is the best strain available on the market.
Kale: Lacinato
Kale is a long season vegetable that lasts well into the winter. Its excellent flavor is enhanced by frost. This is an old Italian heirloom with blue-green leaves and a heavily savoyed texture.
Basil: Purple Dark Opal
The scent of basil confuses and repels pests such as aphids, asparagus beetles, mites, mosquitoes, and tomato hornworms. This is an Italian strain with beautiful lilac flowers and dark red stems. It is spectacular as a garnish, in salads, or for adding color to basil vinegars.
Parsley: Giant from Italy
This variety produces a continuous supply of large flat leaves with strong parsley flavor. It is prized by Italian cooks.