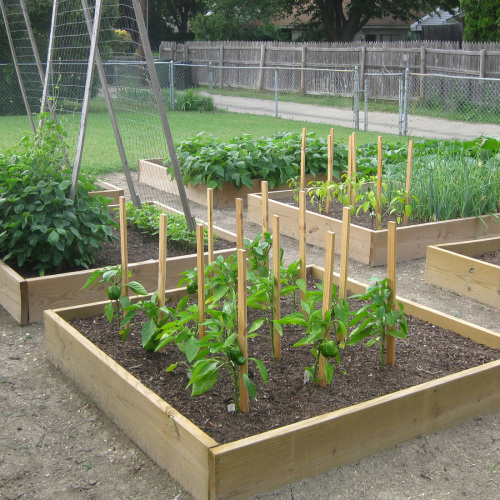 For the past two years, my fiancee and I have taken a retreat during the Thanksgiving holiday to escape for a couple of days. In most cases, this means "going analog" and doing things that don't require a computer, tablet or smartphone. This has become the favorite time to start planning next year's garden. The following details this project and offers suggestions to anyone who's already fired up about their 2013 veggie garden.
The list of things you'll need:
1. Graph paper
2. Writing pad
3. Pencils and erasers, or pens
4. Comfortable chair (but not too comfortable)
5. Your 2012 seed catalogs
6. Your favorite beverage and snacks
7. Information on planting dates, spacing requirements, etc. (printed out preferably).
Optional: Tracing paper, photos from this year's garden
Got your feet up with everything listed above within easy reach? Good… let's get planning. The first thing I like to do is get into the mood and get the creative garden juices flowing. There's no better way to do that than flipping through your seed catalogs. If you're like me, you've probably thrown them in a closet or lodged 'em between piles of old magazines.
After you've been filled with inspiration from the seed catalogs, it's time to list what you wanna grow next year. I know this seems like common sense, but I've started many a garden plan without asking myself (or my family), "what am I growing next year?"
Now it's time to put on your plant-person-designer-architect hat. Plain graph paper works great for this. Figure out the scale to use on the paper, and first draw the outside boundary of your garden area. If your garden is simply a raised bed, then you're done for the moment. If the garden is part of your yard, include obvious objects like trees, fences, borders, etc. Then draw in the edges of your raised beds if you have 'em.
With your list of veggies to grow, along with information on planting dates, spacing requirements, etc., map out which plants are going where. Photos from this year's garden are quite helpful here as a visual reference. Consider such things as crop rotation, plant height and succession planting. Also consider whether you're going to integrate flowers with your veggies (always a good idea). Did you plant certain things too close to each other? Did they grow taller than you expected? Are you gonna put in an irrigation system? Food for thought (no pun intended).
Now that you've laid out how your garden is gonna look, sit back and celebrate. The chances are good that you'll make several changes to the design, both before and once the season gets started. This is normal and expected. At least now you've got a game plan; so you're not wasting time, buying too much, or even worse, forgetting something. You also now have a green light to start ordering those seeds, unless it can wait until the 2013 catalogs arrive.
What other ways do you plan next year's garden?