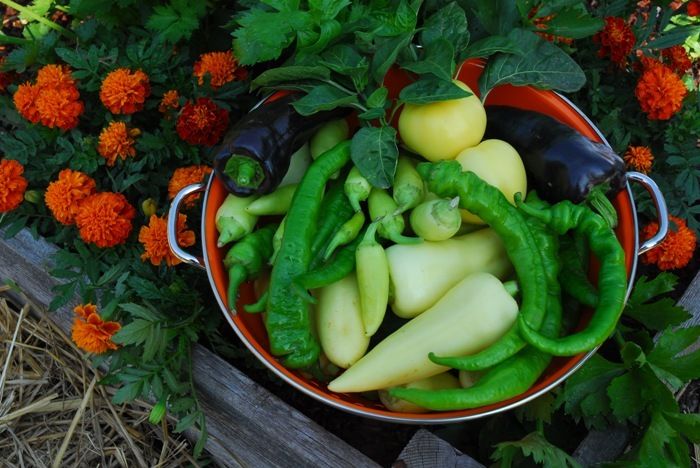 Mid-January at Heritage Farm finds snow blanketing our garden beds, Canoe Creek creeping along its frozen banks, Bur Oak branches glistening with hoar frost, and the usual crowd hanging out at the feeder (cardinals, juncos, chickadees, goldfinches, red bellied woodpeckers and blue jays).
Gardeners know that the best way to warm up in the winter is to sit by a fire with a new seed catalog and plan for the growing season ahead. When the ground is fallow is a good time to ask yourself two simple questions, 'What varieties do I want to plant this spring?' and 'How can I best use my garden space?'
Edible landscaping is a concept that many gardeners use to arrange their garden space. This involves treating the landscape as a blank canvas in which vegetable plants mix with ornamentals to create both bounty and beauty.
According to Rosalind Creasy, author of The Complete Book of Edible Landscaping, an edible landscape involves "the practical integration of food plants within a decorative setting."
There is often a distinction between vegetables in the backyard and flowers in the front yard. Ros disagrees with this, "It's not the plant, its how you use it in a landscape and how well you grow it that makes a garden beautiful."
She should know. Every year Ros, a board member here at Seed Savers Exchange, turns her front yard into an extremely productive and beautiful edible landscape.
Heirloom vegetables are perfect for edible landscapes because they are known for their diversity—they come in all shapes, sizes, colors, textures, and flavors – an almost infinite palate of color and taste outside your door.
We've picked a few of our favorite heirloom varieties you can plant to create beautiful combinations for your edible landscape. For the next few weeks we will share some different landscapes you and your family can create at home. We'll also include some recipe ideas, as well as the cost savings each combination can generate.

Combination 1: Salsa-fy Your Yard

If you like eating: Salsa, tomatoes, hot peppers, basil, cilantro
If you want your landscape to have: Tons of hot, vibrant colors that are great for attracting hummingbirds, different textures, and lots of different heights. If you hope to bring a little spice to your landscape this is the planting combination for you!

Recipe and Meal Ideas
Salsa, of course, (click here to see recipes from our 2010 salsa contest), pasta and pizza sauces, stuffed peppers and tomatoes, fresh caprese salads.
Cost/Savings : What you need to grow for a family of 4
Vegetable / # of Plants* / # of Seeds / Est. Yield** / Cost / Est. Savings***
Tomato 8-20 100 48-119 lbs. $5.50 $114-291
Pepper 20-24 100 10-13 lbs. $5.50 $10-15
Onion 160 200 160 lbs. $5.50 $144
Cosmos 100 – $2.75 –
Marigold 250 – $2.75 –
Basil 250 2 lbs. $2.75 $5
Cilantro 250 2 lbs. $2.75 $2

Total Cost $27.50 / Total Savings $275-457
*Information from The Gardener's A – Z Guide to Growing Organic Food, Tanya Denckla
**Estimated yield data is approximated according to yield data from Diggers Club in Australia.
***Prices found in Decorah, IA, for mostly non-organic, conventionally grown food. These prices are much lower than what you would pay for the specialty produce you will be growing in your garden. Savings does not take into consideration time spent in garden.
Heirloom Varieties (find out more by clicking on each variety)
Tomatoes: Federle and Powers
Tomatoes and peppers are in the same botanical family, making them great companions. Federle is great for salsa and Powers is bright yellow and appetizing on your plate and in the garden. Did we mention both are delicious?!
Peppers: Ancho Gigantea and Thai Hot
Ancho Gigantea peppers (heat scale 2) are called poblanos when fresh and green and anchos when red and dried. They are the standard Mexican variety for sauces and stuffing with a distinctive rich flavor. Thai Hot is a tiny and prolific pepper that packs a lot of heat (heat scale 4).
Onions: Yellow of Parma & Red Wethersfield
Onions (very important for salsa) help deter many pests—think of it as onion breath for your garden. Onions store well and having yellow and red varieties will add color to your garden and plate.
Cosmos: Diablo
Cosmos are a beautiful companion flower whose delicate leaves allow sunlight to penetrate to other plants and attract pollinators and butterflies.
Marigold: Red Marietta
Marigolds deter nematodes by secreting a chemical through their roots, and they add dramatic strokes of color!
Basil: Genovese
Aromatic herbs such as coriander/cilantro and basil go well with these vegetables both in the kitchen and the garden. This is the variety of choice for pesto.
Cilantro
No Mexican meal is complete without fresh cilantro.