Today we're visiting with Paul Brothe in Newburgh, New York.
Gardening is relatively new to me. I moved to upstate New York two years ago from Denver. In Denver, I lived in the city and did not have much of a yard. In Newburgh, I have almost six acres. When I moved here there were few flowering plants. Over the past two years I have had a goal to improve the landscape with plants beneficial to bees, birds, and butterflies.
Here are some photos from my garden this autumn.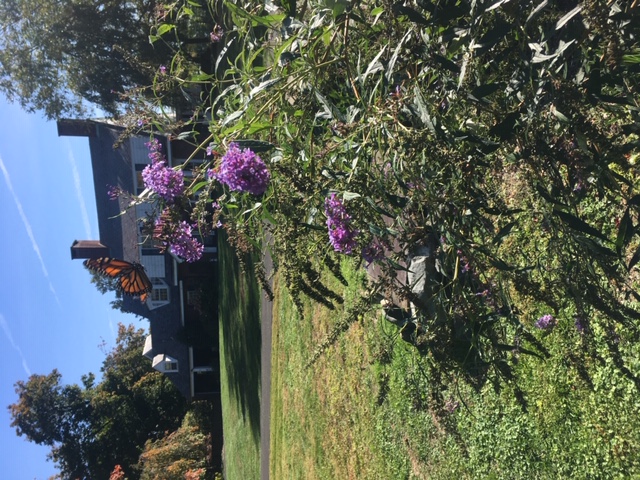 This butterfly bush (Buddleia davidii, Zones 5–9) was grown from seed last year. It has become a large bush that attracts many butterflies and bees.
Gaillardia (Gaillardia pulchella, Zones 2–11) is one of my favorites. I purposefully took a photo with the seed heads. I am gathering these and will plant them next spring. My original plant was started from seed indoors. I find it easy to grow. The bees swarm all over the flowers in the summer. The yellow-tipped petals are beautiful.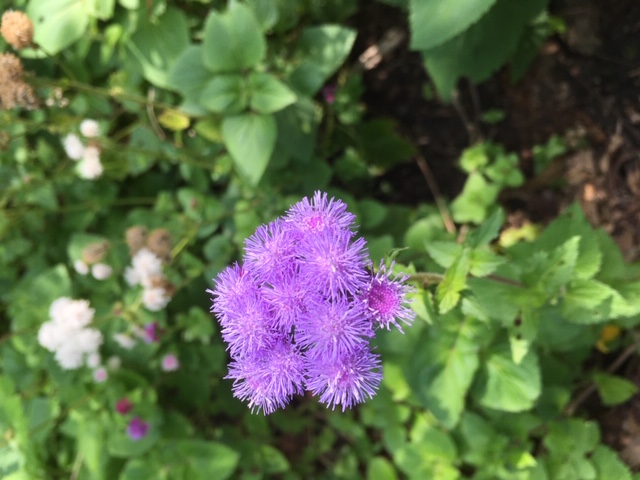 Ageratum (Ageratum houstonianum, annual) is a lovely plant. It is one of my experiments this year. I have been developing a neglected acre of my property into a woodland garden. I sowed the ageratum seed in late spring. The tufts of flowers are exceptionally appealing. Earlier in the summer I had some deer damage to the ageratum—a constant problem, as they seemingly will nibble on anything in my yard. I still have many flowers, however.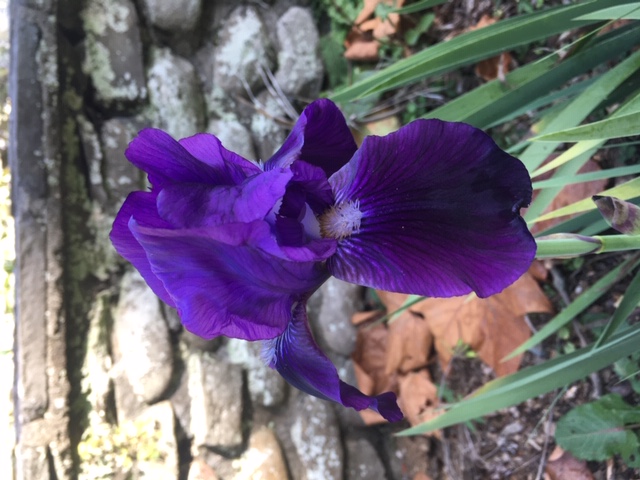 Fall-blooming bearded irises are glorious. Just as everything else is fading, they give brilliant, velvety pops of color. Last year I responded to a Craigslist ad from an elderly woman who wanted help thinning her irises. I took home many rhizomes—for free.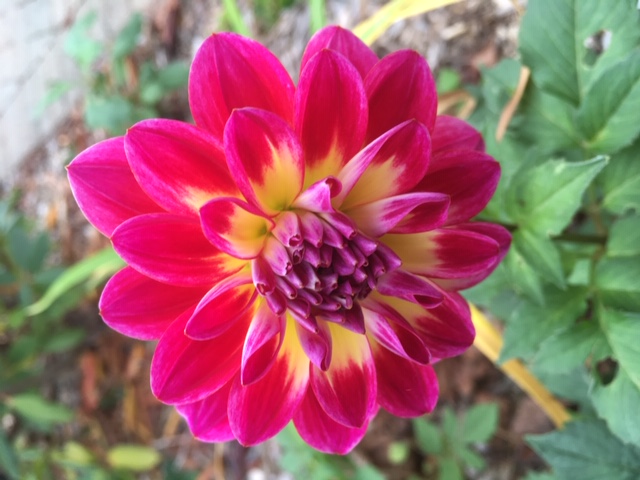 A friend from Minnesota visited for the first time in early spring. When he saw my yard he declared I needed some dahlias (Dahlia variablilis, Zones 8–10 or as tender bulbs). His parents are avid growers of dahlias.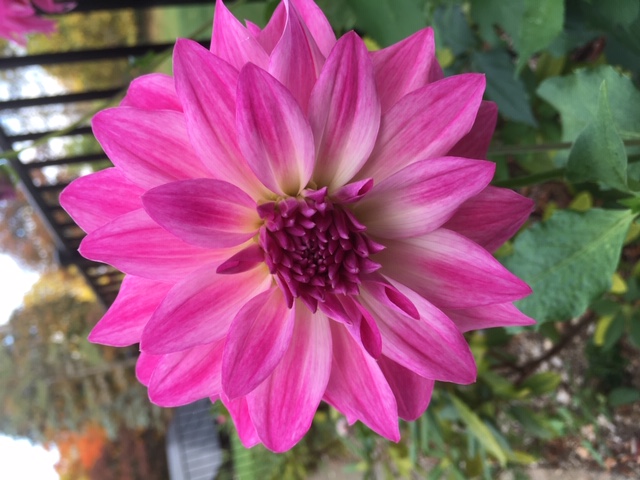 A big box of gift dahlias arrived in the mail. They have provided many months of spectacular color.
Zinnias (Zinnia elegans, annual) are easy to grow from seed and are beloved by bees and butterflies. I grew hundreds of them this summer. This is a purple Zinderella. Some of the Zinderella zinnias are double flowers, but many are single. The mottled petals were especially attractive.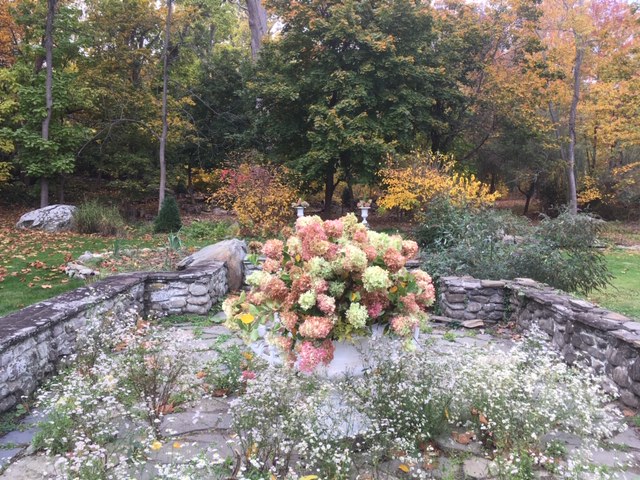 The hydrangea (Hydrangea paniculata, Zones 3–8) by the front door walkway needed pruning.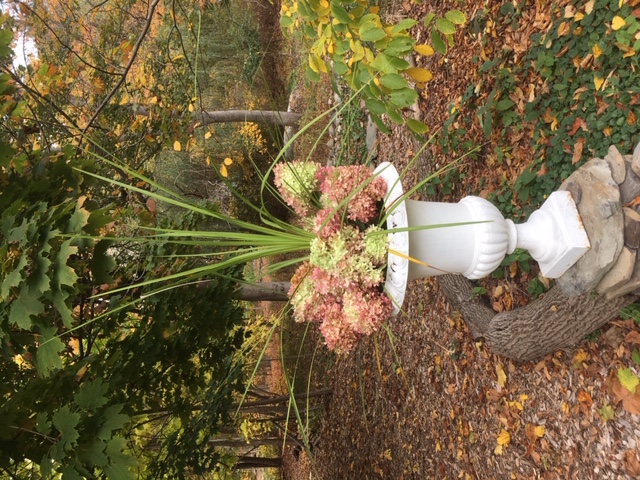 Having already filled vases in the house with drying panicles, I shifted my attention outside and arranged large bouquets in the urns in my yard.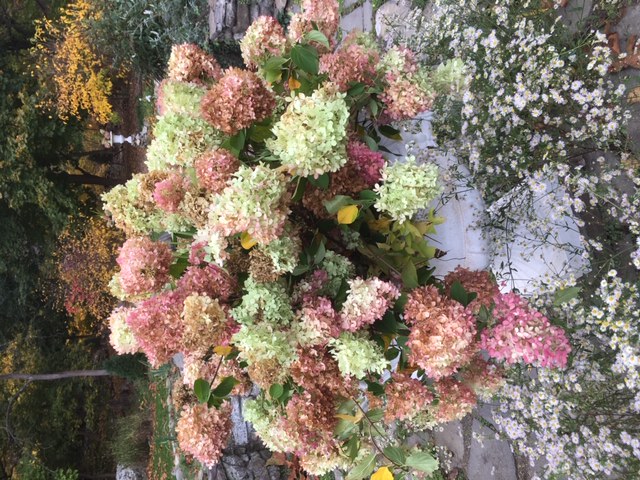 This urn is surrounded by wild asters. I did not plant them. They seeded themselves and have been blooming for months.
My garden is an experiment. I am constantly learning, researching, and experimenting. I like the satisfaction of growing plants from seed. Because my yard is large, it is the neighborhood park. My neighbor walks her newborn baby and toddler every day through the park. My garden then isn't just for me; it is something I share with everyone around me.(Paul shares more of his garden on his blog.)
Have a garden you'd like to share?
Have photos to share? We'd love to see your garden, a particular collection of plants you love, or a wonderful garden you had the chance to visit!
To submit, send 5-10 photos to [email protected] along with some information about the plants in the pictures and where you took the photos. We'd love to hear where you are located, how long you've been gardening, successes you are proud of, failures you learned from, hopes for the future, favorite plants, or funny stories from your garden.
If you want to send photos in separate emails to the GPOD email box that is just fine.
Have a mobile phone? Tag your photos on Facebook, Instagram or Twitter with #FineGardening!
You don't have to be a professional garden photographer – check out our garden photography tips!
Do you receive the GPOD by email yet? Sign up here.