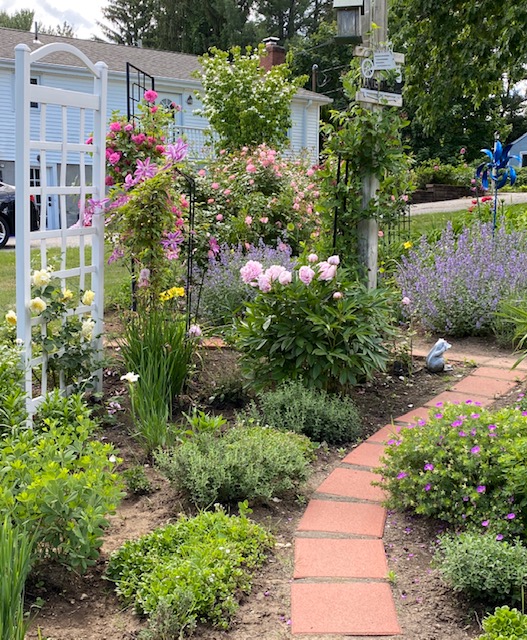 Today we're visiting with Lil Holloway in Bedford, Massachusetts, looking back at warmer and more flowery times in the garden.
When I look out the window at this time of year, it's rather bleak. That's when I pull up my photos and remember how beautiful the gardens were in the spring and summer. I often wonder if they will be that lovely next season. I am never disappointed, even though each season comes with its own surprises. A snapshot in time is what you see. Each season I learn something new that makes me a better gardener, and each season I wonder at the beauty that surrounds us.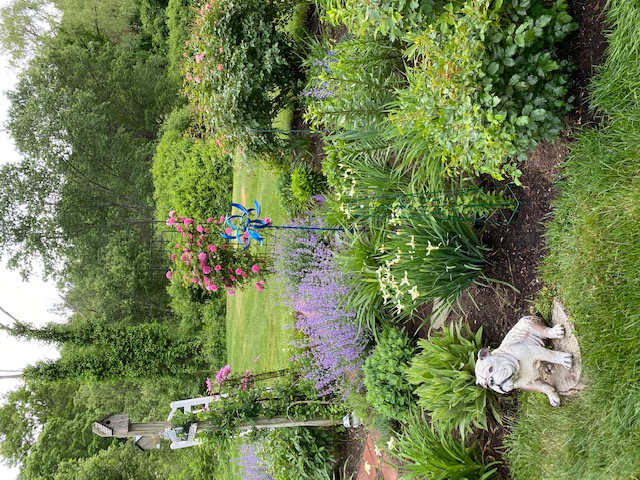 This is a view of half my perennial garden, which includes catmint (Nepeta × faassenii, Zones 3–8), Siberian iris (Iris siberica hybrids, Zones 3–8), and Japanese iris (Iris ensata, Zones 4–9), lots of daylilies (Hemerocallis hybrids, Zones 3–9), and Asiatic lilies (Lilium hybrid, Asiatic group, Zones 4–9), coneflowers (Echinacea species and hybrids, Zones 3–8), and a honeysuckle (Lonicera sp.). This garden is edged with rosebushes. The large pink rose on the right is one of three 'Clair Matin', a French rose. They are very disease resistant and have been in for 24 years.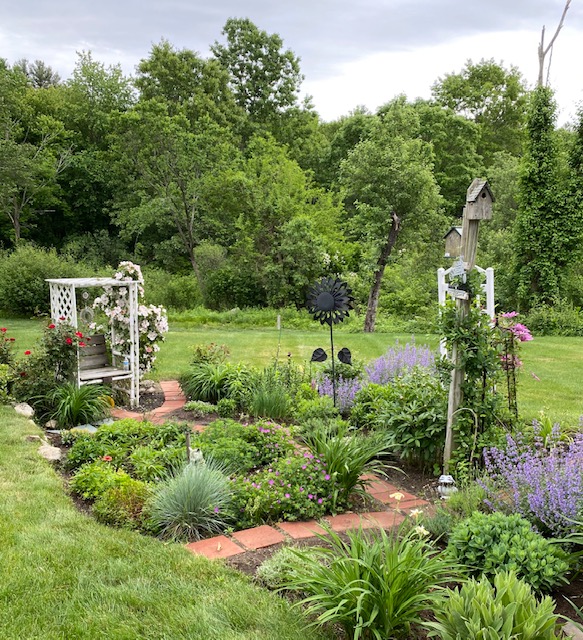 Another view of the perennial garden. Every year is a surprise, and every year I tell myself that there will be no new plantings. Not once have I been successful in keeping that promise to myself!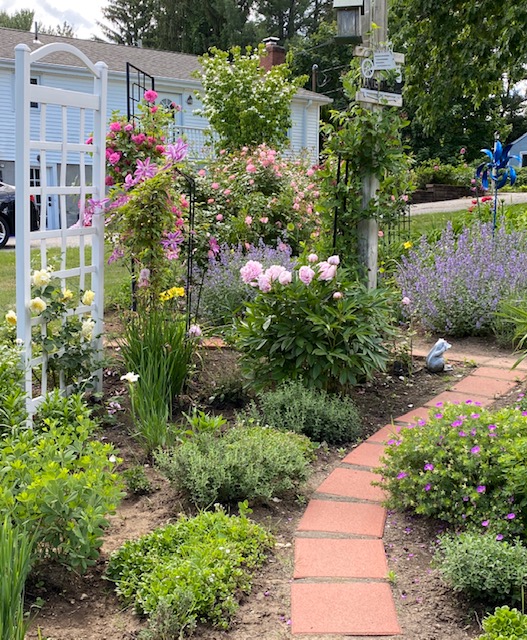 Yet another view of the perennial garden. The peony was late blooming. The yellow rose on the white trellis is David Austin's 'The Pilgrim'.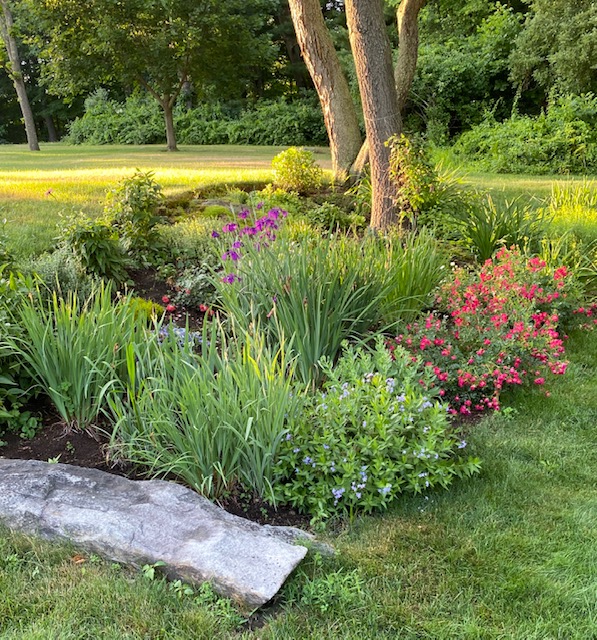 I call this part of the garden "The Patch." It is place I move plants to if they have outlived their stay in the big perennial garden. It includes lots of irises, coneflowers, roses, and a beautiful clematis that was a gift. The clematis, a double light purple, was unfortunately not in bloom as it climbed up the tree in this photo.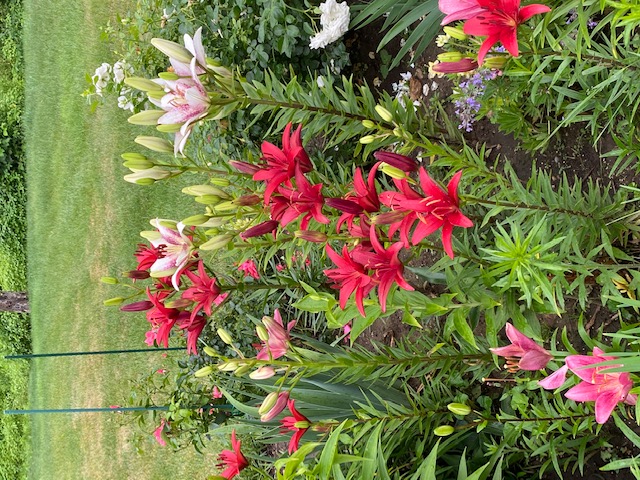 It is so hard to pick and choose which pictures to share, but I didn't want to forget my Asiatic lilies. The voles got to them a couple of years ago, so I am missing many, but they are still beautiful. (Learn how to get rid of voles in your garden.)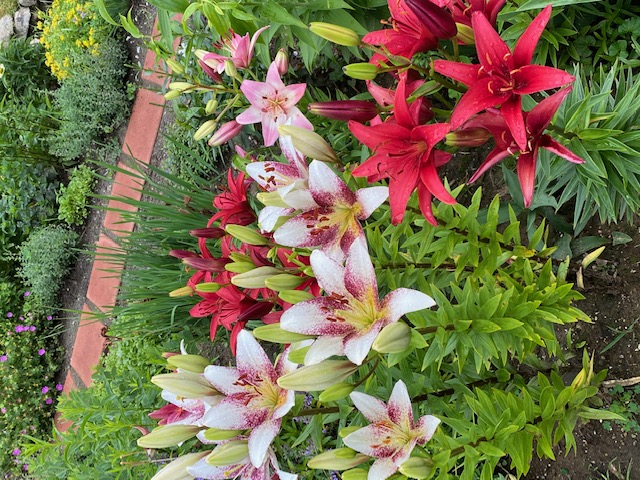 More Asiatic lilies. You can see a perennial geranium in the background that has been there for years. My husband put in this brick walkway for me, and it sure cut down on the weeding.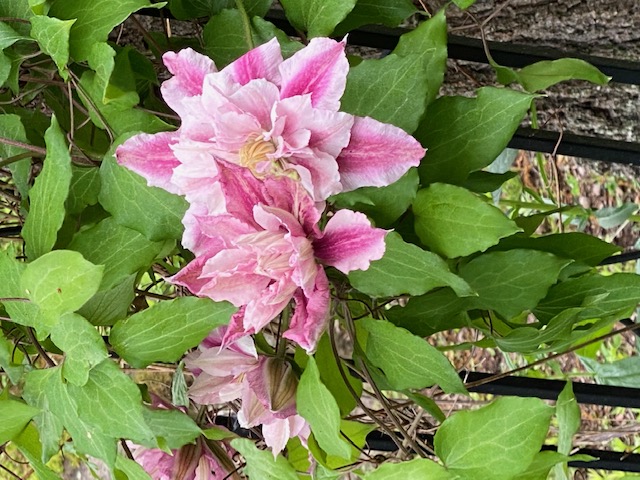 This double clematis was a gift from a breeder, and I don't know what she is. I put her on a trellis by the tree in The Patch. I wasn't expecting much from her. Silly me—she's gorgeous!
Tomorrow we'll return to Lil's garden to take in her beautiful collection of roses.
Have a garden you'd like to share?
Have photos to share? We'd love to see your garden, a particular collection of plants you love, or a wonderful garden you had the chance to visit!
To submit, send 5-10 photos to [email protected] along with some information about the plants in the pictures and where you took the photos. We'd love to hear where you are located, how long you've been gardening, successes you are proud of, failures you learned from, hopes for the future, favorite plants, or funny stories from your garden.
If you want to send photos in separate emails to the GPOD email box that is just fine.
Have a mobile phone? Tag your photos on Facebook, Instagram or Twitter with #FineGardening!
You don't have to be a professional garden photographer – check out our garden photography tips!
Do you receive the GPOD by email yet? Sign up here.