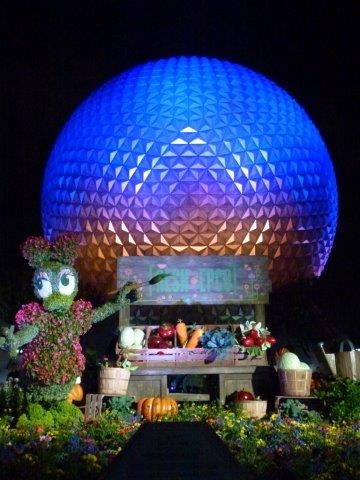 Just returned from the Epcot International Flower & Garden Festival–it was lots of fun–and this year's gardens and botanical displays are the best ever! Check out these photos for a virtual tour–just click on each pic to enlarge and read descriptive captions.
The festival runs for 12 weeks–and I was included in the second weekend of presentations–doing two shows a day for Friday, Saturday and Sunday. My noon show was Celebrate Capsicums! Herb of the Year 2016 and the 3 pm shows were The Culinary Herbal. The programs were well attended with fun audiences; the cast members (organizers, staff, interns, and gardeners) are great to work with and do a bang-up job. If you haven't ever been to the Flower & Garden Festival, now is the time to go–there are lots of great upcoming programs.
Besides the amazing garden displays and botnaicals, my favorite thing is that they have added Outdoor Kitchens and Garden Destinations which are located throughout Epcot. There is a Garden Passport which lists these and more and there are little boxes to check off in the passport as you walkabout and view the gardens or one of the world-class topiaries, or taste one of the delectable treats or beverages served at the Outdoor Kitchens.
My favorite garden display was Urban Farm Eats–and it also had delicious food. The Vegetable and White Bean "Naanwich" with Arugula Pesto and Oven-Dried Tomatoes featured Seeds of Change Quinoa, Brown and Red Rice. There was a tasty watermelon salad with arugula and feta garnished with pickled red onions and brought together with a balsamic reduction. Although the Fresh-Squeezed Watermelon Juice at Florida Fresh was by far the most refreshing beverage, the hike over to Bauernmarkt: Farmers' Market in Germany was worth it to sample the libation made with Hugo-Charles de Fere Organic Brut, Elderflower and Fresh Mint Leaf.
I highly recommend a visit to the Epcot Flower & Garden Festival if you want a jolly-good-fun garden destination and for those of you lucky enough to live within driving distance–it is well worth getting a season pass so you can go and attend every weekend! I'm concentrating here on (posting my maximum of 12 photos per blog) the edibles part of the Epcot Garden Festival and will post another round of 12 photos featuring some of the wonderful topiaries and other garden vistas in Epcot to give you a view of the garden extravaganza. Enjoy the tour!